The Best Savings Accounts in North Carolina for 2023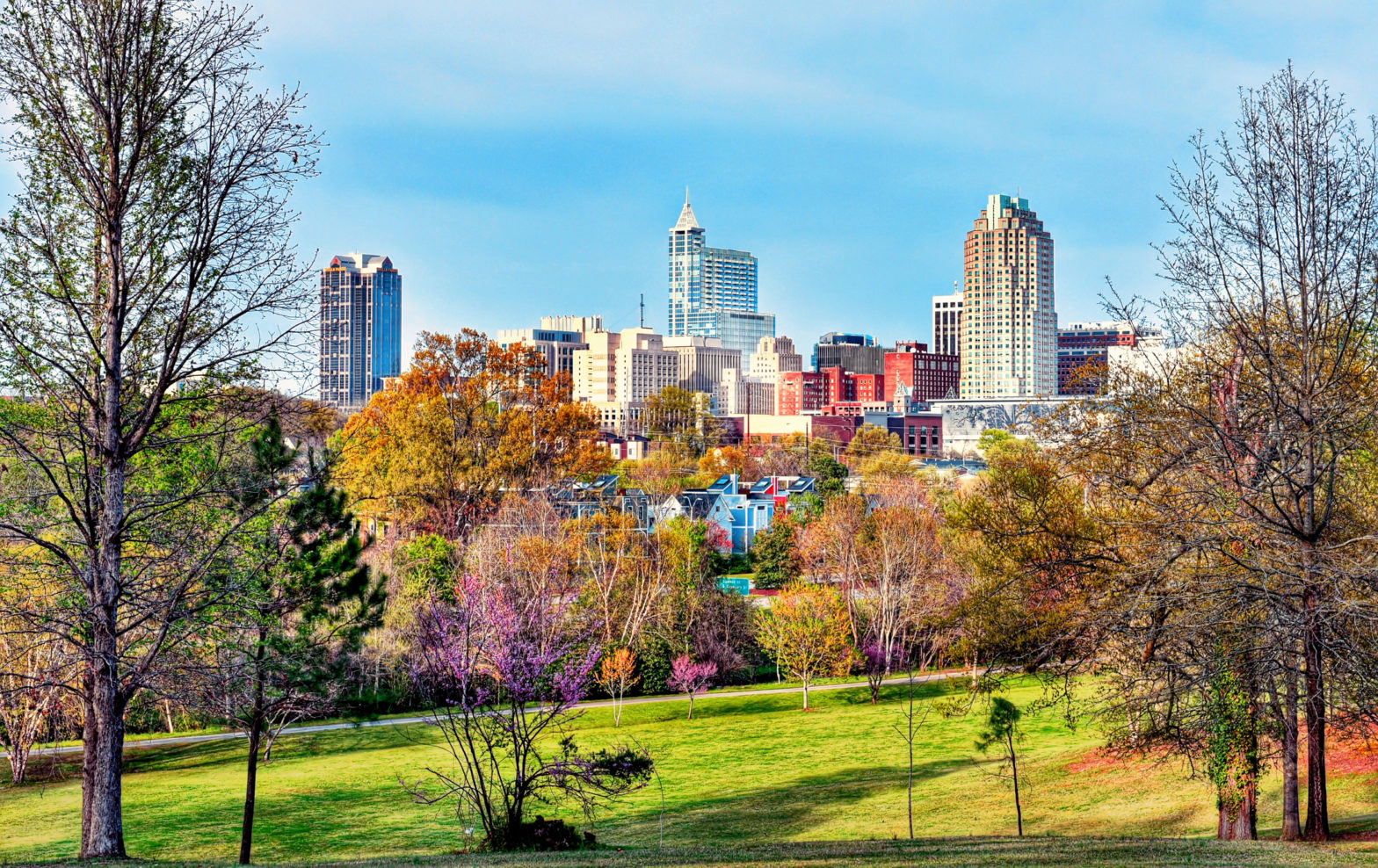 More than 20 banks are headquartered in North Carolina, such as Bank of America and BB&T.
The Tar Heel state is also home to almost 70 different credit unions.
If you're a resident who is looking for a place to park your money, there are plenty of options at your disposal.
Here's a look at the best savings accounts in North Carolina.
The Best Savings Accounts in North Carolina
Ally
Synchrony Bank
Bread Savings™
CIT Savings Connect
WNC Community Credit Union
Nova Federal Credit Union
Find Banks With the Best Savings Account Rates Fast
Explore savings accounts at online and traditional banks and find the best rate and terms for you. Compare savings account rates, fees, security, and more.
Online Savings Accounts Available in North Carolina
Online banks have a reputation for attractive interest rates and lower fees than you may find at traditional banks with brick-and-mortar locations.
Here are several of the best online savings accounts for North Carolina residents.
Ally Savings
While Ally is headquartered in Utah, this online-only bank offers money market accounts, CDs, and high-yield online savings accounts to residents in North Carolina.
With the high-yield online savings account, you'll enjoy the same great interest rate across all balance tiers.
You won't have to maintain a minimum balance or pay any monthly maintenance fees.
There's also a handy mobile app and digital account feature you can use to meet a variety of savings goals.
Pros
Competitive interest rate across all balance tiers
No monthly maintenance or minimum balance fees
24/7 customer service via phone, live chat, or email
Intuitive mobile app
Cons
No cash deposits
No branch access
Withdrawal fee of $10 per transaction once you make six withdrawals in one month
Read our full Ally savings review
Synchrony Bank
Owned by Synchrony Financial, Synchrony Bank is an online bank that serves North Carolina savers through products like money market accounts, CDs, and high-yield savings accounts.
Its interest rate on its online savings accounts is one of the highest available.
In addition to a generous rate, Synchrony Bank doesn't impose a minimum deposit balance or monthly maintenance fees.
Plus, it's FDIC-insured for your peace of mind.
Pros
Above-average APY
No opening minimum deposit required
No monthly maintenance fees
ATM card available
Cons
Linked checking account is not available
Wire transfer fees
Read our full Synchrony Bank review
Bread Savings™
Formerly Comenity Direct, Bread Savings™ is an online bank that offers a high-yield savings account and CDs with flexible terms to North Carolina residents.
You can open a Bread Savings™ direct high-yield savings account with only $100.
There are no monthly fees, and customer support is available seven days a week, including most holidays.
This online bank offers a few other perks like free domestic wire transfers and unlimited deposits from mobile app check captures.
Pros
Low minimum deposit of $100
No monthly fees
Free domestic wire transfers
CDs with flexible terms
Cons
No debit cards or ATM network
Fees for official check requests and paper statements
No checking or money market accounts offered
Can only make deposits via the mobile app or bank transfer
Read our full Bread Savings™ review
CIT Savings Connect
CIT Savings Connect is a division of First Citizens Bank and Trust Company.
North Carolina residents can take advantage of its Savings Connect account, which offers rates that are considerably higher than the national average.
There are no monthly service fees, and ATM fees of up to $30 per statement cycle will be reimbursed.
You can open a Savings Connect account for as little as $100 and manage it through an intuitive mobile app with check deposits and money transfers via Zelle and Bill Pay.
Pros
Higher rates than the national average
ATM fee reimbursement of up to $30 per statement cycle
Easy access to e-Checking via Zelle, Bill Pay, and CIT debit card
Cons
No free ATM network
No branch access
Read our full CIT Savings Connect review
A Look at Local North Carolina Banks
While online banks are a solid choice for many savers in the Peace Garden state, they're not right for everyone.
If face-to-face service is important to you, you may be better off parking your money at a local credit union or community bank.
Here are a few local banking options you may want to explore.
WNC Community Credit Union
Headquartered in Waynesville, WNC Community Credit Union is the 23rd largest credit union in North Carolina, serving those who live or work in Haywood and Jackson Counties.
As long as you become a member, you can open a share savings account with as little as $25.25.
While you will have to maintain a $25.00 minimum balance to keep the account open, you'll receive a competitive rate and personal service.
In addition to the share savings account, WNC Community Credit Union offers other products, like a share draft checking, IRA, loans, and insurance.
Pros
Wide range of banking products offered
Low opening deposit requirement of $25
NCUA insured
Cons
Must maintain a $25 minimum balance
Membership is only for those who work or live in Haywood or Jackson counties
Nova Credit Union
Based in Charlotte, Nova Credit Union is the 22nd largest credit union in North Carolina.
It's available to anyone who is a resident, works, attends church, or is a registered student in Catawba County.
Nova's savings options include basic share accounts and savings club accounts. The credit union also offers money market accounts as well as credit cards and loans.
Additionally, there are online banking and credit-building services to help you boost your credit score and save money.
Pros
Online banking is available
Credit building services
NCUA insured
Cons
Typically lower interest rates than those offered by online banks
Must meet certain membership requirements
How We Picked: Methodology
The best savings accounts in North Carolina were selected based on a comprehensive analysis of savings accounts offered by online, national, regional, and local banks serving major cities, including Charlotte, Raleigh, and Durham.
We narrowed down our search to savings accounts with low monthly maintenance fees, opportunities to waive these fees, ATM network availability, excess withdrawal fees, ease of online and in-app banking, interest rates, and more.
The best savings accounts reflect market conditions and bank APYs at the time of our analysis.
Banks can and do change their rates and terms on a regular basis, so you should check with North Carolina banks directly to see what savings accounts they currently offer.
How to Choose a Savings Account in North Carolina
North Carolina savings accounts are not created equal. That's why you should shop around to learn about the various options at your disposal.
When you do so, be sure to compare these features.
Interest Rate
A competitive interest rate is essential if you'd like to grow your savings and meet your goals.
Online banks tend to offer higher rates than traditional banks due to their lower overhead costs.
But if you're set on a local bank with in-person service, you can still find a savings account with an attractive rate.
Fees
Monthly maintenance fees, inactivity fees, excess withdrawal fees, paper statement fees, and other fees can hinder your saving goals.
The good news is there are many online banks that pride themselves on minimal to no fees.
If you do find an online or traditional bank you like with fees, you can always ask to get them waived.
Opening Deposit
Some savings accounts in North Carolina only require $0 or $1 to open, while others have an initial minimum deposit of at least $100.
If you're just starting your savings journey or don't have a lot of extra cash, look for an account with a low opening deposit requirement.
Access
Ideally, you wouldn't touch your savings until you have enough money saved up to meet a certain goal.
But it's nice to know that you have easy access to your cash just in case you need it.
If you choose an online bank, determine if there is ATM access. If not, check for a robust banking app that will let you do mobile deposits and transfers from other accounts.
If you decide to go with a traditional bank or credit union, be sure there are branches near where you live or work.
Where Can You Open a Savings Account in North Carolina?
There are three types of financial institutions that you can turn to for savings accounts in North Carolina, including:
Online Banks
Many online banks offer attractive rates and low fees.
If you don't mind online banking and not being able to stroll into a physical branch whenever you want, an online bank might make sense.
This is particularly true if it offers other products you need, like checking accounts and loans.
Traditional Banks
North Carolina has a variety of for-profit banks, like small community banks and national banks with physical branches across the state.
While rates and fees might be higher than those at online banks, you can enjoy in-person service and access to more products.
Credit Unions
Credit unions are nonprofit organizations owned by members.
You'll need to join a credit union to open a savings account with a competitive rate.
Just keep in mind that you might not have access to modern conveniences like digital and mobile banking.
North Carolina Savings Accounts vs. Money Market Accounts
If you're looking for somewhere to keep the money that you don't plan to use for quite some time, savings accounts and money market accounts are both viable options.
Here's how these products differ.
Check Writing
Unlike savings accounts, some money market accounts let you write checks or use a linked debit card to make purchases online or in person.
This is a huge benefit if you'd like easy access to your funds.
Interest Rates
Sometimes, money market accounts come with higher interest rates than savings accounts, making it faster and easier for you to grow your savings.
The rates may be tiered or applied across all balances, depending on the account.
Limited Monthly Withdrawals
Most savings accounts only allow six withdrawals per month. Once you go over this threshold, you'll be charged a fee. Money market accounts, however, don't usually impose any limits on withdrawals.
Minimum Deposits
Oftentimes, you'll need more money to open a money market account than a savings account.
That's why a money market account may be a better option if you're an experienced saver or were already planning to deposit a large sum of money.
Compare North Carolina Savings Accounts & Money Market Accounts
Frequently Asked Questions
What is the largest bank in North Carolina?
Bank of America is the largest bank in North Carolina, followed by Truist Financial and Wells Fargo. While these institutions offer widespread branch access and advanced technologies, you can find more intimate customer service at smaller banks and credit unions.
Where is the best savings account in North Carolina?
Since everyone has unique banking needs, there isn't one financial institution that has the best savings account in North Carolina. For reputable online saving accounts, you might want to explore Capital One 360 Performance Savings, Ally, Synchrony Bank, Bread Savings™, and CIT Savings Connect.
Are saving accounts safe?
If you choose a North Carolina online or traditional bank that's insured by the Federal Deposit Insurance Corporation (FDIC) or a credit union insured by the National Credit Union Administration (NCUA), any balances you have will be protected for up to $250,000 in the event the financial institution fails.