The Best Savings Accounts in Virginia for 2023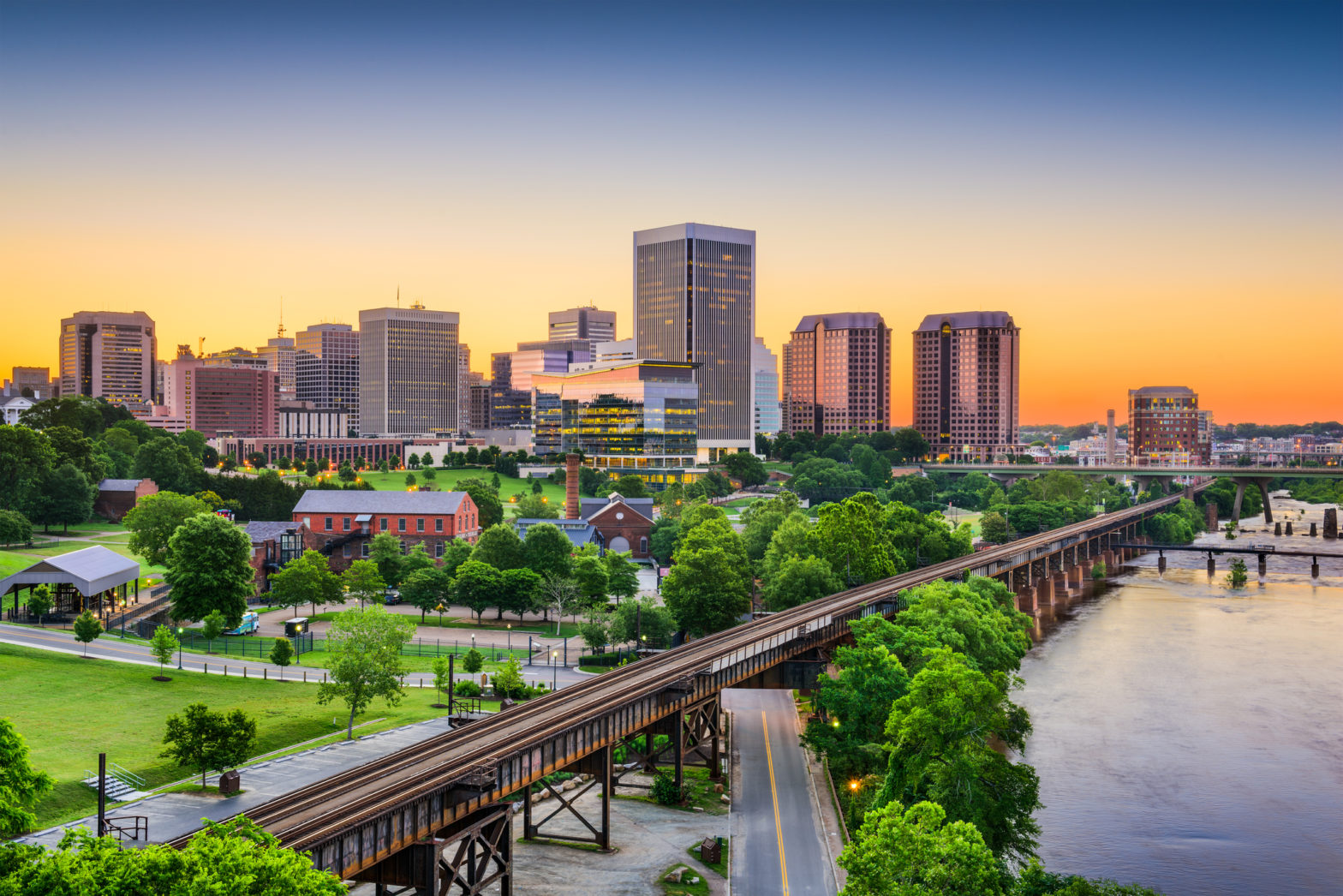 In 1804, the Bank of Virginia became the first bank to open in the state with $1,500,000 in capital.
Since then, the banking industry has grown exponentially, so there are many choices for finding the best savings accounts in Virginia.
If you're looking for the right choice of where to put your money, continue reading to find out more about these institutions and the services they offer.
The Best Savings Accounts in Virginia
BMO Harris Bank
CIT Bank
SFGI
Ally Savings
UFB
Lafayette Federal Credit Union
John Marshall Bank
Compare savings accounts and find the best rates being offered today.
Online Savings Accounts Available in Virginia
If you're looking for the best savings account in Virginia, you need to look no further than online.
There are several options for you to choose from that can make banking as convenient as the click of a mouse, and the following are some of the best online bank options.
BMO Harris Bank
BMO Harris Bank offers its Savings Builder account, which can be opened online in five minutes with an initial minimum deposit of $25.
You can maintain your account with a $0.01 balance, and you will not be charged any monthly maintenance fees.
In addition, the bank encourages customers to build their savings by offering a $5 reward when they save at least $200 in the first year of opening the account.
For your convenience, BMO Harris Bank has 40,000 ATM machines around the country, where you can make unlimited transactions without being charged a fee.
Also, through the bank's mobile app, you can have access to your account information 24/7.
 BMO Harris Savings Pros & Cons
CIT Bank
The Savings Connect account offered by CIT Bank can be opened with a $100 deposit that can be made through an electronic transfer or by sending the bank a check in the mail.
After opening an account, you can do all your banking through the CIT Bank mobile app, which allows you to make transfers and deposit checks remotely.
If you plan on maintaining a large balance, the bank also offers a Savings Builder account, which rewards you with a higher interest rate if you have $25,000 in the account or make at least one monthly deposit of $100.
SFGI
SFGI has an online savings account that can easily be opened by transferring money from an account at another bank.
Although you do need to deposit $500 to initially open the account, you only need a $1 balance to earn interest.
Your account can be managed entirely online, but if you prefer to speak to someone, you can call SFGI's customer service line.
SFGI Direct Savings Pros & Cons
Ally Savings
The account from Ally Savings allows you to earn more as you increase your savings through its tiered interest rates — which is a great deal since the bank offers such competitive rates.
In addition to earning more, you can also keep more because there are no monthly maintenance fees, as well as no charges for things like overdraft items, incoming wire transfers, and ACH transfers.
You can also make saving money easier by setting up recurring transfers.
UFB Savings
UFB, which is an online division of Axos Bank, offers several digital tools to make saving easier.
If you prefer banking through a website, there are online features to accommodate you.
If banking through your mobile device is more convenient, you can use your smartphone to make check deposits.
UFB does not charge maintenance or service fees, and there is no charge for making transfers between direct deposit accounts.
A Look at Local Virginia Banks
If you prefer to bank locally, you can open the best savings account in Virginia in several places.
The following is a look at a few of them.
Lafayette Federal Credit Union
Since 1935, Lafayette Federal Credit Union has been providing services to the Washington, D.C., area so members of the community would have a safe and convenient place to do their banking.
If you want to start a basic savings account, the Share Savings account can be opened with a $50 initial deposit and maintained with a balance of $50.
If you plan on saving high amounts, the Preferred Savings account, which can also be opened with a $50 deposit, provides a higher interest rate when you maintain a $20,000 balance.
Lafayette Federal Credit Union Savings Pros & Cons
John Marshall Bank
Based on the core values of honesty, excellence, responsiveness, and ownership, John Marshall Bank has been providing services to members since 2006.
To open a basic Personal Savings account, you must deposit a minimum of $100, and to avoid paying a $3 monthly service charge, you need to maintain a $100 balance.
For those who are saving large amounts, the Supreme Savings account allows members to earn higher interest rates.
To open this account, you must have a $100 minimum deposit and maintain a $10,000 balance to avoid a $10-a-month service charge.
John Marshall Bank Savings Pros & Cons
How We Picked: Methodology
MoneyRates picked the best savings accounts in Virginia by looking at savings accounts offered by online, national, regional, and local banks serving major cities in the state, including Richmond, Virginia Beach, and Norfolk.
We then narrowed our search to savings accounts with low monthly maintenance fees, fee waivers, ATM network availability, excess withdrawal fees, ease of online and in-app banking, interest rates, and more.
The best savings accounts reflect market conditions and bank APYs at the time of our analysis.
Banks can and do change their rates and terms on a regular basis, so you should check with Virginia banks directly to see what savings accounts they currently offer.
How to Choose a Savings Account in Virginia
Have you thought about what's important to you when looking for the best savings account in Virginia?
The following are some factors you may want to consider during your search.
Interest rate
Obviously, you want to get the most out of your savings account, and the higher the interest rate, the more your money will be working for you.
Different institutions offer different rates, so be sure to shop around for the best ones.
But don't forget to read the fine print: In some cases, you may need a high minimum balance to enjoy a good interest rate, so be sure you know what you're signing up for.
Opening deposit
The opening deposit required is another area you want to research before choosing a bank.
Some banks will allow you to open an account with an initial deposit as low as $25, while others require at least $100.
Other accounts available
Some people don't want to start accounts at multiple banks, so it's important for consumers to consider what other services each institution they're looking into offers.
Generally, the banks that offer a savings account will also have other types of services, so you can get your checking needs met, as well as the opportunity to open accounts for investments, like certificates of deposit.
Customer service
Customer service may not be top of mind when you open a savings account, however, it can be a large part of your experience with a bank — especially if something goes wrong.
Whether you prefer to speak to someone face to face, on the phone, or online, research what kind of customer service you'll have access to, as well as when it's available.
Account management
Everybody wants to handle their bank account in ways that are most convenient for them.
That may mean you want to visit a branch for your banking.
It may mean you want access to a mobile app to conveniently handle transactions anywhere.
When choosing a savings account, look into these options, so you know if a bank has the type of access you're looking for.
Where Can You Open a Savings Account in Virginia?
When you choose the best savings accounts in Virginia, you have options for different types of institutions.
The following is information about these banking choices.
Online banks
As doing day-to-day activities becomes more common online, you may think that an online bank with mobile banking is the best choice for you.
There are several advantages to making this choice. Online banks are just like traditional banks in that your money is protected, so the Federal Deposit Insurance Corporation (FDIC) guarantees your funds up to $250,000.
Also, since online banks do not have the same overhead as traditional banks, you're able to get more for your money through higher interest rates and fewer fees.
Traditional banks
In addition to saving your money with confidence because banks are FDIC insured, you can have access to a wide array of services, including checking, savings, and money market accounts, as well as loans.
You can choose a small local bank if you want to keep your money in the community, or a large international bank that gives you access to more locations.
Credit unions
Credit unions are similar to banks in that they also protect your money up to $250,000, which is done through the FDIC equivalent, the National Credit Union Administration (NCUA).
Credit unions, which are owned by their members, also offer the same services you find at banks, so in addition to opening savings and checking accounts, you're able to take out loans and get credit cards.
Virginia Savings Accounts vs. Money Market
Before you choose one of the best savings accounts in Virginia, you should think about what you're trying to accomplish.
Savings accounts and money market accounts can both help you achieve your financial goals, but they are very different.
The following is a comparison for you to consider.
Best uses
Do you have short- or long-term goals for your money?
If you're focusing on short-term goals, a savings account may be the best avenue since you have more access to your money.
On the other hand, with a money market account, though you don't have as much access to your money, you do enjoy higher interest rates.
This makes it a better option for longer-term goals, like saving for retirement or buying a home.
High minimum balance requirements
If you're working on tucking money away, but you don't have a lot to put into an account right now, a savings account may be the best choice because there's a lower minimum balance requirement.
For a money market account, you may be required to maintain at least $10,000, so it's the best choice when you're able to save large sums of money.
Interest rates
High interest rates are also something you should think about when considering the type of account you want to open.
Money market accounts often have higher interest rates than savings accounts, but this is not always the case.
Depending on where you choose to do your banking, a high-yield savings account may have interest rates comparable to money market accounts, so it's important to shop around.
Access to funds
If you feel like you'll need access to your funds, it's easier with a money market account because you get an ATM card.
With a savings account, it's a bit trickier because you'll need to transfer money to a checking account or go to a branch to make a withdrawal.
Frequently Asked Questions (FAQs)
What is the biggest bank in Virginia?
Carter Bank & Trust is the largest independent state-chartered commercial bank that has its headquarters in Virginia. Founded in 2006, the bank has $4.5 billion in assets.
What are four types of savings accounts?
The four types of savings accounts are basic savings, online savings, money market, and certificate of deposit accounts.
How many bank accounts should I have?
It's a good idea to have different bank accounts for different goals. Generally, you should have one account for your monthly bills; one for emergencies; one for expenses like entertainment and gifts; and one for specific goals, such as buying a car or home.