Are Personal Loan Mobile Apps Legitimate?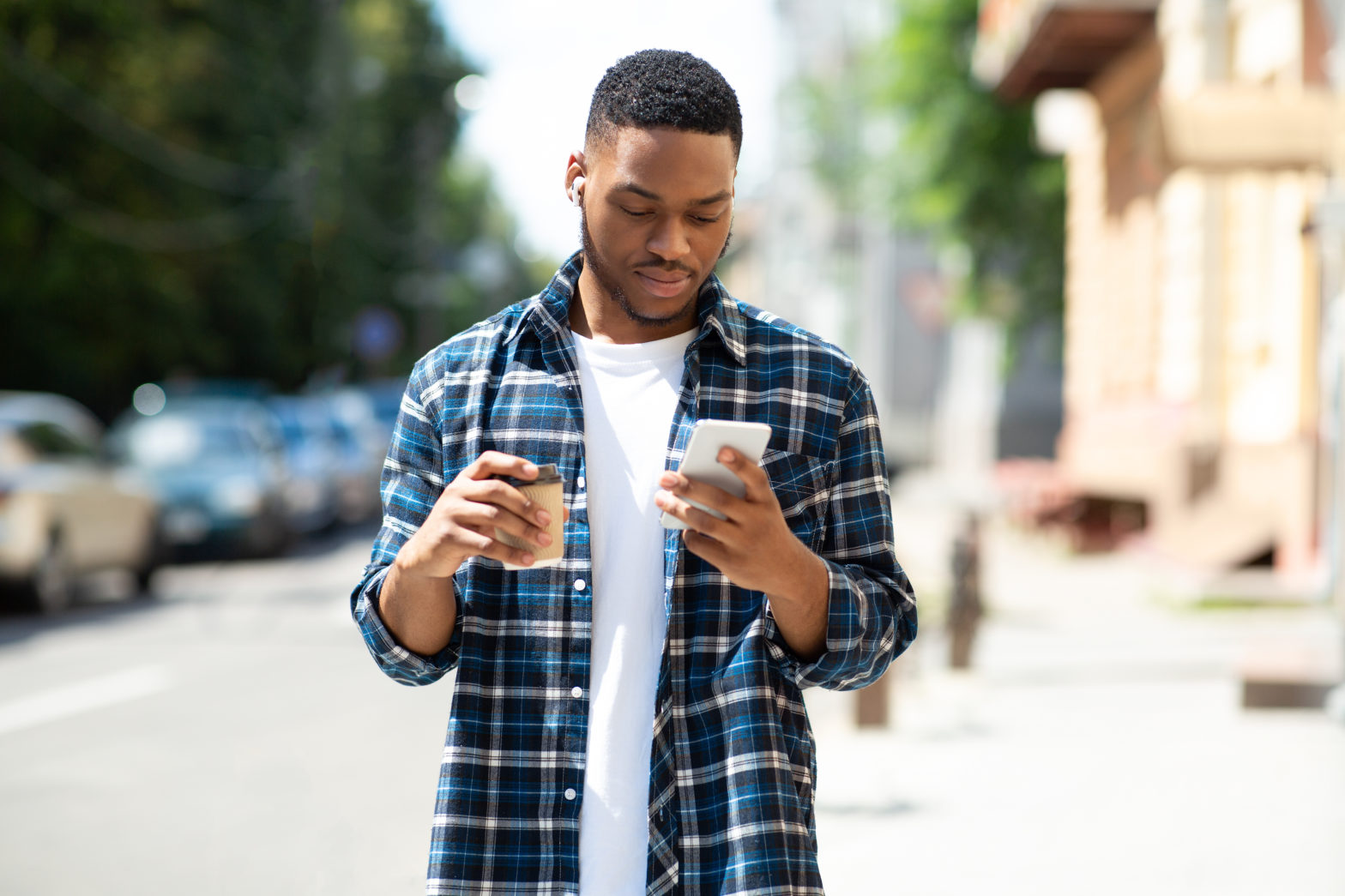 Getting a personal loan could make sense if you need money to pay for an unexpected expense, home improvement and repairs, or debt consolidation. But where do you turn for a personal loan when you need one?
You might try a personal loan mobile app if you're looking for convenient funding with potentially lower rates than what you might pay at a bank. There are a growing number of lenders that offer personal loans online.
Trying out a loan mobile app might be a new experience. But it's easier to navigate than you might think.
What Is a Personal Loan App?
A personal loan mobile app is an app that allows you to apply for and manage personal loans from your mobile device. There are different ways to get an online personal loan, starting with your current bank's mobile app. You may be able to apply for a personal loan through the app, depending on what your bank offers. And once approved, you could check your balance or schedule bill payments through the same app.
There are also apps that are designed just for personal loans. These are associated with lenders and lending marketplaces that specialize in offering loans online. The premise is the same, though. You can:
Download a loan mobile app
Review personal loan options
Apply for a personal loan
Check your balance and make payments once you're approved
Personal loan mobile apps make borrowing money easier. And if you already have experience using mobile banking apps or personal finance apps, you'll find they're not that different when it comes to navigating them.
Which Lenders Have the Best Personal Loan Rates?
Finding the lender with the best personal loan to meet your needs is as simple as using our search tool. Compare personal loans and find the best rates being offered today.
What Kind of Loans Can You Get With a Smartphone App?
The types of loans you can get through a smartphone cap can vary, based on which app you're using. But generally, you may be able to apply for any of the following via an app:
Personal loans. A personal loan is money you borrow to pay for personal expenses. So if your car breaks down, for example, or your pet needs emergency surgery you could apply for a personal loan through a mobile app to pay for those expenses.
Auto loans. If you're in the market to buy a car, you could try an auto loan mobile app to find the right borrowing option. These apps can be offered by banks, credit unions and non-bank auto lenders.
Installment loans. An installment loan is a loan that's paid back in a set number of installments, usually either monthly or biweekly. These apps may require no credit check for approval and you can apply for them through a mobile app.
Payday advance loans. Payday advance apps lend you money against your next paycheck. You might consider one of these mobile loan apps if you need to borrow a smaller amount of money that you can repay relatively quickly.
Small business loans. If you run a small business and need cash to cover expenses, then there's an app for that, too. Small business loan apps can help you find the right loan option based on your business type, revenues and credit score.
These days, there are even apps that allow you to apply for a mortgage from your mobile device. The point is that when you need to borrow for almost any reason, there's an app that can help.
Is It Safe to Apply for a Loan Using My Smartphone?
Banks and lenders are taking security and data privacy more seriously than ever these days, thanks to an uptick in cybercrime. At the same time, they recognize the need for convenient access to borrowing options, hence the rise of the mobile loan app.
Overall, applying for a loan from your smartphone is safe as banks and lenders can take a number of steps to protect your information. That includes encrypting data and using secure servers to store data. Of course, it's important to take some basic precautions on your end to ensure that your information is safe.
How to Make Sure My Information Stays Secure
The steps you can take to secure your information when applying for an online personal loan through your mobile device are relatively straightforward. They include:
Downloading trusted apps only. When downloading loan mobile apps, stick with companies you know and trust. And if you're not familiar with a particular lender, check their ratings with the Better Business Bureau and look for any complaints filed against them with the Consumer Financial Protection Bureau or the Federal Trade Commission.
Reading the fine print. Before granting a personal loan app permission to access information on your device, read the fine print first. Be sure to understand what information the app will be able to access and how that information is kept secure and private.
Avoiding public WiFi. Using public WiFi to apply for a loan on a mobile app or manage your money with any other app for that matter could put your information at risk. So stick to using trusted WiFi providers only.
Finally, be sure to keep your device and apps updated. This can help to ensure you have the latest security measures installed as new updates are made.
How Do I Apply for a Loan on My Smartphone?
Applying for a loan on a smartphone isn't that complicated. Before you get started, you may want to read some loan app reviews first to get a better idea of how they work. We've included some online personal loan reviews a little further down.
It also helps to have any information or documents handy that you might need to apply for a loan. That includes things like pay stubs, tax forms and bank account statements.
Once you've done some preliminary research and organized your documents, you can move on to the next steps.
Download and install a mobile loan app
The first thing you'll need to do is choose a loan app to download. Again, this is where it helps to be familiar with how different loan apps compare, in terms of what they offer and what kind of borrowers they typically work with.
Once you've done that you can install the app to your device and create an account.
Choose a loan option
If you've created an account, the next step is comparing loan options. When comparing personal loans, consider:
How much you need to borrow
Interest rates
Minimum credit score requirements
Fees
Loan terms
Some apps may guide you through the process of selecting a loan by asking you how much you need to borrow, what you plan to use the loan for and what you estimate your credit score to be. The app will then make a recommendation, based on your answers. You can decide whether to accept the recommendation or start over and look for a new loan.
Complete the loan application
If you've chosen a loan, you can complete the application. You'll need to share some basic details like:
Your name
Date of birth
Social Security number
Address and phone number
Income and employment
Housing status (i.e. rent or own)
Housing payment
Desired loan amount
Depending on the lender, you may be asked to upload pay stubs, tax forms, bank statements and other supporting documents as part of the loan application process. At this stage, the lender may perform a hard check of your credit. This is used to determine whether to approve you and what interest rate you'll pay.
Review the loan offer
If you're approved for a personal loan through a mobile app, you'll have a chance to approve the personal loan rates and terms. If you've checked the interest rate, monthly payment, loan amount and fees and it all looks good to you, you can accept the loan and move ahead. At this stage you'll agree to the lender's terms and conditions for the loan.
You'll also need to tell the lender where to deposit the money. This means sharing your bank account number and routing number. Depending on the lender, you may have the money in your account in as little as 1 to 2 business days after you're approved.
If you decide not to accept the offer, you can request a different loan offer from the same lender. Or you could start all over and apply for a loan through another app. Keep in mind, however, that multiple hard pulls of your credit could knock points off your credit score.
Manage your loan payments
Once your loan is funded, you can log into your loan app to set up payment options. For example, if you want to set up automatic payments you should be able to do that through the app. You could also set up payment reminders to let you know when the due date is approaching.
Read Reviews
If you're trying to decide which personal loan mobile app to use, reading reviews can help. Online reviews for loan apps can help with comparing things like loan terms, loan limits, interest rates and fees. And you can also get a feel for how user-friendly a particular mobile loan app is.
We've rounded up some of our best personal loan reviews here. But you can also do your own independent research with a simple search to find more loan reviews.
Best Egg offers personal loans for debt consolidation, credit card refinancing, home improvements, travel, major purchases, special occasions and even adoption expenses. It has an A+ rating with the Better Business Bureau and was rated a #1 personal loan option by Best Company.
Lending Club offers personal loans of up to $40,000 with low, fixed interest rates. You can get loan funds in as little as a few days, with no origination fees or prepayment penalties. Lending Club also allows for automatic loan payments each month.
Lightstream loans can be used for a variety of purposes, from home improvements to debt consolidation to medical expenses. Rates are fixed and you can download the app to apply through the Google Play store or the App Store.
Payoff personal loans are designed specifically for consolidating and paying off credit card debt. There are no application fees and applying won't impact your credit score. This loan mobile app is designed to help you get debt-free faster while improving your credit scores.
Prosper offers loans with 3 or 5 year terms and fixed interest rates. The lowest rates are reserved for the most credit-worthy borrowers. There are no prepayment penalties and you can check your rate through the Prosper app before you apply.
SoFi personal loans have no origination fees, no prepayment penalties and no late fees. Rates are fixed and it's possible to borrow up to $100,000. SoFi borrowers also enjoy unemployment protection if they lose their jobs and are unable to make loan payments.
Upgrade offers personal loans of up to $50,000 with low fixed rates and predictable monthly payments. In addition to personal loans, Upgrade also offers rewards checking accounts and the Upgrade Card, which features a flexible credit line of up to $25,000.
Pros and Cons to Personal Loan Mobile Banking
Getting a personal loan through a mobile app can be a great fit for some borrowers but not so much for others. Whether it makes sense for you to get a personal loan online can depend on what you need the money for, your credit scores and how quickly you need loan funds. Looking at the pros and cons can help you decide if a loan mobile app is worth a look.
Pros:
Convenience. Applying for a loan through a mobile app means you don't have to go to a bank or credit union to fill out paperwork. And you can apply any time, anywhere, when you need to borrow.
Loan shopping. Mobile apps can also make it easier to compare different loan options in one place. If you're using a loan marketplace app, for example, you can easily see personal loans from different lenders side by side.
Speed. Getting a personal loan through a bank or credit union could take several days or even weeks to complete, from the time you apply to the time you get the loan funds. With a personal loan app, on the other hand, you might be approved in minutes and get loan funds the same day or the next business day.
Cons:
Tech. Applying for a personal loan with a mobile assumes you know your way around a mobile device. If you're not the techie type, then you might struggle with downloading or navigating mobile banking loan apps.
Rates. If you're looking for personal loans, using a mobile app doesn't guarantee that you'll get the best rates. You may find better rates at your current bank or credit union, for example. So it's worth keeping in mind that an app isn't the only place to shop for a loan.
Security. If you're concerned about security and data privacy, you may feel more comfortable skipping a loan app and going to your bank to borrow money instead.
FAQs
Are personal loan mobile apps legit?
Yes, loan apps are a legitimate way to borrow money. Some are offered by banks while others are offered by online lenders but both can be reliable borrowing options.
Is there a limit to how much I can borrow with a mobile app?
Yes, loan mobile apps can limit the amount of money you can borrow. The personal loan amount you qualify for can depend on the app you're using, your credit scores and income.
Do loan mobile apps report to the credit bureaus?
They can, though they're not required to. If you want to build credit with an online personal loan, making payments on time or early each month is the best way to do it.
Will I pay a fee if pay my loan back early?
You might if the lender charges a prepayment penalty. These penalties are designed to help lenders recover any lost interest when a loan is paid in full ahead of schedule.
Can I get more than one loan from a mobile app?
Yes, though you may need to apply for loans from different lenders as some apps might limit you to one loan at a time. Keep in mind that applying for multiple loans can impact your credit scores and potentially put a strain on your budget if you're juggling several payments.
4 Key Takeaways
Personal loan mobile apps can make it easy to get money when you need it for just about any purpose.
These apps can be more convenient than going to a bank for a loan and many of them offer generous loan limits.
Before committing to a personal loan through a mobile app, be sure to understand what you'll pay and when payments are due.
Consider setting up automatic payments or due date reminders to avoid any credit score dings associated with paying late.