Bank Fees Survey – Americans Pay $159 Per Year for Checking Accounts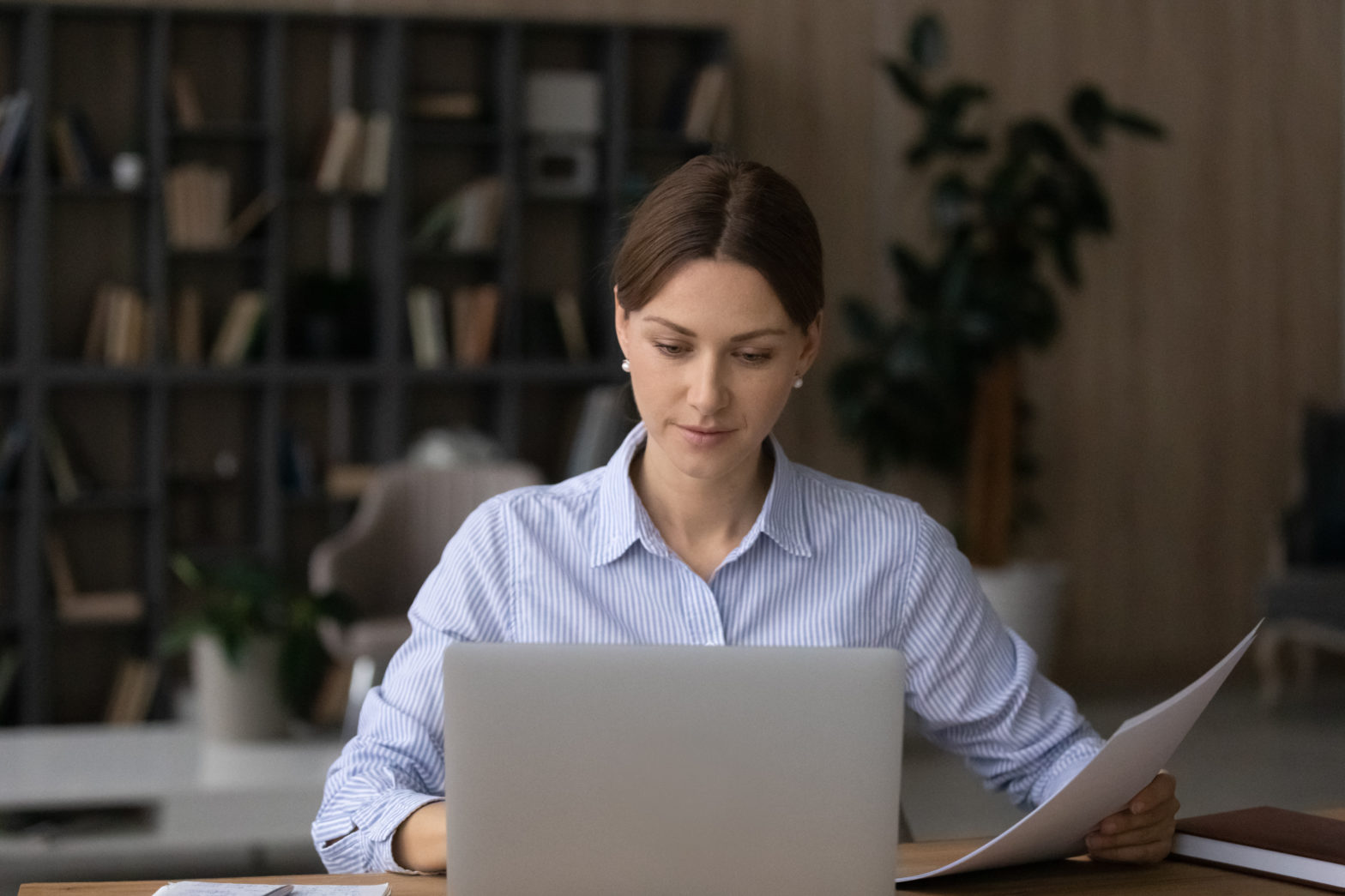 Bank fees rose yet again over the past six months, and became more difficult to avoid. Online banking remains a clearly cheaper alternative, so the message is clear: Start banking online, or expect to pay the price.
The latest semi-annual MoneyRates.com checking account fee survey looked at a representative mix of roughly 100 large, medium and small banks. The findings show bank fee trends over the past few years, examining the cost differences between online and traditional banking and between smaller and larger banks.
Free checking drops, bank fees rise
Checking accounts can charge a variety of bank fees, but the most significant is the monthly maintenance fee. While ATM and overdraft fees can also take a large bite out of your account balance depending on your banking habits, the monthly fee is charged regardless of how you use the account. For most bank customers, this now means paying more every month.
Only 1 in 4 bank accounts offer free checking
The percentage of accounts still offering free checking, which has been in steady decline in recent years, has leveled off at just under 25 percent.
Maintenance fees rise to $13.29
The latest MoneyRates.com survey found the average monthly maintenance fee for a checking account is now $13.29, up by 20 cents over the past six months. While 20 cents may not sound like much, over the course of the year that amounts to $2.40, bringing the total annual cost to $159.48.
The recent hike in checking account fees is part of a long-standing trend. Over the past four years, the average annual cost of maintenance fees jumped from $135.36 to $159.48, a 17.8 percent increase.
Overdraft fees relatively unchanged
Overdraft fees average $32.38, within a few cents of where they were six months ago.
Minimum balance to waive fees increase almost $800
Not only have monthly maintenance fees gotten more expensive, but they have become harder to avoid. Most banks will waive this fee if you maintain a specified minimum balance in the account, but the balance required has been on the rise.
Over just the last six months, the balance necessary to qualify for a fee waiver rose by nearly $800 to $6,847.49. That kind of balance is well beyond the means of people who are close to living from paycheck to paycheck. Four years ago, this balance requirement was just $3,590.83.

ATM fees trending upward
Using an ATM has also gotten more expensive, especially if you're going out of your bank's ATM network.
Out-of-network ATM fees average $1.73
Banks don't typically charge for using one of their own machines or one in a network to which they belong, but if you use another bank's machine, expect to pay for the privilege. Banks now charge an average of $1.73 when a customer uses an out-of-network ATM, up 12 cents in the last six months.
Non-customer ATM charges grow 16 cents
Banks charge even more when a non-customer uses one of their machines – $2.87, up 16 cents in the last six months. Since customers are likely to get hit with both charges – one from their own bank and one from the bank that owns the ATM – using out-of-network machines is a very expensive habit.

Online vs. traditional bank accounts: Which have fewer fees?
When breaking fee data down into various categories, the clearest contrast is between online and traditional (branch-based) checking accounts. Which one is cheaper for customers?
Online account fees lower than traditional accounts
The average monthly maintenance fee for an online account is $10.13, compared to $13.47 for a traditional account. Over the course of the year, that would amount to a savings of about $40. It also takes a much lower balance to qualify for a monthly fee waiver in an online account – just $1,204.35 on average, compared with $7,317.75 for a traditional account.
Majority of online accounts offer free accounts
Also, those monthly fees are less likely to be an issue to begin with in an online account. About 53 percent of the online accounts surveyed still have no such fees, compared to just 22 percent of traditional accounts.
Overdraft fees higher for traditional accounts
Overdraft fees are also cheaper when you bank online, at an average of $28.73 compared with $32.73 for traditional accounts. For consumers who are increasingly accustomed to doing business electronically, online accounts may represent an advantage in terms of both cost and convenience.

Fees by bank size: Is a bigger bank cheaper?
For bank customers who are not yet ready for online banking, one potential money-saving tip is for smaller customers to gravitate towards smaller banks.
MoneyRates defines bank size as the following:
Large bank: $10 billion and up in deposits
Medium-sized bank: $5 billion to $10 billion
Small bank: Less than $5 billion
Smaller banks have smaller fees
Large banks have sharply higher monthly fees than small and medium-sized banks, and require almost twice the minimum balance ($11,674.09) as their smaller counterparts in order for a customer to qualify for a fee waiver.
Overall, the cost advantages of smaller banks are not as great as those of online banks, but they may be the most viable option for some people hoping to reduce fees.
Why consider switching to a new bank
Many consumers are still locked into the bank they had back when free checking was commonplace and convenient branches were one of the biggest considerations in choosing a bank. Things are very different now, and the fee environment is continuing to change rapidly. Those who don't change with the times, especially by considering online banking, will pay an increasingly steep price.
Not only can customers cut monthly costs by changing banks, they could also take advantage of new bonus offers or higher savings account rates. See which banking options are out there and whether it's worth the switch.
Methodology
MoneyRates surveys roughly 100 banks, which make up the MoneyRates Index. This index represents a cross-section of the banking industry, including the largest retail deposit institutions in the United States plus samplings of medium and small banks.
Based on the data generated by the survey, an average is calculated for several checking account metrics, including:
Maintenance fees
Overdraft fees
ATM fees
Minimum opening balance requirements
Minimum balance requirements for fee waiver eligibility
Besides overall averages, individual category averages are created to show fee differences between online and traditional, branch-based accounts, as well as among small, medium and large banks.
Bank Fee infographic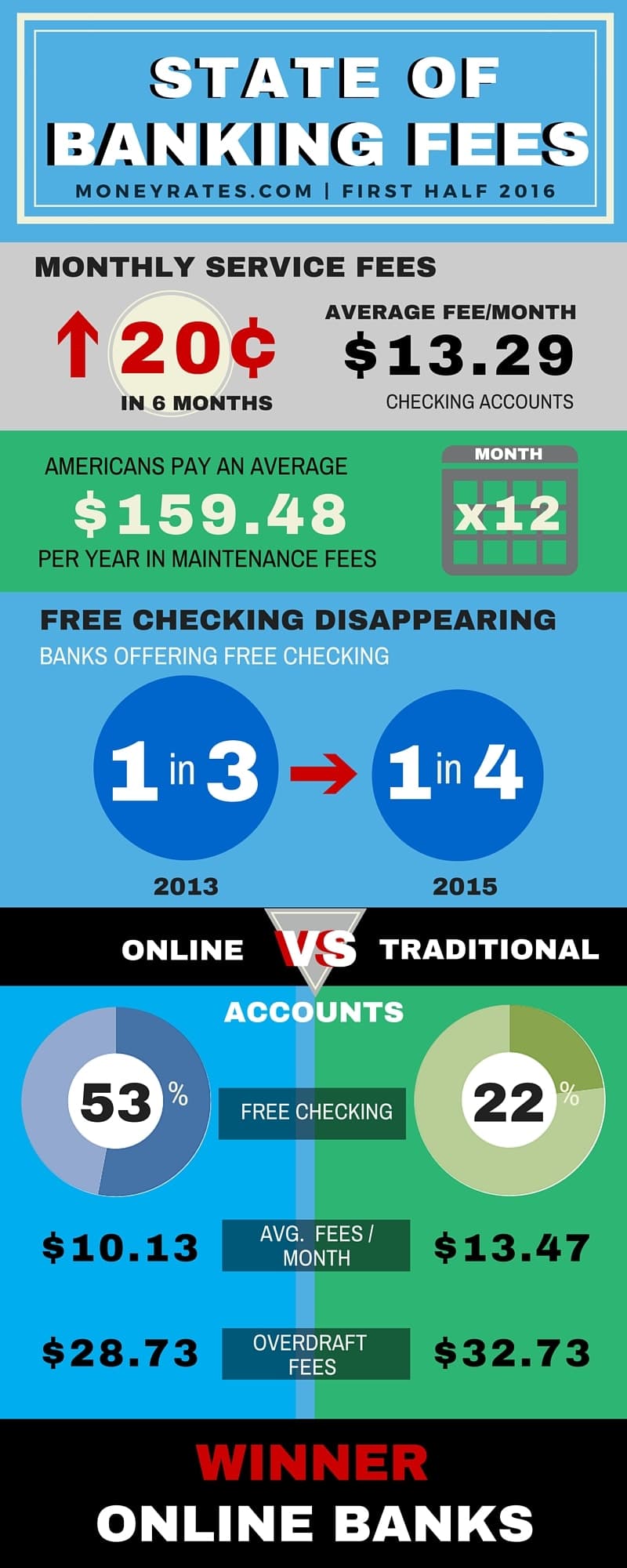 Comment: Are you paying fees for your bank accounts? Are you surprised by the results of the survey?