10 Job Markets Standing Up Best to Coronavirus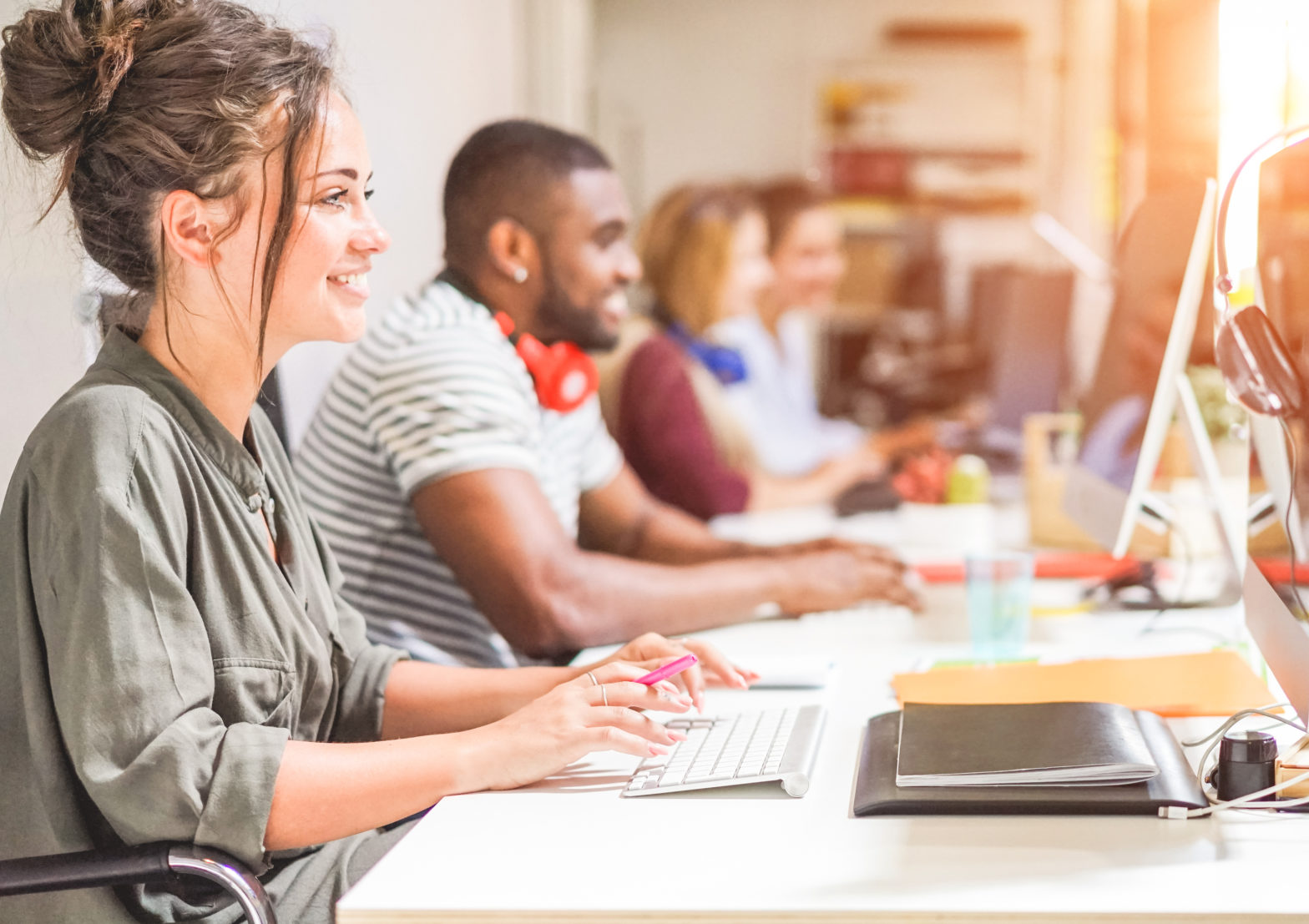 SURVEY HIGHLIGHTS
Millions of Americans have lost their jobs due to the coronavirus pandemic. Yet job markets in some places are holding up much better than most.
A fresh wave of graduates is hitting the job market while millions of people are already looking for work. In this tough environment, it pays to know which job markets offer the best prospects.
MoneyRates.com conducted a study to find the job markets that are best standing up to the coronavirus crisis. As expected, the study revealed sharp differences from place to place.
Overall, the job market in Utah ranked as the best place to find a job despite the coronavirus pandemic. Nevada's job market has suffered the most.
Some examples:
Unemployment rates

The average state has seen unemployment rates increase by over 12% since February; but in Washington, Michigan and Nevada, unemployment rates have jumped by over 20%.

Job seekers per job opening

South Dakota has just over one job seeker for every opening while in Washington state there are over five job seekers for every opening.

Most vulnerable industry sectors

Fully 63.35% of the jobs in Nevada are in industry sectors that have been most vulnerable to the coronavirus crisis, while only 42.28% of the job market in the District of Columbia is vulnerable.
See current savings account rates
How Coronavirus Crisis Impacted Job Markets Unevenly
Why have job markets held up much better in some states than in others?
The need for social distancing drastically changed both how people work and what consumers want.
For example, remote working is a viable alternative for information-based jobs. For hands-on services such as hairdressers or bartenders, it's not.
Consequently, consumer demand has been impacted radically too. Under these conditions, few people relish the idea of getting on a plane and traveling to a crowded hotel, so tourism has been hard hit.
Meanwhile, internet services are in high demand as more people are working from home and seeking entertainment from cable television and streaming services.
Three charts tell the story
The following charts show how uneven the impact of the coronavirus crisis has been across the states. Here's why:
The coronavirus crisis hit some job markets harder than others.
The pandemic also led to uneven competition for jobs in different job markets.
Some states are more exposed to vulnerable job markets.
Increase in Unemployment Rate Since February 2020
Number of Job Seekers per Job Opening
Exposure to Vulnerable Industry Sectors
Methodology: Measuring Job Markets after Coronavirus Lockdowns
To see how different job markets are holding up, MoneyRates wanted to look beyond the headline unemployment rate, though that is one important indicator.
So this study also considered how well-suited each job market seems to be for sustaining or replacing jobs and how rapidly the job market in each state deteriorates.
These are the four factors used by this study to rank all 50 states plus the District of Columbia:
Unemployment rate

Unemployment has risen across the country but is much higher in some places than in others.

Increase in unemployment since February

Coronavirus lockdowns became widespread beginning in March. Looking at the increase in unemployment since the end of February shows the post-lockdown effect on each job market.

Number of job seekers for each job opening

Though Bureau of Labor Statistics info on job openings by state is only available with a lag of a few months, comparing the number of job seekers with the last reported number of openings gives an indication of how much competition you would face for job openings in each state.

Exposure to vulnerable industries

Some types of jobs have been hit much harder than others. For example, leisure and hospitality employment is down by over 48% since February. This study looked at how much each state's job market depends on the five industry super-sectors that have seen the worst job losses since the crisis struck.
10 Job Markets Standing Up Best to Coronavirus
There is more than enough bad news about COVID-19. This study is intended to help people take the constructive approach of focusing on where they may have the best chance of getting a job.
Here are the ten job markets that have been standing up best to the coronavirus crisis:
1. Utah
While the average state unemployment rate surged to over 13%, Utah's is less than half that.
It has just 1.3 job seekers for every opening, and its job market is less dependent on highly vulnerable industries than those of most states.
Utah ranked among the ten best states in all four categories in this study, including being in the best three states for job seekers per opening, unemployment rate and change in unemployment since coronavirus lockdowns began.
2. Kansas
Only three states have less exposure to the industries that have been hurt worst by the health crisis. This has helped Kansas maintain the sixth-lowest unemployment rate of any state.
In addition, Kansas has less than two job seekers for every job opening. That may not sound great, but the average state has nearly three job seekers for every opening.
Kansas was strong across the board, ranking among the ten best states in all four of the study's categories.
3. Nebraska
Just to the north of Kansas, Nebraska shares many of the same positive characteristics.
It ranked fourth-best in three categories: job seekers per opening, unemployment rate and change in unemployment since lockdowns began.
It had the fifteenth-lowest exposure to the most vulnerable industries, so it was better than most states in the remaining category.
4. Wyoming
According to the World Population Review, Wyoming has the second-lowest population density of any state, so it is well-positioned to avoid a fast breakout of COVID-19.
It has the second-lowest number of job seekers per job opening and has seen the second-lowest post-lockdown increase in unemployment.
The only drawback is that it has slightly more exposure to vulnerable industries than most states.
5. South Dakota
South Dakota ranked number one in three out of four categories: low number of job seekers per opening, lowest unemployment rate and smallest jump in unemployment since lockdowns began.
One concern going forward is that its job market is more dependent on vulnerable industries than that of all but ten other states.
6. (tie) Indiana
Though low unemployment rate was the only category in which Indiana ranked among the ten best states, it was above median in the other three categories. This all-around good performance put Indiana in the top ten overall.
6. (tie) Virginia
Virginia is the one east-coast state to make the top ten. Its greatest strength was having the third-lowest exposure to the five industry sectors that have been hit hardest by the health crisis.
It was also the tenth best for low number of job seekers per opening, and was above median in the other two categories as well.
8. Arizona
Arizona has the fifth-lowest unemployment rate in the nation, and it was sixth-best for lowest rate of post-lockdown job losses and fewest job seekers per opening.
One potential for trouble is that Arizona has more exposure to the hardest hit industry sectors than most states.
9. Colorado
For Colorado, it's a case where decent performance across the board makes the difference.
Colorado did not rank among the ten best states in any of the four categories. Still, by ranking between twelfth and fifteenth in all four, it was clearly better than most states by each measure.
10. North Dakota
Rounding out the top ten, North Dakota was one of the ten best states in three out of four categories.
It does have more exposure to troubled industries than most states, so it remains to be seen whether its job market can sustain its strong performance.
Tips for Today's Job Seekers
Finally, here are some tips for finding a job in today's very difficult market:
Be flexible about location

The study's results underscore that location can make a huge difference when searching for a job. The more flexible you can be about going where the jobs are, the better your chances of finding work.

Look for jobs that stay in demand

Social distancing requirements have destroyed demand for some jobs but actually created demand for others. Don't limit your job search too narrowly. You might miss out on the best opportunities.

Gain experience where you can

Under normal circumstances, it's important to find work in your chosen field so you can start advancing your career. However, if that's not possible, other types of experience can look good on a resume.

Showing that you were willing to work and take on responsibility in any field looks better on a resume than a big gap in your job history.

Practice productivity

Remote working takes discipline. If you have a job, work with your employer to set measurable goals. This can help you from drifting and demonstrate to your employer that you are worth keeping on the payroll.

Build an emergency fund

Even if you have a job, nothing is very certain these days. So, for as long as you're drawing a paycheck, put some of that money into a savings account. Having a cushion against emergencies might come in handy.
Nothing is easy these days. That's why you should give yourself a break by knowing where you have the best chance of finding and keeping a job.
Full Listing
Here is a look at where each state (plus the District of Columbia) ranked in each of this study's four categories and overall. For each category, the lower the number, the better the ranking.
| State | Overall Rank | Exposure to Troubled Sectors (Ranked Least to Most) | Ranked by Job Seekers per Opening (Ranked Low to High) | Ranked by Insured Unemployment Rate (Ranked Low to High) | Ranked by Change in Insured Unemployment Rate since February (Ranked Low to High) |
| --- | --- | --- | --- | --- | --- |
| Alabama | 15 | 2 | 20 | 18 | 23 |
| Alaska | 34 | 30 | 33 | 37 | 34 |
| Arizona | 8 | 34 | 6 | 5 | 6 |
| Arkansas | 13 | 18 | 12 | 14 | 14 |
| California | 35 | 23 | 42 | 36 | 36 |
| Colorado | 9 | 13 | 15 | 12 | 13 |
| Connecticut | 43 | 29 | 49 | 46 | 41 |
| Delaware(1) | 23 | 36 | 18 | 19 | 16 |
| District of Columbia(1) | 11 | 1 | 17 | 20 | 19 |
| Florida | 29 | 48 | 22 | 22 | 26 |
| Georgia | 36 | 14 | 37 | 43 | 47 |
| Hawaii(1) | 48 | 50 | 38 | 40 | 42 |
| Idaho | 14 | 35 | 9 | 8 | 7 |
| Illinois | 26 | 17 | 29 | 25 | 24 |
| Indiana | 6 | 16 | 11 | 9 | 11 |
| Iowa | 20 | 11 | 26 | 23 | 21 |
| Kansas | 2 | 4 | 7 | 6 | 8 |
| Kentucky | 27 | 22 | 30 | 28 | 28 |
| Louisiana | 42 | 45 | 41 | 38 | 40 |
| Maine | 36 | 47 | 32 | 31 | 31 |
| Maryland | 16 | 31 | 8 | 13 | 12 |
| Massachusetts | 39 | 40 | 43 | 34 | 35 |
| Michigan | 39 | 5 | 47 | 50 | 50 |
| Minnesota | 31 | 25 | 36 | 32 | 30 |
| Mississippi | 38 | 8 | 45 | 44 | 48 |
| Missouri | 18 | 32 | 14 | 10 | 10 |
| Montana | 30 | 49 | 24 | 27 | 22 |
| Nebraska | 3 | 15 | 4 | 4 | 4 |
| Nevada | 51 | 51 | 50 | 51 | 51 |
| New Hampshire | 44 | 42 | 39 | 41 | 45 |
| New Jersey | 41 | 37 | 44 | 39 | 38 |
| New Mexico | 25 | 20 | 23 | 24 | 25 |
| New York | 49 | 39 | 48 | 47 | 46 |
| North Carolina | 23 | 10 | 16 | 30 | 33 |
| North Dakota | 10 | 38 | 5 | 7 | 5 |
| Ohio | 28 | 21 | 31 | 29 | 29 |
| Oklahoma | 18 | 6 | 19 | 21 | 20 |
| Oregon | 33 | 27 | 34 | 35 | 37 |
| Pennsylvania | 44 | 46 | 40 | 42 | 39 |
| Rhode Island | 50 | 43 | 46 | 48 | 44 |
| South Carolina | 22 | 7 | 28 | 26 | 27 |
| South Dakota | 5 | 41 | 1 | 1 | 1 |
| Tennessee | 21 | 26 | 25 | 15 | 17 |
| Texas | 17 | 24 | 21 | 11 | 9 |
| Utah | 1 | 9 | 3 | 2 | 3 |
| Vermont | 44 | 44 | 35 | 45 | 43 |
| Virginia | 6 | 3 | 10 | 16 | 18 |
| Washington | 47 | 19 | 51 | 49 | 49 |
| West Virginia | 32 | 33 | 27 | 33 | 32 |
| Wisconsin | 11 | 12 | 13 | 17 | 15 |
| Wyoming | 4 | 28 | 2 | 3 | 2 |