Worst States for Young Adults 2014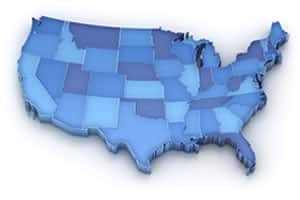 The aftermath of the Great Recession has been especially hard on young adults trying to start a career, with unemployment rates for people in their early 20s running well above the national average. Add in high rental costs and ever-rising tuition, and the financial burden on young adults can be considerable today.
To determine which places are better suited to young adults today, MoneyRates looked at a range of economic and lifestyle factors to rank all 50 U.S. states and the District of Columbia. The list below reveals the 10 lowest-scoring areas in the study — otherwise known as the Worst States for Young Adults in 2014.
Worst places in the U.S. for young people
Here are the eight factors MoneyRates examined in 2014 to determine its Best and Worst States for Young Adults:
Youth unemployment.
Youthfulness of the population.
Tuition costs.
Rental costs.
Rental availability.
Access to high-speed broadband.
Number of bars and other nightspots per capita.
Number of fitness facilities per capita.
Based on these factors, these are the 10 worst states for young people:
New Hampshire. This was the second-to-worst state last year, but it earned the distinction of being the absolute worst in this year's study. Why? New Hampshire was well below average in six out of eight categories in this study. Therefore, it is probably not a coincidence that New Hampshire has the third-lowest proportion of people aged 20- to 24-years-old of any state. People are smart enough to vote with their feet, and young adults seem to be saying that there is not much that draws them to New Hampshire.
Washington. The state of Washington fell by an unlucky 13 slots from last year to wind up as the second worst state for young people. It ranked below average in every category except for the concentration of fitness clubs. Renting an apartment seems to be a particular problem — vacancies are relatively scarce in the state, and rents are high. This is a particular concern for people too early in their careers to buy a home.
Arizona. It is known as a haven for retirees, so perhaps it is no surprise that conditions in Arizona are not well-suited to young adults. Arizona ranked below average in six of eight categories, with bottom-10 rankings for young adult employment, nightlife and access to high-speed broadband.
Virginia. This state did not score particularly well in any category, and did especially poorly in the areas of rental affordability and the number of nightspots per capita. Virginia narrowly missed the bottom 10 last year, but no such luck this time.
Maine. Believe it or not, this ranking represents an improvement over last year, when Maine was deemed the worst state of all for young adults. The problems it still faces include low rental availability and a low number of nightspots per capita. In response, young people certainly do not show the state much love — it has the lowest proportion of people age 20 to 24 of any state.
Kentucky. One of seven states to repeat from last year's bottom 10, Kentucky was among the worst states for young adult unemployment, access to high-speed broadband and the concentration of fitness establishments. At least living expenses are cheap: The state has the second lowest median rent in the nation.
New Jersey. Despite an excellent ranking for access to high-speed broadband, the Garden State is no Garden of Eden for young adults. Chief problems include high costs for tuition and rents. No wonder New Jersey has the second-lowest proportion of 20- to 24-year-olds of any state.
California. Despite being associated with youth culture and having one of the highest proportions of young adults in its population, California is tough on young people economically. Unemployment in the 20-to-24 age group is among the worst in the nation, and rental properties are hard to find and very expensive.
Vermont. The main problems here are that Vermont is the worst state for access to high-speed broadband, and second worst for high college tuition. Those shortcomings were enough for Vermont to join its New England neighbors Maine and New Hampshire on this list.
Oregon. Oregon has the lowest rate of rental availability of any state, and is in the bottom 10 for the proportion of young adults in its population.
Obviously, different people have different tastes and different opinions on what makes a state attractive. However, some of the factors identified in the above list might just help you steer clear of states that are a little tougher on young adults.
Or, if you are already in one of those states, seeing it rank as one of the worst for young people might just get you thinking about trying your luck elsewhere. There could be a better life waiting for you in a state where conditions are more welcoming to people like yourself.
Also see MoneyRates's features on the Best States for Young Adults and the full 50-state rankings.