Acorns Review 2023 – Robo Advisor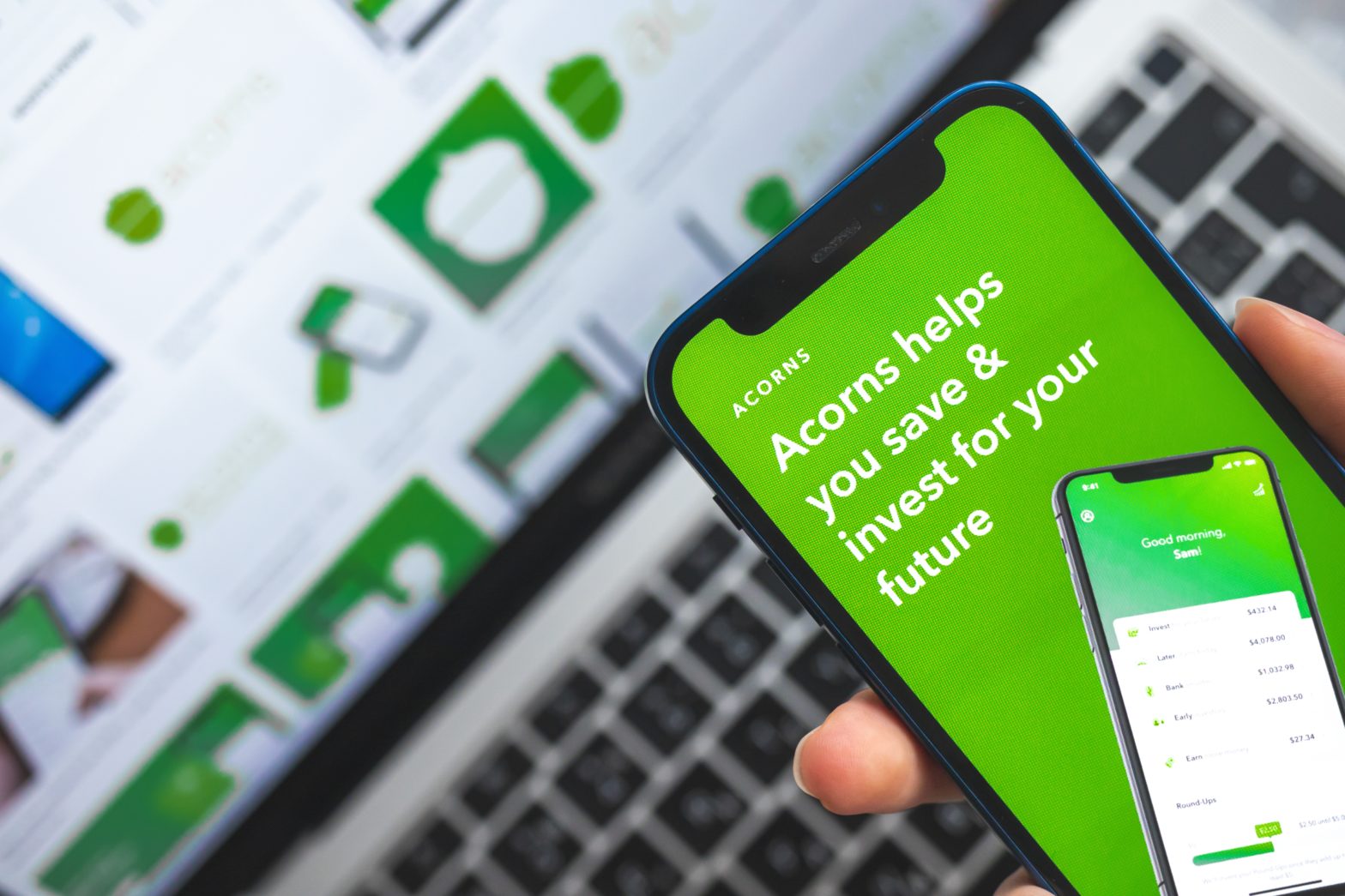 Robo-advisors can make investing easier by enabling you to build a portfolio on autopilot.
The Acorns robo-investing platform is designed to help you grow, spend, save, and even earn money all in one place.
This online investment platform shares some similarities with other automated advisors, though it has a few characteristics that set it apart from the crowd.
What is Acorns? Is it right for you? If you're ready to start building wealth for the future, this Acorns review can help you decide if it's an investment platform you should consider.
Acorns may be right for:
Beginners who want to invest smaller amounts of money.
People who are interested in automated investing.
Investors who prefer exchange-traded funds (ETFs) to other types of securities.
People who want to invest with no minimums or trade fees.
Investors who want to open a taxable account and an IRA in the same place.
Types of Accounts Acorns Offers
Acorns offers its users two simple ways to invest and a few other ways to manage your money for now and the future. This Acorns review spells it out for you.
Acorns Invest
This micro-investing account lets you build a portfolio using your spare change. This is the original account offering Acorns started off with. You might choose Acorns Invest if you want a simple way to invest money without having to pay steep fees or actively pick and choose stocks.
Acorns Later
Acorns Later is designed for retirement savers. You tell Acorns a little about yourself, including your income and financial goals, and Acorns recommends an individual retirement account option. You can then build retirement savings on autopilot as well.
Aside from investing accounts, there are other ways to manage your money with Acorns.
Acorns Spend
Acorn Spend is a checking account that comes with a metal debit card used for making purchases or cash withdrawals at an ATM. This account comes with features like mobile check deposit and direct deposit, along with fee-free access to more than 55,000 ATMs worldwide.
Acorns Early
Have you ever thought about setting up an investment account for your kids? Acorns Early was designed to get kids started on the right investment track early on. Specifically, it's a UTMA/UGMA custodial account that parents can establish on behalf of children. You can set up one of these accounts online in minutes and build savings automatically for $5 a month.
Acorns Earn
This is an added feature that allows you to earn cash back that you can then invest with Acorns. To use this feature, you need to open an Acorns account, which you can do through the Acorns app. From there, you just need to shop partner brands and activate offers to earn rewards at checkout. It's a simple way to grow your investments with Acorns.
Compare Online Robo-Advisors
Use our search tool to do a quick and easy search for the best robo-advisors. Compare rates, fees, and more, and see how Acorns stand up to the rest.
Acorns Review: Key Advantages of Acorns Robo-Advisor
Acorns offers a simplified approach to investing for beginners.
Open multiple accounts to pursue different financial goals.
Easily manage those accounts through the Acorns mobile app.
Acorns keeps fees to a minimum for investors.
Invest for yourself or your kids if you're a parent or guardian.
Build a diversified portfolio online automatically.
All of those benefits may appeal to a beginning investor who's just getting into the market. Acorns offers ease of use, low fees, and a diverse range of products to help meet different financial needs.
Acorn appeals to novice investors
Investing on the Acorns platform may be less appealing to more experienced investors. Compared to some of the other robo-advisors on the market, Acorns offers fewer investment options, and it doesn't come with high-tech investment analysis tools or resources. This is deliberate because Acorns is designed for people who want to automate their investments rather than engage in active day trading.
How Acorns Robo-Advisor Works
Robo advisors aren't the same as traditional online brokerages, but they aren't that difficult to navigate once you know the basics. Investing on the Acorns platform can be done in one of two accounts: Acorns Invest or Acorns Later. This Acorns review looks at both options.
Invest in ETFs with a taxable brokerage account
When you open an Acorns Invest account, you can use your spare change. This account can be linked to your checking account so that each time you make a purchase, the difference is rounded up and invested for you. Specifically, your money is invested into a portfolio of exchange-traded funds (ETFs).
Those ETFs are diversified across more than 7,000 stocks and bonds. Investing in Acorns stock isn't an option, however, since the company isn't publicly traded.
Acorns will automatically rebalance your portfolio for you to make sure it stays aligned with your investment goals and risk tolerance. You get all of this for $1 a month, which is substantially lower than the fees you might pay to a financial advisor or even what you might pay with another robo-advisor platform.
Invest in ETFs held in an IRA
With Acorns Later, your money is still invested in ETFs, but it's held in an IRA instead of a taxable brokerage account. An IRA is included as part of the Acorns Family subscription, which also comes with an Acorns Invest account and an Acorns Spend account. This package is $3 a month. For $5 a month, you can get all of those accounts along with an Acorns Early account if you want to save and invest on behalf of your kids.
There are five portfolio options, and Acorns will choose the one that's right for you based on details you share about your risk tolerance, time horizon, and goals. The portfolios range from conservative to aggressive asset allocation, with more moderate options in the middle.
What to Look for When Shopping for a Robo-Advisor
Robo-advisors have become increasingly popular as more people seek an automated way to invest while paying minimal fees. Acorns could be a good way to start investing for beginners, but any time you're comparing robo-advisors, there are a few things to keep in mind:
Cost
Fees are always important to consider, as they can eat into your investment returns over time. Acorns is fee-friendly, but not all robo-advisors cost the same. While this Acorns review can help you to start thinking about how much you can afford to pay in fees, be sure to check the fee schedule of any robo-advisor before you invest in it.
Account Types
Online brokerage accounts and IRAs can both be used to invest, though one may be more important to you than another. The addition of checking accounts, kids' investment accounts, or savings accounts may also tempt you to choose one robo-advisor over another.
Investment Selection
What you'll find at one robo-advisor may not be the same as what another offers. Acorns investing is all about ETFs, for example, but other robo-advisors may offer individual stock trading, mutual funds, or bonds.
Added Features and Benefits
Some online brokerages offer features that others don't. For example, you may be interested in things like tax-loss harvesting or fractional share trading. Knowing what a robo-advisor platform does or doesn't offer can help with deciding whether it's worth it.
Customer Service and Support
If you have an issue or question about your investment accounts, it's important to be able to connect with customer support quickly. It's crucial to consider how and when customer service can be reached as you compare robo-advisors.
Educational Resources
Having research and analysis tools on hand can help make it easier to decide how to invest. Acorns offers Grow, which is a library of educational articles, though some robo-advisors may offer more or less in the way of investor education. If expanding your financial literacy is important to you, you'll want to seek out a robo-advisor that supports you in this goal.
Online and Mobile Access
If you're investing online then you should be able to access your account when you need to and from anywhere. Acorns mobile app is easy to navigate and use but it's still worth comparing the user experience other robo advisors may offer.
It's also important to consider a robo-advisor platform's reputation and history. Newer trading platforms striving to compete with older, more established platforms should be considered carefully, as they have a shorter track record.
Compare to Other Robo-Advisors
Acorns is a solid way for consumers to build their portfolios with small amounts of money. But how do other investment robo-advisors stack up? We've compared a few.
YieldStreet Financial Advisor
While YieldStreet is also designed to advise users on the best investments for their situation, it's geared more for investors looking for alternative investment opportunities such as real estate funds, short-term notes, or supply chain financing. Acorns is geared more towards more traditional investments such as exchange-traded mutual funds.
Wealthfront Robo-Advisor
Wealthfront offers some of the same investment opportunities as Acorns, but they do branch out by also offering a wide variety of options such as 401(k) rollover and college savings funds. On the flip side, while it costs $0 to get started with Acorns, Wealthfront requires a $500 deposit to open an investment fund.
Bottom Line: How Acorns Robo-Advisor Compares
Acorns was one of the earliest platforms to introduce the micro-investing model and it continues to be known for that offering. But it's also expanded to help investors create a more complete financial picture with Acorns Later, Acorns Spend, and Acorns Early.
You may look to Acorns for automated investing if you're just starting out and don't have a lot money to put in the market. It's also worth considering if you've been thinking about switching banks and you want to keep your checking accounts and investment accounts in the same place.
How to Take the Next Steps
Now that you've had a chance to read an Acorns review, you've got a pretty good idea about the highlights of Acorns' investing platform, what's good about this particular robo-advisor, and why you may want to look elsewhere. If you're still wondering if Acorns is worth it, the answer depends on what you need from an investment platform.
If you just need a simple way to start building a portfolio online, Acorns can deliver that. It's fee-friendly, with plans starting at just $1 a month. Being able to open a checking account, IRA, and investment account all in one place can simplify how you manage your money.
On the other hand, there are plenty of other robo-advisors to choose from, so it's important to shop around. For example, if there's a specific feature you're looking for, like fractional share trading, another brokerage may fit the bill. Understanding what your needs are when it comes to how to invest money can help you decide which trading platform to use, and reading this Acorns investing review and others can help with your decision-making process.