The Best Savings Accounts in Arizona for 2023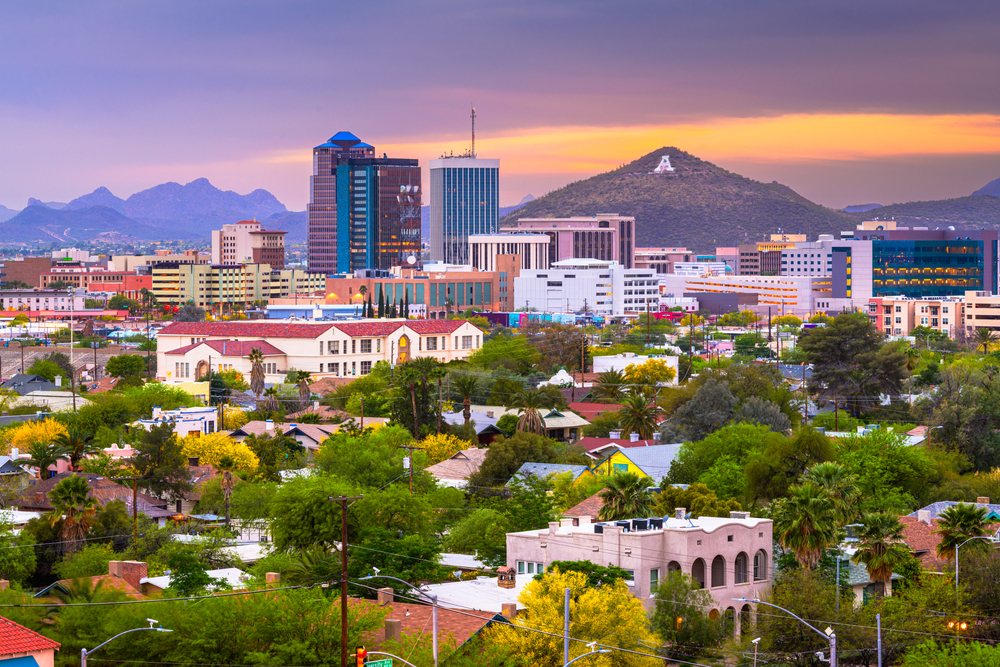 With only about a dozen banks headquartered in the state, Arizona doesn't offer its residents as many financial options as its neighbor California. The Phoenix Business Journal characterizes the state as a banking desert.
That doesn't mean you can't get an excellent savings account in Arizona, but if you want to maximize interest earnings, you may need to look at online banks. Keep reading for more details about your options and where to find the best savings accounts in Arizona.
The Best Savings Accounts at Arizona Banks
Marcus by Goldman Sachs
Goldwater Bank
Metro Phoenix Bank
Hughes Federal Credit Union
Find the Best Savings Accounts
Finding the bank with the best savings account shouldn't take a lot of work. The banks featured below offer above-average interest rates on their savings accounts.
Arizona Online Savings Accounts
According to Local First Arizona, the state is underserved in terms of community banks. Less competition could mean lower savings account interest rates from local institutions. Fortunately, online banks often have APYs as much as 10 times the national average. Here's a look at some of the best online savings accounts available to Arizona residents.
Marcus by Goldman Sachs
Goldman Sachs is one of the most respected names in investment banking, but you don't have to be a millionaire to open an account with the company. Through Marcus, its online bank, anyone can access some of the highest savings rates available today.
The high-yield savings account at Marcus has no minimum balance or opening deposit requirements. It also doesn't charge any fees and allows account holders to make unlimited withdrawals.
Marcus customers can manage their accounts via an app and make same-day bank transfers of $100,000 or less to and from other banks. The only potential downside to a Marcus by Goldman Sachs account is that you won't be able to visit a branch or use an ATM to do your banking.
Pros
No minimum balance
No transaction fees
$0 minimum to earn APY
Cons
No banking branches
No ATM access
More Arizona Savings Accounts
Goldwater Bank
If you'd rather bank in person, you could try Phoenix-based Goldwater Bank. It has multiple locations in the city as well as offices elsewhere in the country. Those who don't live near a branch can use online banking or a mobile app to manage their money.
For those who don't want to use an online-only institution, Goldwater Bank has some of the best savings accounts in Arizona. However, you won't earn as much as you would at an online bank, and you'll need a high balance to access the top APY.
Currently, only those with a balance of $25,000 or more can get the highest interest rate offered by Goldwater Bank, which is available through its Savings Plus Personal account. With $100, you can earn interest with a regular Savings Personal account, but the APY will be less than half the rate offered to Plus customers.
Pros
Full-service, branch banking
Several savings accounts, including for kids
Cons
Savings APY lower than some online banks
minimum deposit on most accounts
Only 2 free withdrawals per month
Metro Phoenix Bank
Metro Phoenix Bank is another local bank serving the Phoenix community. While the bank's focus is on real estate and commercial customers, it also offers personal checking and savings accounts.
You'll need $100 to open a personal savings account at Metro Phoenix Bank and maintain a $100 daily balance to earn interest. While the rates currently offered on personal savings are significantly lower than what is available through online banks, the APY does exceed what is typically paid by national banks.
Metro Phoenix Bank announced plans to merge with Alerus, and that may mean more account options and different account terms for its customers.
Pros
Brick-and-mortar, full-service bank
6 free transactions per month
Cons
Only one branch
Lower APY than top online savings accounts offer
Required daily balance
Hughes Federal Credit Union
If you like the idea of banking at a member-owned credit union, Hughes Federal Credit Union is one to consider. The institution was founded in 1952 in Tucson to serve employees of the Hughes Aircraft Company and their families. Today, anyone who lives, works, worships, or studies in Tucson or is a member of an affiliated organization can join the credit union.
Everyone who joins Hughes Federal Credit Union opens a Main Share Savings account with $50. Then, they can also open a Daily Savings, Holiday Club Savings, or You Name It Savings account. None have fees, and all earn interest greater than the national average.
Hughes Federal Credit Union also offers a variety of other banking and lending products. Plus, members are eligible for discounts at local businesses.
Pros
7 branches throughout Arizona
Full spectrum of banking products
Cons
Lower APY than offered for top online savings accounts
Membership required
How We Chose the Best Savings Accounts: Methodology
MoneyRates determined the best savings accounts in Arizona by analyzing data from savings accounts offered by online banks and local, regional, and national banks in Arizona. We looked at current interest rates and APYs offered on savings accounts at over 25 online and brick-and-mortar Arizona banks, along with requirements to open an account, fees, ATM availability, customer satisfaction, and ease of online and in-app banking.
Our top choices in Arizona reflect market conditions and bank offers at the time of our analysis. Banks can change their rates and other features on their savings accounts regularly, so doing your independent research is a great idea.
How to Choose a Savings Account in Arizona
If you are looking for the best savings account in Arizona, you will want to consider the following crucial factors when choosing.
Opening Deposit
If you join a credit union, you will likely need to make a minimum opening deposit to establish your membership. That could be anywhere from $5 to $50 or more. Banks may also have minimum deposit requirements, but many institutions will let you open an account with any money.
Access
Don't overlook the details about how you will access your account. This is especially true if you plan to open an online account. Some questions you may want to ask yourself include the following:
Does the bank have an app?
Can I deposit checks using the app?
Will I get an ATM/debit card?
Are there convenient in-network ATMs in my area?
Interest Rate
If you go to a national bank, you could end with the average savings rate, which is currently 0.06% APY. Instead, look for a credit union or community bank that may offer more. For the best rates, check out online banks that can pay higher APYs since they don't have the expense of maintaining physical branches.
Fees
Many banks and credit unions have fee-free savings accounts, but there are exceptions. Before opening an account, see whether there is a monthly maintenance or service fee. Some institutions may waive the fee if you maintain a certain minimum balance.
Where Can You Open a Savings Account in Arizona?
Arizona residents will find savings accounts offered at three types of institutions:
Online Banks
In terms of interest rates, the best savings accounts in Arizona are going to be found at online banks. Institutions such as Marcus by Goldman Sachs and SoFi have made a name for themselves by offering high-yield savings accounts with some of the highest APYs available today.
Bank Branches
Banks include local community banks and national banks. While national banks generally offer their customers more resources, such as robust mobile apps and perks like free credit scores, local banks may have better interest rates.
Credit Unions
Since they are member-owned and not-for-profit, credit unions may pay more interest on savings accounts. However, not everyone can join every credit union. Membership may only be available to those who live in certain areas or work for specific employers.
Arizona Savings Accounts vs. Certificates of Deposit
If you want to maximize your interest rate, you may be tempted to put your money into a certificate of deposit instead of a savings account. CDs operate by different rules, so be sure you understand how they work before storing your money there.
Minimum Deposits
As a general rule, CDs will require a minimum deposit that can be $500, $1,000, or more. On the other hand, savings accounts often do not have minimum deposit requirements. Those that do may set their minimum deposits at $100 or less.
Withdrawal Restrictions
Some banks limit the number of withdrawals you can make from a high-yield savings account each month, but your cash is typically accessible when you want it. Certificates of deposit are different. When you open an account, you promise not to withdraw the money for a certain period of time. That means your money could be tied up for months or years.
Interest Rates
In exchange for promising to leave your money in a CD for a specific length of time, the bank or credit union agrees to pay a fixed interest rate for the entire period that your money is invested. Savings accounts, meanwhile, have variable rates that can change at any time.
Best Uses
Since money in a CD can't be tapped at any time, it's best to avoid placing your emergency fund or short-term savings into these accounts. Instead, keep your money liquid by using a savings account. CDs are more appropriate for savings goals that are further in the future, such as the purchase of a new car.
Frequently Asked Questions (FAQs)
Where are the best savings accounts in Arizona?
It depends on how you define the best savings account. If you want the most interest possible, look for a high-yield savings account at an online bank. If personalized service is your priority, a local credit union or community bank might be a better option.
Can you have as many savings accounts as you want?
Some banks will permit you to open multiple savings accounts, while others will allow you to create subaccounts for different savings goals. While there is no legal limit to how many accounts you can open, be aware that the FDIC only insures financial institutions for $250,000 per depositor. If your savings are more than this amount, split your balance between multiple banks or credit unions.
Does having multiple savings accounts hurt your credit?
No. Your credit score is calculated using a formula based on how much you owe and whether you make payments on time, among other factors. Bank accounts are not included in these calculations, so you can safely open multiple accounts without worrying about them affecting your credit.