The Best Savings Accounts in Ohio for 2023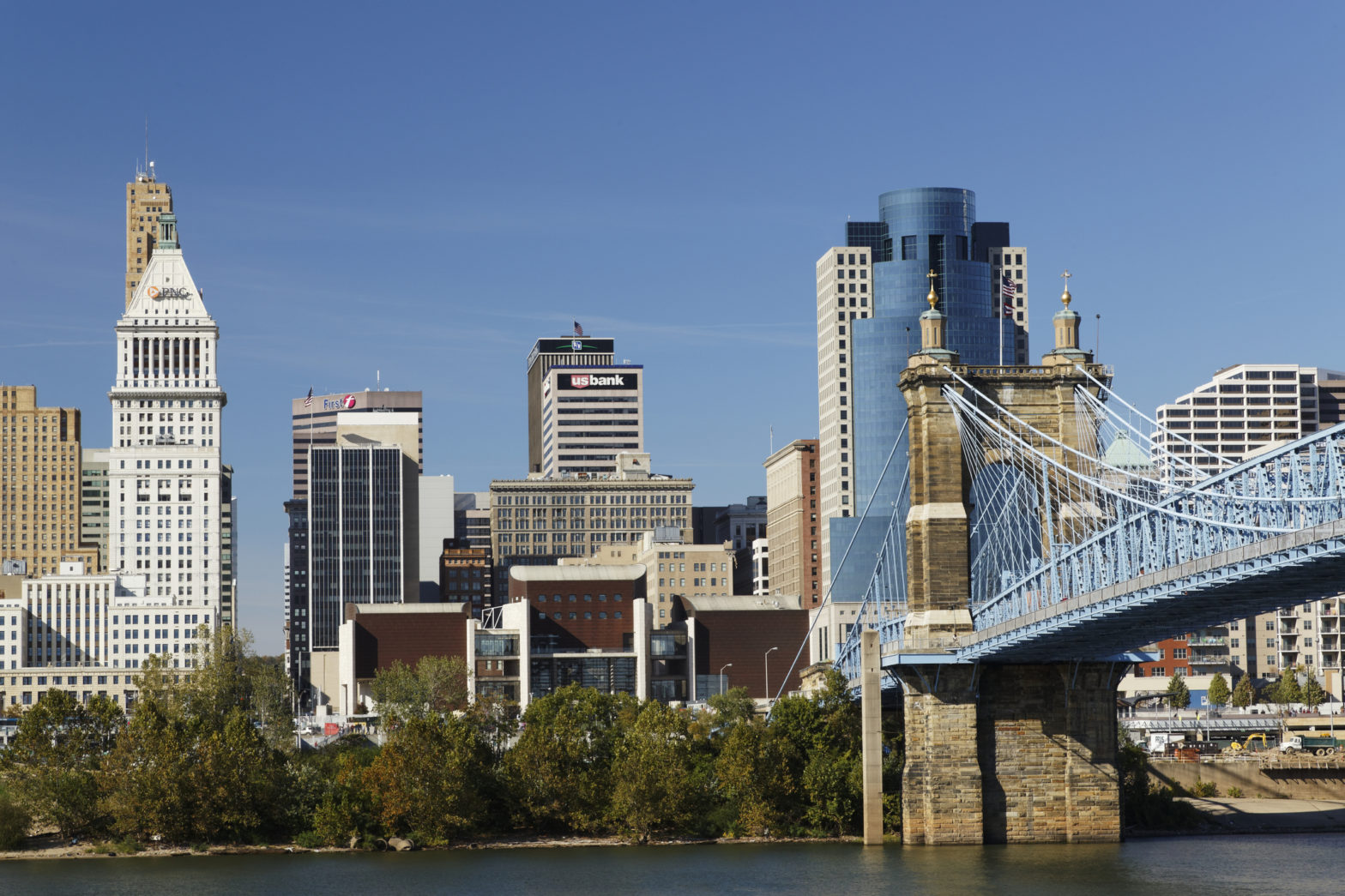 Though the majority of banks and branches in Ohio are found in the large cities of Cincinnati, Cleveland, and Columbus, you can find a bank or credit union in even the tiniest town — and that's in addition to the presence of online banks.
Finding the best savings accounts in Ohio becomes a matter of careful comparison of interest rates, customer service, and more.
We'll help you find the best savings account in Ohio for your personal financial needs.
The Best Savings Accounts in Ohio
Synchrony Bank
Ally Bank
Citi
SFGI Direct Savings
People's First Savings Bank
Third Federal Savings and Loan
Find Banks With the Best Savings Account Rates
Explore savings accounts at online and traditional banks and find the best rate and terms for you. Compare savings account rates, fees, security, and more.
Online Savings Accounts Available in Ohio
An online savings account in Ohio might be the financial answer you're seeking. Here are some of the top options.
Synchrony Bank
When you choose Synchrony Bank, you can open a high-yield savings account with no minimum deposit, no fees, and no minimum balance.
You can also obtain your cash quite easily through any Accel or Plus-branded ATM machine across the nation.
If you use other ATMs, you are eligible for up to $5 refunded each month for the fees.
This account is tiered, however, meaning that those who have the most cash in the bank will see the highest amounts of interest.
Pros
Online banking is made easier with the MySynchrony mobile app
No minimum deposit or balance
No monthly fees
Cons
Only the highest balances get the highest interest
Does not have its own ATM network
Ally Bank
With no minimum balance and no maintenance fees charged, Ally Bank offers some unique tools to its customers, including online calculators and organizational tools that help you get an idea of how your money is doing with a quick glance at Ally's robust online or mobile banking apps.
Those who save $25,000 or more will see the highest interest rates.
From time to time, promotions are available that can help you grow your cash.
Contact customer service by phone 24/7 to get help with your account if necessary.
Pros
Unique "boosters" that give you more cash
Online calculators and savings tools
Customer service via phone 24/7
Cons
The highest interest is only paid for amounts over $25,000 on deposit
No way to deposit cash
Citi
The Accelerate Savings Account from Citi is the latest offering from a company known for its credit card products.
This savings account requires a few hoops to jump through to avoid the monthly service fee, such as setting up direct deposit, keeping a $1,500 daily minimum balance, or linking your Citi checking account to the savings account.
There is no minimum to open the account and no limit to what you can earn.
Given that this company had a strong infrastructure in place for customers to handle their credit cards, it's no surprise that they have a very strong online and mobile presence.
Pros
Customers can find Citi ATMs across the nation
No limit to what you can earn on interest
Well-rated customer service
Cons
Could be tough to avoid a monthly fee
May be able to find higher interest rates at other banks and credit unions
SFGI Direct Savings
As part of Summit Community Bank, SFGI brings a well-known name to the table as well as no monthly service charges.
You start earning interest on as little as one dollar but to open this account, you must deposit no less than $500 and no more than $25,000.
There are some fees, however, such as if you don't use your account for a long period of time or you choose to receive paper statements.
There is excellent customer service through secure messaging as well as phone service during normal banking hours for established clients.
Pros
Earn interest on as little as $1
Easy-to-contact customer service
Next-day ACH transfers, in most cases
Cons
There are numerous potential fees
No ATM access
A Look at Local Ohio Banks
Local banks and credit unions can give you an added sense of community in addition to a robust portfolio of financial products. Here are a few of the best in Ohio.
People's First Savings Bank
There are five options for savings accounts at Peoples First Savings Bank, including the Personal and First accounts.
The First Savings requires $20 to open and no daily minimum balance, while the Personal Savings requires $100 to open and $100 minimum to maintain to avoid the $2 monthly fee.
Both pay interest and both offer online and internet banking, though only the Personal Savings account offers an ATM card.
Pros
Numerous savings accounts to choose from
Options for very low opening deposit
Starts earning interest on balances as low as one penny
Cons
Some accounts have no ATM card
The Personal Savings has a high opening deposit requirement
Third Federal Savings and Loan
With 37 locations currently across Ohio and Florida, Third Federal Savings and Loan offers numerous options to visit branches and ATMs; in fact, this bank partners with Fifth Third Bank to offer even more free ATMs for more convenience.
The savings account requires no monthly fee to maintain, easy access to funds, and the choice of opening it as a savings account or an IRA.
Savings calculators can help you understand what you need to save to meet your financial goals.
Pros
Numerous branches and ATMs
Flexible options for your savings accounts
Strong financial history
Cons
Some lack of transparency regarding fees
How We Picked: Methodology
We chose the best savings accounts in Ohio based on a wide-reaching analysis of savings accounts offered by online, national, regional, and local banks serving major cities including Cleveland, Cincinnati, Columbus, and Toledo.
We narrowed down our search to savings accounts with low monthly maintenance fees, ample ways to waive these fees, ATM network availability, excess withdrawal fees, ease of online and in-app banking, interest rates, and more.
The best savings accounts reflect market conditions and bank APYs at the time of our analysis.
Banks can and do change their rates and terms on a regular basis, so you should check with these and other Ohio banks directly to see what savings accounts they currently offer.
How to Choose a Savings Account in Ohio
When you're choosing the best savings account in Ohio, there are many points to ponder.
These points go well beyond the higher interest rates that you are obviously searching for with a high-yield account.
Here are some of the things that matter:
Other Accounts Available
Setting up a savings account is great, but what if you choose to do more than that?
You might want a bank that offers a full array of checking accounts, CDs, money market accounts, mutual funds, and more.
It's an added bonus if you find a checking account that offers a high-yield interest rate or somehow bolsters the rate you're already getting in your savings account.
Fees
Most banks will waive a monthly service fee if you do certain things, such as enroll in direct deposit.
Others have no service fees at all.
Other fees might pertain, however, such as getting paper statements, requesting an ATM card, dropping below a minimum monthly balance, or sending wire transfers.
Opening Deposit
The opening deposit might be as little as $0 or as much as $500.
Pay attention to the fine print on this: Sometimes, the opening deposit required is not the minimum balance required.
In this case, the bank will usually provide a grace period of one statement cycle for you to bring the account up to the minimum balance to avoid fees.
Access
Some savings accounts offer an ATM card, while others don't have that option at all.
Some offer customer service over the phone or even in person; others are automated systems only.
Decide how much access you want to have to your money at any given time, which will help you narrow down your options.
Account Management
Do you want to access your account on your terms and move money as you please, anytime, anywhere?
You can do that with banks that offer a strong online and mobile presence.
But if you want someone to help you with your money, look into banks and credit unions that have branches or at least strong customer service where you can actually speak to someone, at least during normal banking hours.
Where Can You Open a Savings Account in Ohio?
No matter where you open an account, you usually have three good options: credit unions, traditional banks, and online banks.
Here's what to expect from each.
Traditional Banks
These banks are those you're accustomed to seeing on the corner of a downtown street, the kind of bank where you walk into a branch to see smiling tellers and lots of offices.
These banks have an enormous variety of financial products, including mortgages, CDs, money market accounts, and so much more. They might be a local bank, or they might have a broad national network.
Most of them have a strong mobile and online presence, as well as serving their communities in direct ways. They are insured by the FDIC.
Credit Unions
Credit unions are usually smaller than traditional banks but still offer many financial options.
Since the credit union is owned by the members, you might see higher dividends from savings accounts and other products.
Customer service is often top-notch, so what's the downside?
Because they are so small, you might be limited in the number of branches and branded ATMs available, and they might not have the best online presence.
Your deposits are insured at a credit union by the NCUA, which is similar to the way deposits at banks are insured by the FDIC.
Digital Banking
These banks work much like traditional banks with one key difference: They are often entirely online or accessed through an app, with no branches to visit.
Many of them will offer branded ATMs throughout the nation, or at least ATMs you can access with no fee.
Some might have limited financial products; for instance, they might offer savings and checking accounts but no mortgages or auto loans.
Online banks are great for those who are comfortable with handling their own money without speaking to a representative.
Most banks are insured by the FDIC, but it pays to double-check before opening an account.
Ohio Savings Accounts vs. Money Market Accounts
When seeking a savings account in Ohio, you will come across other options, such as money market accounts.
Money market accounts, or MMAs, are often mistaken for money market mutual funds.
The MMA, however, is closer to a savings account.
Both are insured by the FDIC or the NCUA.
Here's how they stack up:
Getting Your Cash
In some cases, money market accounts are more difficult to withdraw money from; the policies depend on the bank.
But some make it even easier by giving you the option to write checks from the account.
Regardless of whether there are checks or ATM cards, both savings accounts and money market accounts usually allow you to move money around online.
Interest Rates
In many cases, the interest rates for MMAs are higher than that of savings accounts.
That's because MMAs invest in a variety of options that savings accounts don't.
However, the interest rate for MMAs might be more volatile, as it usually depends on what the market is doing at any given time.
Opening and Maintaining the Account
MMAs often have a higher initial deposit, often in the thousands; savings accounts might have no deposit requirement at all. There might be fees for an MMA that can't be waived, and you might need a higher minimum daily balance than you do for a savings account. However, the promise of higher returns can offset these issues.
FAQs
What's the difference between a money market account and a money market fund?
Though the names are quite similar, the differences are more than subtle.
A money market fund is not insured by the FDIC or the NCUA.
It carries a significant element of risk but can also bring exceptional rewards, depending upon what the stock market is doing.
A money market account is more like a savings account and is insured up to the $250,000 promised by the FDIC or the NCUA.
What is a certificate of deposit?
A certificate of deposit is an investment banking product that can offer a handsome interest rate, often higher than that of a savings account.
The catch, however, is that you must be willing to leave your money in the account and not touch it at all for a specified period — anywhere from a few months to a few years.
If you have cash and you are okay with putting it into an account and not using it at all for that period of time, a CD might be right for you.
What do you mean when you say a bank is insured?
Every customer account is insured for up to $250,000 by the Federal Deposit Insurance Corporation or FDIC. Customer accounts at credit unions are also insured for up to $250,000 by the National Credit Union Administration, or NCUA.
That means that if a bank or credit union becomes insolvent and closes, you get your money back, at least up to that $250,000 threshold.