The Best Savings Accounts in Utah for 2023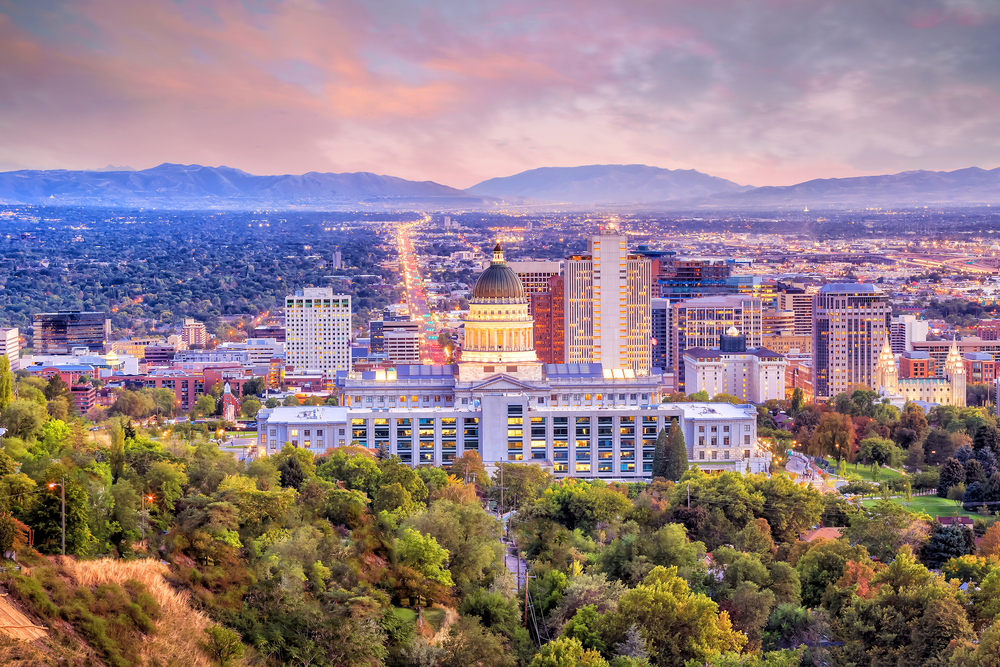 In 1866, Utah joined the banking world with the first national bank in the state, the Miner's National Bank of Salt Lake City.
Only three years later, in 1869, the bank was taken over by the First National Bank of Utah.
Though banks struggled during this time, they soon leveled out into what we have today — 21 banks, 28 credit unions, 16 industrial banks, and two trust companies operating in the state, as well as 11 national banks, 32 federal credit unions, and more, all regulated by the Utah Department of Financial Institutions.
Of all those banks and credit unions available to residents of Utah, it can be tough to choose which one will offer the best high-yield savings accounts.
Learn about the best savings accounts in Utah and find the best option for you.
The Best Savings Accounts in Utah
Citi
American Express®, Member FDIC
Synchrony Bank
Ally Bank
Prime Alliance Bank
Chevron Federal Credit Union
Compare savings accounts and find the best rates being offered today.
Online Savings Accounts Available in Utah
Today's online savings accounts are secure, robust, and insured by the FDIC for up to $250,000 per deposit account.
This solid certainty in the safety of your money allows you to enjoy the virtues of online banking without worry.
Here are some of the best online savings accounts operating in the state of Utah today.
Citi
Citi's Accelerate Savings Account is the offering for those serious about saving.
It requires no minimum to open the account but does require a $1,500 daily balance to waive the monthly service fee.
If you don't want to keep that much in the account, you can opt for other options to waive the fee, such as connecting a checking account with your savings account.
As you might expect from a company that started with credit card service, their online site and mobile app are robust and allow for easy movement of your money on your own.
American Express® National Bank, Member FDIC
With a robust mobile app and a strong online presence, American Express makes it easy to move your money around.
The high-yield savings account is easy to maintain, with no fees and no minimum balance required.
Though you can likely handle all your financial transactions on your own via the online option, you can also reach out to customer service agents and get a response around the clock.
However, there are some downsides: You must link an existing account to the savings account to open it, and you can't access your money through any ATM, as American Express doesn't offer ATM cards for their savings accounts.
American Express Pros & Cons
Synchrony Bank
If you are looking for a high-yield savings account that is truly free — with no minimum daily balance, no minimum starting balance and no fees — Synchrony Bank might be your best bet.
Tiered interest rates mean that savers with the highest account balances will realize the highest interest rates and, thus, build their savings faster.
Customers who want to have easy access to their cash can use the online site, mobile app, or any ATM branded with the Accel or Plus logos.
Those who wind up using an ATM that isn't branded with these logos can get up to $5 refunded in ATM fees each month.
Synchrony Savings Pros & Cons
Ally Bank
As banks go, it can be tough to find a creative one that changes your view of money.
Ally Bank strives to do just that with unique features in addition to the things you want from a bank, such as no minimum balance required and no maintenance fees.
Ally uses online calculators to help you figure out where your money is going, helps you organize your savings into "buckets" that make it easier to meet your goals, and offers robust customer service.
Customers with $25,000 or more in their accounts will realize the highest interest from Ally Bank, but those with less can still get a boost through unique promotions that offer the opportunity to make money.
A Look at Local Utah Banks
If you want a more personal touch in the Beehive State, look no further than your local banks.
These banks and credit unions have a strong local presence that allows you to do your banking in person with a banker you can trust.
Here are some of the great options for local banks in Utah.
Prime Alliance Bank
Prime Alliance Bank is based in Wood Cross, Utah, and offers everything you might expect from a robust local bank, including high-yield checking and savings accounts.
The personal savings account offers the same good interest rate to everyone, regardless of how much money they have in the bank.
Online and mobile baking are optimized for easy use.
There is no minimum balance requirement, no monthly fees, and free check deposits with the mobile app. Interest posts every calendar quarter.
Prime Alliance Bank Savings Pros & Cons
Chevron Federal Credit Union
With 22 locations across six states, Chevron Federal Credit Union offers membership in a variety of ways, including through numerous organizations across the nation.
The Member Savings Account can be opened with $25 and requires that you maintain a $25 daily minimum balance to earn interest.
Free quarterly statements are provided, and the interest is deposited on a monthly basis.
Unique sub-savings accounts are available to help you save for a very specific venture, such as a Christmas fund or a vacation.
Chevron Federal Credit Union Savings Pros & Cons
How We Picked: Methodology
MoneyRates found the best savings accounts in Utah by analyzing savings accounts at online banks, local credit unions, national banks, regional banks, and local banks across the state in cities such as Provo, Orem, and Salt Lake City.
We looked at the most recent interest rates being offered on savings accounts at over 25 banks, along with accessibility, requirements for opening and maintaining an account, fees, ATM access, flexibility, availability, and ease of use of mobile banking.
The best savings accounts reflect market conditions and bank APYs at the time of our analysis.
Banks can and do change their rates and terms on a regular basis, so you should check directly with them to see what rates and terms they currently offer.
How to Choose a Savings Account in Utah
When you're looking for the best savings account in Utah, you will want to explore a variety of factors that can make one bank better for you than another.
Here are the things you should look for when choosing the bank that will house your hard-earned money.
Account options
A high-yield savings account is a wonderful move, but there are other financial products you might want to branch out into in the future.
This can include checking accounts, certificates of deposits, money market accounts, and investment funds, among others.
Look for a bank that offers several financial instruments for you to choose from.
Fees
Many banks don't charge fees at all these days, as they try to compete with other banks by showing that they can offer a virtually free product to their customers.
But sometimes, you must do something to get that perk, such as enrolling in direct deposit, carrying a minimum daily balance, or making a deposit at least once a month.
Some fees might be charged for unusual things, such as requesting a paper statement or getting an overseas wire transfer.
Opening deposit
Some banks require no deposit at all, while others require $500 or more.
If an account doesn't require an opening deposit but does require a minimum daily balance, you will usually have a grace period of one statement cycle to deposit the amount you need to meet that minimum.
Access
A savings account is a place to save your money, so it stands to reason you would keep it in the account for a long period of time.
But sometimes you want to access that cash. Some banks offer an ATM card just for that purpose.
Others don't offer an ATM card, so if you want to pull your money out, you will have to transfer it to a different account first, such as a checking account or an account at a different bank.
Of course, if there is a local branch for your bank, you can access your money in person.
Customer service
Consider how much help and support you might need for your savings account activities.
Some people are perfectly content to work within the online or mobile app and never even speak to a real person about their account.
Others want to meet with someone face-to-face in a branch to do their banking.
Most people are somewhere in the middle, where they can handle most things online but want to get in touch with someone via phone in the event of a problem.
Interest
The amount of interest you earn on your high-yield savings account can make the difference in which bank you choose.
Some banks offer tiered interest, where you must deposit higher amounts — in some cases, $25,000 or more — to get the highest posted interest rate. Others pay the same rate to anyone regardless of their balance.
Keep in mind that the posted rate can always change, so what you sign up for at the beginning is not guaranteed to last throughout your time with that account.
Account management
How you want to handle your money matters.
Look for a bank with an online site that is quite robust and easy to use.
Look for an app that is optimized for mobile use if you prefer that route.
If you want someone to help you with your account and other banking needs, look for strong customer service or local branches where you have more hands-on management of your account.
Where Can You Open a Savings Account in Utah?
No matter the state you're in, there are three basic options for opening a savings account: Traditional banks, online banks, or credit unions.
Each has its pros and cons, but assuming they are all insured by the FDIC or the NCUA, your money will be safe and secure.
Here's what to expect from each.
Traditional banks
These are the banks you are accustomed to seeing in your area, with the proud facade on the large, imposing building.
There is often a main bank and well as branches scattered throughout the area.
The bank might also have its own branded ATM machines.
Some of these banks have branches across many states, while others are rather local, spanning only a few states or even a few counties.
They tend to offer an enormous variety of financial products, including mortgages, personal loans, and investment vehicles.
Most traditional banks have a strong online and mobile presence as well. They are insured by the FDIC.
Online Banks
Online banks are similar to traditional banks, but they don't usually have a physical presence. Besides possibly a headquarters somewhere in the nation, they are totally online.
Some of them might have branches in metro areas. Almost all of them will have branded ATMs or coop ATMs throughout the nation.
In fact, it isn't unusual for an online bank to be an offshoot of a traditional bank.
Some offer a wide variety of financial instruments, while others focus on just a few.
If you are okay with handling your money on your own and rarely need customer service, this is the route for you. Online banks should be insured by the FDIC.
Credit unions
Credit unions are often like traditional banks in that they have a main office as well as branches spread through the local area.
Many credit unions cover only a few counties or a few states; some federal credit unions have a much broader reach.
Credit unions are owned by the members or account holders.
This differs from banks, which are owned by shareholders or private companies.
Customer service at credit unions is typically one of their strong suits, but the trade-off might be a less robust mobile app and online presence.
If you want to work with an institution that can offer some flexibility in its offerings and great customer service, this is the place. Credit unions are insured by the NCUA.
Utah Savings Accounts vs. Money Market Accounts
As you search for the best savings accounts in Utah, you are bound to come across some other enticing offerings to earn interest on your money, such as money market accounts and certificates of deposit.
Money market accounts, often known as MMAs, are often confused with mutual funds.
The difference is that a money market account functions much like a savings account, while a mutual fund is an investment vehicle.
Here is how a savings account compares to a money market account:
Accessing your cash
Money market accounts can make it easy to obtain your money, thanks to the ability to write checks in addition to using an ATM card.
However, some banks are stricter about their rules and won't allow the check-writing feature.
Some rules might exist that make it tougher to get your money than with a savings account, but both types of accounts usually allow you to move money around freely online.
Interest rates
The MMA is usually invested in various financial options which are often more aggressive than what the bank invests their savings accounts in.
This means a more volatile interest rate; however, it could also mean higher interest rates than what you get with a savings account.
Opening and maintaining the account
A money market account might require a higher daily balance and a higher opening deposit than a savings account.
However, the interest earned could make it worthwhile to go with the higher balance.
A savings account is usually easier to open from a financial standpoint.
Both accounts have options that allow you to waive fees.
The safety of your money
A big misconception about money market accounts is that you can actually lose money.
Money market accounts allow you to earn interest but you aren't putting your money at risk; the money is insured by the FDIC or NCUA. A money market fund, however, is a different story — you can lose your investments if the market gets too crazy.
Make sure you are opening a money market account, not a money market fund (also known as a mutual fund).
Frequently Asked Questions (FAQs)
Why should I choose a high-yield savings account instead of a checking account?
It depends upon your financial goals.
Savings accounts usually offer higher interest rates, and the purpose of the account is to leave the money in there and let it grow.
With a checking account, often the interest you earn is secondary to the purpose of the account, which is to use it to accept deposits and pay bills.
Which is better, a bank or a credit union?
It's hard to say that one is better than the other. They're just different.
Which one is best for you depends upon what you're looking for. A more personal touch is possible with a credit union, while a bank often allows for banking entirely online.
If you want the community feel of a small-town institution, a credit union is the way to go.
What is a certificate of deposit?
With a savings account, you can remove your money as you please.
With a CD, you are expected to leave your money in the account for a set period of time, often a matter of six months to several years.
As long as you leave the money in for the agreed-upon time, you earn the stated interest.
That interest is locked in and the rate doesn't change.
If you take the money out before that time is up, you might pay a penalty that will negate the earnings.