The Best Savings Accounts in Vermont for 2023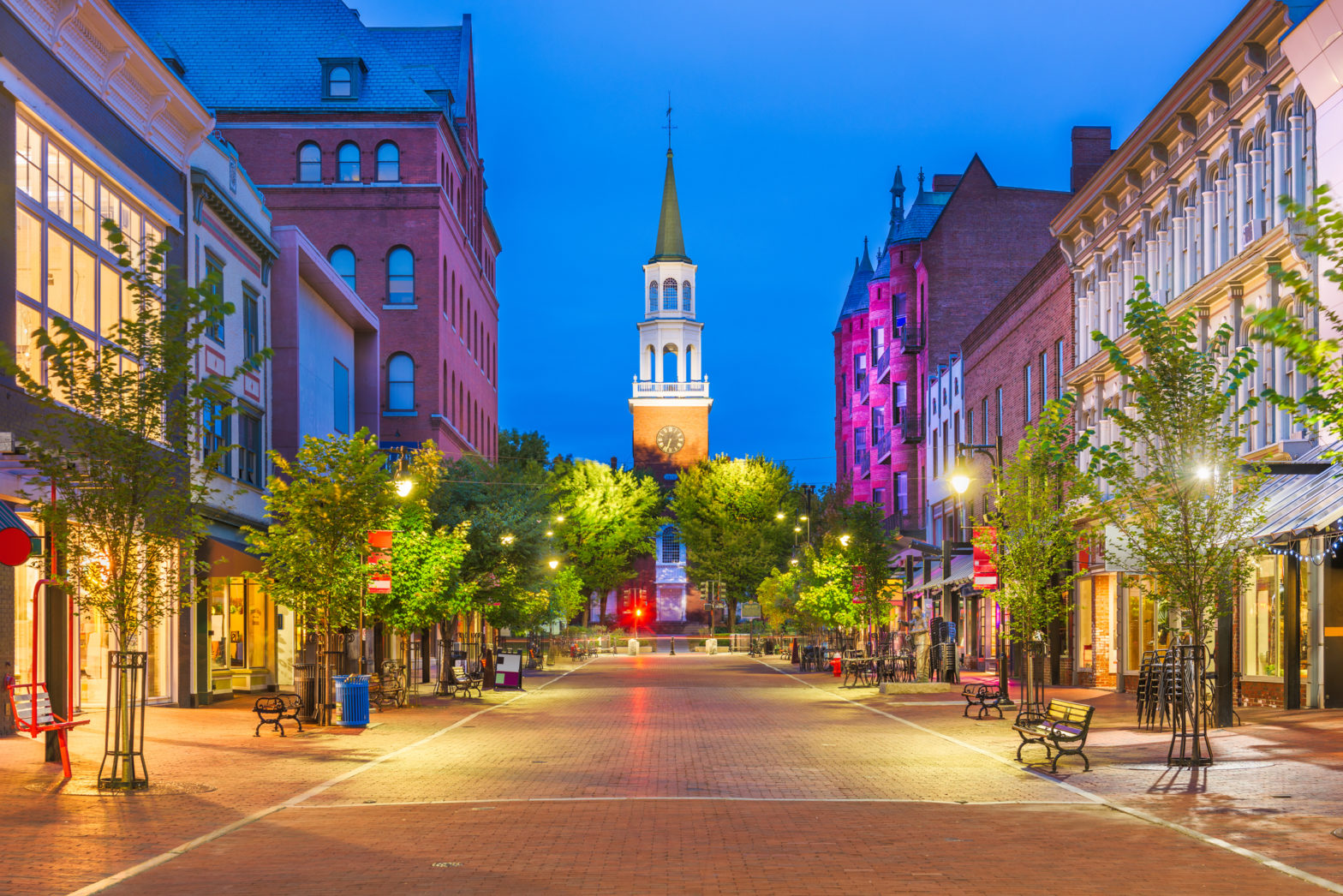 Over the years, the number of commercial banks in Vermont has decreased thanks to consolidations and closures. In fact, six commercial banks are currently headquartered in the state, down from 18 about 20 years ago.
Despite this, if you're looking for the best savings accounts in Vermont, there are still many options to choose from, whether you prefer banking at a brick-and-mortar institution or an online bank.
Continue reading to get a glimpse of what different banks have to offer.
The Best Savings Accounts in Vermont
Union Bank
KeyBank
Regions Bank
Salem Five Bank
Fifth Third Bank
Sea Comm Federal Credit Union
Find Banks With the Best Savings Account Rates Fast
Explore savings accounts at online and traditional banks and find the best rate and terms for you. Compare savings accounts and find the best rates being offered today.
Online Savings Accounts Available in Vermont
Some of the best savings account choices in Vermont are offered by online banks. If you don't mind doing your banking virtually and don't need in-person services, the following are five choices to consider.
Union Bank
Union Bank, headquartered in San Francisco, allows customers around the country to conveniently manage a savings account and maximize their money.
Customers can open a savings account with any amount of money over $0 and are not charged monthly service fees.
In addition, there are Union Bank ATMs available around the country, so you can easily access your money without charge.
If you do use an ATM outside of the network, you'll get a rebate for the first two surcharges each month that are assessed by the ATM owners or operators.
Pros
No monthly service fees
No ATM fees anywhere in the world
Account earns interest on any amount over $0
Unlimited transfers and withdrawals
Cons
$33 overdraft fee
$5 bank statement fee
KeyBank
Customers of KeyBank have different options for the type of savings account they can open.
For regular savings, the bank offers its Key Active Saver® account, which allows you to waive the $4 monthly service fee if you also maintain a checking account.
The bank makes saving easy through its EasyUp feature, which automatically moves $1 to $5 to your savings account every time you make a purchase with your debit card.
KeyBank also offers money market and health savings accounts.
For those who want to teach their children about saving at a young age, there's the Key4Kids® Savings Account, which earns interest compounded daily and has no monthly fees.
Pros
Overdraft protection is available for customers who have a checking and savings account
Access to 40,000 ATMs around the country
Access to over 1,100 branches nationwide
Cons
$4 monthly service fee for those without a KeyBank checking account
$10 minimum to open an account
Regions Bank
The LifeGreen® Savings account offered by Regions Bank allows you to open an account with a $50 initial deposit when you do it online and $5 if you open an account at a branch.
Although you can start and maintain your account with small amounts, the more you save, the more potential you have to make your money work for you.
For example, if you have a checking account at the bank, you can set up automated savings transfers and earn a 1% annual bonus of up to $100.
In addition, Regions Bank provides tiered interest, so you get higher rates as you increase your balance.
Pros
Low minimum opening deposit requirement
Access to payment solutions like Apple Pay, Zelle, LG Pay, and Google Pay
No minimum balance required
Cons
When more than three withdrawals are made each statement period, a $3 excessive withdrawal fee is charged
Monthly fee charged when customers don't have a Regions checking account
Salem Five Bank
Salem Five Bank offers the high-yield eOne Savings account, which can be opened within minutes online with a $10 minimum deposit.
There are no monthly fees or minimum balance requirements, and you have 24/7 access to your money through its mobile app.
If you're looking for more services, you can also open a checking account, as well as a combination checking and savings account.
Pros
Low minimum deposit requirement to open a savings account
No minimum balance required
No monthly fees
Cons
The interest rate may not be as competitive as other online banks
High minimum deposit requirement to open a CD
Fifth Third Bank
If you're trying to boost your savings, Fifth Third Bank gives you options to help you reach your goals.
With a Fifth Third Momentum® Savings account, you can avoid fees when you also open a checking account at the bank.
Also, you will not be charged any maintenance fees if you have a monthly average balance of at least $500.
The bank also supports military families by offering a military banking account with no fees.
Pros
The app allows customers to conveniently create savings goals
Smart Savings feature on the app allows customers to schedule regular deposits from their checking account to savings
Interest rates are competitive
Cons
$5 a month service fee charged if customers don't meet certain criteria to have it waived
Customers cannot access Smart Savings on the bank's website
A Look at Local Vermont Banks
If you prefer to do your banking closer to home, you can open the best savings account in Vermont at an institution based in the state.
The following are a few examples.
Sea Comm Federal Credit Union
Headquartered in Massena, New York, Sea Comm Federal Credit Union provides services to Vermont residents in Chittenden, Franklin, and Grand Isle Counties.
When you open a savings account, all you need is a $5 minimum deposit.
In addition, you can maintain your account with a $5 balance. However, you must have a $100 minimum balance to earn interest.
Sea Comm Federal Credit Union also offers certificates of deposit, health savings accounts, and club accounts if you want to spread out your savings.
Pros
Access to account through ATM or debit cards
Customers can get instant access to account information through the SMARTLine audio response teller
Interest rates are competitive
Cons
High balance required to earn dividends
Must maintain a balance in the regular savings account to apply for other services
The Bank of Bennington
The Bank of Bennington, which is one of the largest banks in Vermont, has been providing services to consumers since 1917.
The bank offers a regular savings account that gives you convenient access to your money through online, telephone, and ATM card services.
Also, if you're looking for more of the best savings accounts in Vermont, the bank offers club, individual retirement, and health savings accounts.
If you're a parent who wants to teach your children how to be financially responsible at a young age, you can open the Kids Savers account, which has no fees and special interest rates.
Pros
ATM card access
Free telephone and online banking services are available
Free eStatements
Cons
High minimum balance is required to avoid fees
Interest rates may not be as competitive as other banks
How We Picked: Methodology
MoneyRatespiled its list of the best savings accounts in Vermont by analyzing savings accounts at national banks, regional banks, online banks, and local credit unions and banks in several Vermont cities, including Burlington, Montpelier, and Stowe.
We analyzed the most recent interest rates being offered on savings accounts at over 25 banks and also made note of features such as flexibility, accessibility, requirements for opening and maintaining an account, maintenance fees, ATM access, and ease of use of mobile banking apps and websites.
The best savings accounts in Vermont reflect bank APYs and market conditions at the time of our analysis. Banks can and do change their savings account rates and terms on a regular basis, so you should check with Vermont banks directly to see what they currently offer.
How to Choose a Savings Account in Vermont
Are you trying to save money to buy a house?
Do you want extra funds in case of an emergency?
Are you saving for a specific event, like a wedding or vacation?
All consumers have different goals when looking for the best savings accounts in Vermont, and the following are examples of some of the things you can consider.
Interest Rate
Everyone wants their money to grow as quickly as possible, so choosing a bank that has the best interest rate is important.
In some cases, you can find banks' interest rates on their website. However, keep in mind that if the rates are low, banks may not advertise that information.
Maintenance and Other Fees
Even if you do find a bank account with a great interest rate, if there are too many fees, you may not be able to make headway with your savings.
There are a variety of fees you may be charged, including monthly maintenance, overdraft, and account statement fees, so be sure to find out what you will be charged and consider ways to avoid it.
Opening Deposit
Opening deposit minimums can be quite low, depending on where you start an account.
As a result, your initial deposit may be as little as $25. However, some institutions may charge as much as $100.
This can play a huge part in your decision if you don't have a lot of money for a first deposit.
Other Accounts Available
Your banking needs won't begin and end with a savings account, so you want to find out what other accounts are available at every institution you're considering — especially if you prefer to do all your banking in one place.
All consumers have different needs, so banks usually have a variety of choices.
For example, if you have children, you may want to teach them the value of a dollar by opening a savings account that's geared toward young people.
On the other hand, you may need a checking, money market, or certificate of deposit account.
Whatever is important to you, choose a bank that will accommodate your needs.
Access
Ideally, you won't have to access the money in your savings account that often.
However, when you do, you need to know whether you can visit a branch or get your money through ATM access.
Different banks give different levels of access, so do your research before opening an account.
Where Can You Open a Savings Account in Vermont?
There are different types of institutions where you can find the best savings account in Vermont.
The following are descriptions of what you can choose from so you understand the similarities and differences.
Online Banks and Fintech Companies
Since online banks and fintech companies offering banking products generally don't have physical locations, it gives customers the opportunity to enjoy higher interest rates, as well as lower fees — or in some cases, no fees at all.
However, like a traditional bank, your money is safe if it's insured by the Federal Deposit Insurance Corporation (FDIC) for $250,000.
Brick-and-Mortar Banks
When choosing a traditional bank, there are several kinds you can look for.
Some are small local institutions, while others are large international banks with locations all over the globe.
These can be a good choice for everything from savings to loans to investments.
No matter what size bank you choose, your money is still protected by the FDIC.
Credit Unions
Credit unions are similar to banks in that they provide protection for up to $250,000, which is backed by the National Credit Union Administration (NCUA).
These institutions are owned by their members, which can include people who work in a certain profession or live in a specific geographic location.
In addition to savings, you can get other services from credit unions, like loans and credit cards.
Vermont Savings vs. Money Market Accounts
Depending on your financial goals, the best savings accounts in Vermont may come down to a choice between savings accounts and money market accounts.
The following is a look at the differences between the two so you know which one is best for your needs.
If you have long-term financial goals, a money market account is probably the best choice because it limits how often you can withdraw funds and also yields a higher interest rate than a regular savings account.
On the other hand, a regular savings account can be used for short-term and long-term goals. However, it's important to remember that the interest rate won't be as high.
Access to Funds
When you open a money market account, you can have access to your funds by writing checks, though there will be a limit on how many you can use each month.
With a savings account, access to your funds will usually require that you make a withdrawal at your branch or transfer money to your checking account.
High Interest Rates
Generally, a money market account has higher interest rates than a savings account.
Still, this can depend largely on where you choose to do your banking because, in some cases, a high-yield savings account can provide interest rates that are comparable to those of money market accounts.
ATM Access
Most of the time, if you have a savings account, you will not have ATM access.
With a money market account, you will receive an ATM card to make withdrawals.
Frequently Asked Questions (FAQs)
What is the biggest bank in Vermont?
The biggest bank in Vermont is M&T Bank, which has 38 offices around the state. Other large banks in Vermont are Community Bank (29 offices), TD Bank (23 offices), and Union Bank (14 offices).
Where can I put my money to earn the most interest?
To earn the most interest on your savings account, a high-yield savings account will give you the largest return.
Generally, when you open a high-yield savings account, the bank will limit the number of withdrawals and transactions you can make per month.
Is putting money in a CD worth it?
When you open a CD, it can be worth it because you'll earn a higher interest rate than you will with a savings account.
Unlike a savings account, there may be a high minimum deposit, and you will be charged a penalty if you withdraw from the CD early.