The Best Savings Accounts in Washington for 2023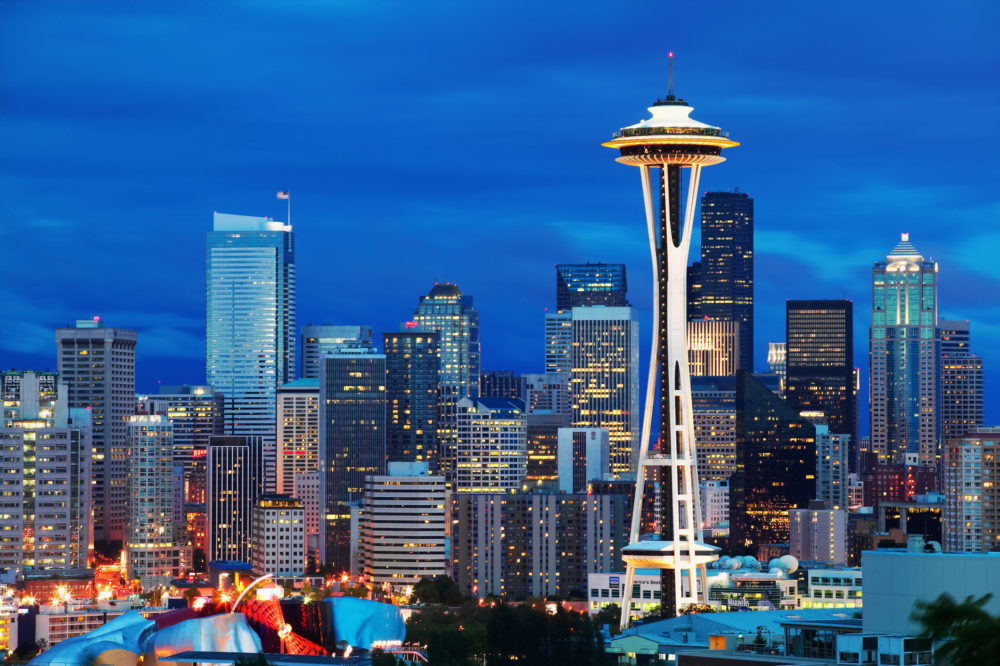 There are 73 local and national banks serving customers in Washington with more than 1,400 branches in over 200 cities and towns.
If you're a resident of the Evergreen State who is looking for the best savings account to store your money, there are plenty of great options available to you.
Here's a look at the best savings accounts in Washington.
The Best Savings Accounts in Washington
Ally
Bread Savings™
Barclays
CIT Savings Connect
Seattle Bank
Mill Town Credit Union
Compare savings accounts and find the best rates being offered today.
Online Savings Accounts Available in Washington
Online banks are known for attractive interest rates and lower fees than you might find at traditional banks with brick-and-mortar locations.
Plus, they're FDIC-insured and offer easy access to ATMs. Here are several of the best online savings accounts for Washington savers.
Ally Savings
Headquartered in Utah, Ally is an online-only bank that offers high-yield savings accounts, money market accounts, and CDs to residents in Washington.
Its high-yield online savings account offers competitive interest rates across tiers. You won't have to worry about any monthly maintenance fees or maintain a minimum balance.
There's also a convenient mobile app and digital account tool to help you meet various savings goals. In addition, customer service representatives are available 24/7.
Read our full Ally savings review
Bread Savings™
Formerly Comenity Direct, Bread Savings™ is an online bank serving Washington savers with high-yield savings accounts and CDs.
Its high-yield savings accounts come with impressive interest rates you may not find elsewhere.
Plus, there are no monthly maintenance or account maintenance fees.
You can also make domestic wire transfers at no charge and get a hold of customer service representatives on weekdays, weekends, and most holidays. Deposits are capped at $1 million for each account and $10 million for each customer.
Bread Savings™ Pros & Cons
Read the MoneyRates Bread™ review
Barclays Online Savings
Headquartered in London, Barclays Bank has a global presence and serves Washington residents with several products, including high-yield savings accounts, CDs, and credit cards.
There is no minimum balance requirement to open a savings account and you don't have to pay any monthly maintenance fees.
Plus, you'll get the same rate across all balances, no matter how much you save.
Barclays also offers a convenient mobile app and savings assistant tool to support you with your savings goals.
Barclays Savings Pros & Cons
Read our full Barclays Online Savings Account review
CIT Savings Connect
A division of First Citizens Bank and Trust Company, CIT Savings Connect has a savings account with rates that are several times higher than the national average.
You can open it with a $100 initial deposit, and you won't have to pay any monthly service fees. Other perks include an intuitive mobile app with check deposits and money transfers via Zelle and Bill Pay.
In addition to the CIT Savings Connect, you can choose from Savings Builder savings accounts, money market accounts, term CDs, no-penalty CDs, jumbo CDs, and custodial accounts.
Read our full CIT Savings Connect review
A Look at Local Washington Banks
While online banks make sense for many savers in the Evergreen State, they're not right for everyone.
If you prefer individualized, in-person service, you may want to park your money at a local credit union or community bank. Here are a few local banking options to consider.
Seattle Bank
Based in Seattle, Seattle Bank offers the flexibility of a smaller bank and the wide range of products you may find at a larger bank.
Its personal plus savings account comes with an attractive interest rate, no minimum balance requirements, no monthly service fees, and a full suite of digital banking services.
Other savings products include money market accounts and CDS.
Mill Town Credit Union
Located in Everett, Mill Town Credit Union is the 60th largest credit union in Washington.
It's available to anyone who lives, works, or worships in the Evergreen state.
Its savings accounts include Mill Town Signature Savings, Super Youth Savings Accounts, Christmas Club, and Vacation Club. Also, there are eServices such as online banking, Bill Pay, and mobile banking.
In addition to savings accounts, Mill Town offers CDs, checking accounts, loans, and credit cards.
Mill Town Credit Union Pros and Cons
How We Picked: Methodology
We chose the best savings accounts in Washington by conducting a full review of savings accounts offered by online, national, regional, and local banks serving major cities in the state including Seattle, Spokane, and Tacoma.
MoneyRates focused our search on savings accounts with low monthly maintenance fees, fee waivers, ATM network availability, excess withdrawal fees, ease of online and in-app banking, interest rates, and more.
The best savings accounts reflect market conditions and bank APYs at the time of our analysis.
Banks can and do change their rates and terms on a regular basis, so you should check with banks in Washington directly to see what savings accounts they currently offer.
How to Choose a Savings Account in Washington
Savings accounts in Washington vary greatly.
That's why you should shop around to learn about the various options out there.
When you do so, be sure to compare these features.
Interest Rate
A high interest rate is key if you'd like to grow your savings and meet your goals.
Compared to traditional banks, online banks usually offer more competitive rates due to their lower overhead costs. But if you'd rather go with a local bank with in-person service, you may still find a savings account with a great rate.
Fees
There are a number of fees you might have to pay to maintain a savings account, including monthly maintenance fees, inactivity fees, excess withdrawal fees, and paper statement fees. Since these fees can interfere with your savings goals, you might want to explore online or traditional banks with minimal to no fees. If you find a savings account you like with fees, you might be able to get them waived.
Opening Deposit
Some savings accounts in Washington only require $0 or $1 to open while others have an initial minimum deposit of at least $100. If you're new to savings or limited on cash, try to find an account with a low opening deposit requirement.
Access
In a perfect world, you wouldn't touch your savings until you have enough cash saved up to meet a goal.
But it's nice to know that you have easy access to your funds just in case you need them.
If you choose an online bank, find out if there's ATM access and if you opt for a traditional bank or credit union, ensure there are branches near you.
Where Can You Open a Savings Account in Washington?
There are three types of financial institutions that you can turn to for savings accounts in Washington, including:
Online Banks
Many online banks have a reputation for competitive rates and low fees.
If you feel comfortable banking online, an online bank might be the way to go.
This is especially true if it offers other products you need such as checking accounts, insurance, and loans.
Banks
Washington is home to a wide range of for-profit banks, like small community banks and national banks with physical branches across the state.
While rates and fees might be higher than those at online banks, perks include personal service and access to more products.
Credit unions
Credit unions are nonprofit organizations owned by members.
To open a savings account at a credit union, you must meet certain criteria and become a member.
If you go the credit union route, note that you may miss out on modern conveniences like digital and mobile banking.
Washington Savings Accounts vs. CDs
Both savings accounts and certificates of deposit can help you save for a variety of expenses.
Your unique goals and preferences, however, will determine whether a savings account or CD makes more sense.
Here are the most noteworthy differences between them.
Interest Rates
Interest rates on savings accounts are usually fixed so you don't have to worry about them changing. CDs, however, often have variable interest rates, which can fluctuate over time.
Uses
Savings accounts are ideal if you're in search of a place to store your emergency account or save for a short-term goal like a new car or vacation. CDs, however, are a better fit for short or long-term goals, like a down payment for a house or college.
Minimum Deposit Requirements
Many online and traditional banks and credit unions let you open a savings account for $0 or $1.
CDs require a larger upfront investment of at least $100.
Withdrawal Restrictions
Most savings accounts allow for six free withdrawals per month. If you choose a CD, you'll need to wait until its maturity date to take money out or you'll be on the hook for a penalty.
How Do You Earn Interest on Washington Savings Accounts?
Knowing how interest is earned on your savings account over the course of specific time periods can give you a sense of the general profitability of your account.
This can also help to understand how much of your interest income you can expect to pay to federal income taxes.
Your financial institution will give you your annual percentage yield (APY) number. You can use a compound interest calculator to plug that number in to see how much money you'll earn in the future based on interest, the amount of money in the account, and how much you'll continue adding to it.
How Do You Pay Tax on Interest in Washington?
Annually the IRS will provide you with a 1099-INT form that shows how much non-wage income you make over the course of 12 months. Because interest earned from a savings account is considered income
How Much Tax Do You Pay in Washington for Interest You Earned?
Washington does not have a state income tax, so residents do not pay state income tax on their savings account income. However, residents of all states are still subject to federal income on all sources of income. This includes non-wage income, like interest accrued on a savings account.
Frequently Asked Questions (FAQs)
What is the largest bank in Washington?
Bank of America is the largest bank in Washington, followed by Wells Fargo and Chase.
You can find many of these bank branches throughout the state.
If you'd like access to a long list of products, these larger banks can meet your needs.
Are saving accounts safe?
As long as you keep your money at an insured institution, balances of up to $250,000 per depositor will be protected.
Banks deposits are insured by the Federal Deposit Insurance Corporation (FDIC) while credit unions are members of the National Credit Union Administration (NCUA).
How much do I need to deposit into a savings account in Washington?
Many banks and credit unions allow you to start a savings account with no minimum opening deposit. But some require as much as $100 to open one.
Where is the best savings account in Washington?
Since everyone has unique banking needs, there isn't one financial institution that has the best savings account in Washington.
If you're looking to earn as much interest as possible while paying the lowest fees, online banks, such as Ally Bread Savings™, Barclays, and CIT Savings Connect should be on your radar.
But if you prefer a smaller institution with individualized service, Seattle Bank or Mill Town Credit Union might be good options.