Best Student Credit Cards for September 2023
MoneyRates has partnered with CardRatings for our coverage of credit card products. MoneyRates and CardRatings may receive a commission from card issuers. Opinions, reviews, analyses & recommendations are the author's alone, and have not been reviewed, endorsed or approved by any of these entities.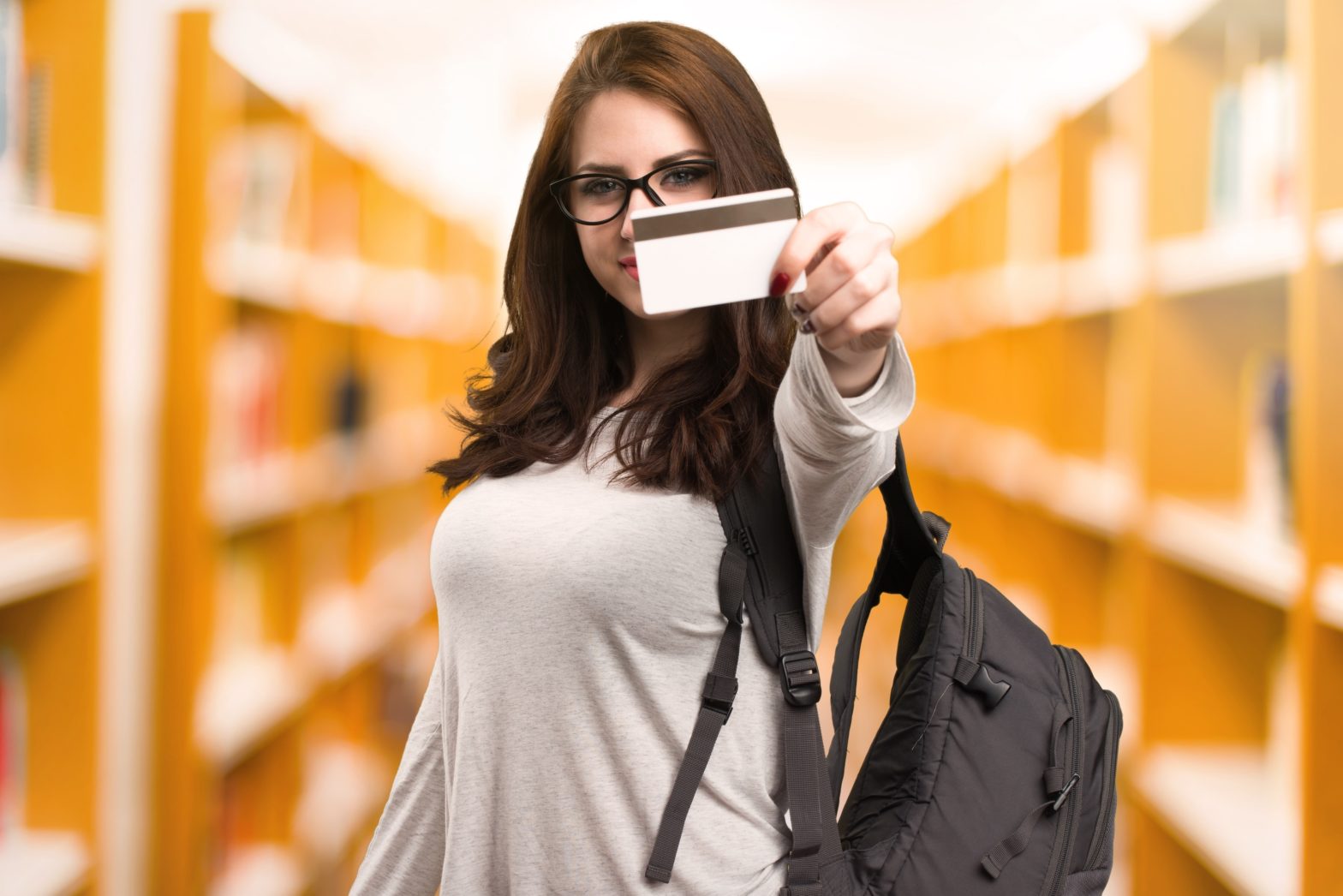 Credit cards are some of the most effective tools for building a solid credit history, but mistakes made with credit in college can affect your finances for years to come.
Bad credit can happen fast, but good credit doesn't happen overnight. That's why you should focus on building your credit slowly over time.
Why you need good credit
Your credit history can affect any number of financial transactions you make in life. If you hope to purchase a car or home with reasonable terms in the future, you'll be in much better shape if you have good credit.
But you don't have to wait that long. A good credit score may also help pave the way when you rent your first apartment.
How a credit card for students can help build credit
Lenders recognize that college students are new to the world of credit and finance, which is why it can pay to get a credit card created for students.
Having a student credit card can help you establish a good credit history by:
Reporting payments to credit bureaus.
Keeping fees and interest rates low.
Offering features that support student lifestyles and goals.
Not all student credit cards are the same. Look them over and compare features before you apply for the first one you see. With that in mind, here are our best student credit card picks for 2021.
Best Student Credit Cards for Cash Back –

CardName
People get excited about cash back credit cards for good reason. You get cash back.
If you pay the card off in full every month by the payment deadline, you'll never pay interest, but you'll earn cash back on purchases as outlined in your card agreement.
It's like getting money back with every qualifying purchase. If you use student credit cards with rewards wisely, you'll save money while building your credit.
Student Credit Card for Cash Back
Regular APR
Annual Fee
Foreign Transaction Fee
Credit Score Needed

CardName

discontinued

RegAPR

AnnualFees

foreign_fee

CreditScoreNeeded

CardName

(Petal credit cards are issued by WebBank, Member FDIC; See Rates and Fees)

discontinued

RegAPR

AnnualFees

foreign_fee

CreditScoreNeeded
CardName
The CardName isn't a flashy credit card; but for a student looking to build credit, it's pretty good.
Don't have a credit score or much of a credit history? You can link to your bank account to demonstrate that you money. If you're approved, your credit limit will start at $300 and can go up to $10,000.
Have a terrible credit history? You may be denied. This is a card aimed at people who don't yet have credit, like college students, rather than people who have bad credit. (Note: Applicants must be at least 18 years old, be a legal U.S. resident, have a SSN or ITIN, and be able to make payments from a U.S. bank account).
The CardName reports to all three major credit bureaus, though all reputable credit cards will do that.
Best Student Credit Cards to Build/Rebuild Credit
If you have a shaky financial past, where you've missed some payments or closed out an account, you can understand that a credit card company may not be excited about taking another chance on you.
But these cards just might.
If you have poor or no credit and have had trouble getting a student credit card, you may want to look at these three student credit cards. They may get the job done and help you build credit back up, so you can get credit cards with travel rewards and cash back programs in the future.
Student Credit Card to Build Credit
Regular APR
Annual Fee
Foreign Transaction Fee
Credit Score Needed

CardName

discontinued

RegAPR

AnnualFees

foreign_fee

CreditScoreNeeded

CardName

discontinued

RegAPR

AnnualFees

foreign_fee

CreditScoreNeeded
CardName
The CardName is a secured credit card and, if you're new to credit – no credit history and not a poor credit history – you may want to try applying to a different card first. That's because a secured credit card requires you to put your own money down in order to establish your credit line.
The security deposit for the CardName is $49, $99 or $200 (based on creditworthiness and other factors) to establish your initial credit line of $200.
That said, secured credit cards are a very good way to build credit, and this is a good card for college students. First, there's no annual fee, and if you pay more than the minimum deposit, your account opens to the possibility of getting a higher available credit limit, up to $1,000.
The idea is to use the card responsibly so you ultimately receive your money back – and become eligible for credit cards that don't ask you to pony up your own money first.
CardName
The CardName is another no-frills card, but one that can help you build your credit history if you use it responsibly.
There is no penalty APR. So, if your payment is late, your interest rate shouldn't go shooting up. That's a big plus; however, you should expect a late fee of to be charged in that event. Furthermore, if you're working to build credit, you need to be making your payments on time, so this should be a problem.
Best Credit Cards for Travel
This category is for students who plan to travel or will be studying abroad.
If you expect to travel in the future, it's best to get a credit card that doesn't charge foreign transaction fees. After all, traveling is expensive and, if your card tacks on a foreign transaction fee, all of your purchases will cost a little bit more. So try to avoid that if possible. But in some cases, it may be unavoidable.
In fact, one of the cards on this list has a 1% foreign transaction fee, but that doesn't mean you should stay away from it. If you have poor credit and are also traveling, it may be just the card you need.
On the other hand, if you can use a student credit card that rewards you for traveling, where you get cash back and you can hunt and find good travel deals, well, you're going to have a much more affordable journey.
Student Credit Cards for Travel
Purchase APR
Annual Fee
Foreign Transaction Fee
Credit Score Needed

CardName

discontinued

RegAPR

AnnualFees

foreign_fee

CreditScoreNeeded

CardName

discontinued

RegAPR

AnnualFees

foreign_fee

CreditScoreNeeded
CardName
This is a great card for international students who are studying in America.
The CardName doesn't require a credit history of a social security number, which international students won't have. There's no international transaction fees on purchases when you use the card abroad either, so it's great to have when traveling.
It was designed for students with little to no credit history, so it's good for U.S. students as well.
You'll get 1% unlimited cash back earned on every $1 spent. There is also a year free of Amazon Prime Student (which is a lifetime value of $59) after you spend $500 in the first three billing cycles. Plus, you get up to $600 in cell phone protection when you use the card.
CardName
CardName
The CardName isn't the flashiest card on the list; but if you're new to credit, want to travel extensively, and don't feel you can get a credit card with no foreign transaction fee and rewards, you can make an argument that it's okay. foreign_fee on the company's website about the fee they charge for foreign transactions, but it may be less than other cards.
Still, the APR is on the lower side, and you can choose your own card design.
CardName
CardName
What Is a Student Credit Card?
While regular credit cards are for people with a credit history and secured credit cards are for people with bad credit, student credit cards are specifically for young people who have little or no credit history.
Rather than looking at your credit score, student credit card issuers may look at other aspects of your life when determining if you are a good candidate for a card and will use it responsibly.
Things they may look at when considering your application include:
Having some steady form of income, even if it's small.
You are in college and could be a good customer for them in the future when you have graduated and have a career and a larger income.
Credit cards for students with no credit make it easier for students to be approved by looking at other criteria besides credit score, and they typically come with low credit limits.
How Is a Student Credit Card Different Than a Regular Credit Card?
Student credit cards also come with extra benefits geared specifically for students including tools to help you manage your finances and understand your credit score. They may also offer incentives for paying on time and for staying a certain amount below your credit limit.
While you need to show proof of some kind of income, you may also be approved with a co-signer.
Due to the Credit Card Act of 2009, student credit cards are no longer as heavily marketed to students as they once were. There are also more rules in place for people under the age of 21 who apply for a credit card, including verification of independent income or a co-signer.
Some come with cash back rewards and rewards for having your card stay in good standing (on time, not over the limit etc)
How to Choose and Use Your Student Credit Card
Everybody's financial situation is a bit different, which is why you shouldn't just apply for the first student credit card you see.
Choose your student card based on your needs
Consider what's driving you to apply for a student credit card, which could include the following reasons:
Building or rebuilding credit
If you have applied for a few credit cards and have been denied, take a look at your credit report, which you can get for free. Maybe there's something on there you forgot about, like an account you never paid off that is now causing you to have bad credit. While you may not qualify for the best college student credit cards, if your main mission is to rebuild credit, a secured credit card or a credit card for college students with bad credit could give you a fresh start.
When choosing credit cards for students with no credit, it's best to keep fees and interest rates low, of course. You should also make sure you select a card that reports to all three credit bureaus so you can build a record of paying your credit card bill on time every month. Maintaining good financial habits over time is the most important thing to concentrate on when trying to improve your credit history.
Earning cash back
On the other hand, if you've had a part-time job for some time and are earning decent money, or your parents are willing to co-sign a credit card, you may want to try for a student credit card that offers cash back while you build your credit history.
Foreign travel
You may be planning a trip abroad, in which case you'll want to make look for a company that issues travel credit cards for students without charging foreign transaction fees. Transaction fees for using your credit card out of the country will just make your trip a little more expensive.
Responsible credit card use
Remember that you're building your reputation for handling credit well. Regardless of your situation, using a credit card responsibly should be your primary financial goal.
If you do that, your credit score is bound to climb. It may take some time for that to happen; but at some point, having a good credit history can start paying off for you in the form of lower insurance premiums and better financial terms. Keep using credit wisely and somewhere down the road, say in a year or more if you want to buy a car or a house, you'll be more likely to get a loan with very favorable terms.
How College Students Can Build Their Credit
Credit cards are one of the fastest routes to building credit. If you use them irresponsibly and miss payments, it can also be the fastest route to destroying your credit.
Here are a few tips to make sure that doesn't happen.
Start with one credit card
You've seen plenty of people with two or three credit cards, and they seem to handle them just fine. If you're just starting out, you really need to begin with just one solid credit card for students with no credit. Use it for a year or two. If it goes well, then you can try for a second.
Read the terms and conditions
Before you click on any "apply" button, go through the card's terms and conditions. There's a lot of legalese there, but you'll find some interesting things, too, like maybe a fee of which you were unaware.
For instance, if you used your student credit card for a cash advance (that is, use your credit card at an ATM to take cash out), you could end up being charged a higher interest rate on that money. Even if you pay back the cash right away, you'll still pay the interest you were charged for just taking the cash out of the account.
Getting a cash advance isn't a good idea, except maybe in an emergency. It's usually not a solid financial decision to get a cash advance, and some student credit cards don't offer them. Reading the terms and conditions of your card can help you learn about the credit card you plan to apply for so you don't have any missteps.
Look at the annual fee
If there is one, that is. You're going to be paying X dollars a year to use a credit card. Sometimes – like if there are generous cash back rewards – it may be worth it. It also may be worth it if you really need a credit card to build your credit. But do take a look at the annual fee and ask yourself if you really want to pay for it.
Pay your bills on time
This is crucial. While you may not see a bad impact on your credit score if you pay your credit card bill one day late, you will be hit with late fees and a possible interest rate increase.
Keep your credit utilization ratio under 30%
Your credit score does best when you're using no more than 30% of the credit available to you. Bumping up too close to your credit limits is seen as risky by other creditors and lenders.
When you're close to your limit and only making your minimum payments, the credit card companies start to become concerned that you may not pay it back on time. So if you have a credit limit of $200, for instance, only borrow $60 worth and pay it off every month. If you keep your credit utilization ratio under 30%, your credit limit should soon climb to, say, $500, and then you can borrow $150 every month.
Paying attention to your credit utilization ratio and never going over it can help you develop even better financial habits and help you build credit.
What Credit Score Do You Need for a Rewards Credit Card?
You need a good or very good credit score to qualify for a rewards credit card. It's impossible to say exactly what that number is. For one card you may need a 714, but another credit card company may only require a credit score of 690. Every credit card is different. Some credit cards for students with no credit even offer rewards without a credit history.
While there are many factors to look at when determining what credit score is needed for a rewards card, a good rule of thumb is that if your credit score is in the 700s, you should be able to get a rewards credit card. If you're in the 600s, it's going to be harder. Maybe impossible, if you're in, say, the low 600s.
That's all the more reason why it's so important to build your credit.
Methodology
While this isn't a complete list of all the best credit cards for college students with no credit, we looked at several factors to determine which ones are some of the most widely available ones. Those factors include:
Which cards specifically give students with no credit a chance of getting approved?
Which cards have rules and requirements specifically tailored to students? For instance, we looked favorably at cards that allow international students to apply without a social security number and cards that let students take other income besides just from a job into consideration, just to name a few.
Which cards offer extra perks and deals for students? We looked at things such as offering free Amazon Prime Student or a bonus for good grades, for example.
Much of this is subjective, but it all comes down to the main question: "Are these good credit cards for college students?? The answer is "yes," though, as we've noted, some of them are better than others.