Chime Online Checking & Savings Review for 2023
Our articles, research studies, tools, and reviews maintain strict
editorial integrity;
however, we may be compensated when you click on or are approved for offers from our partners.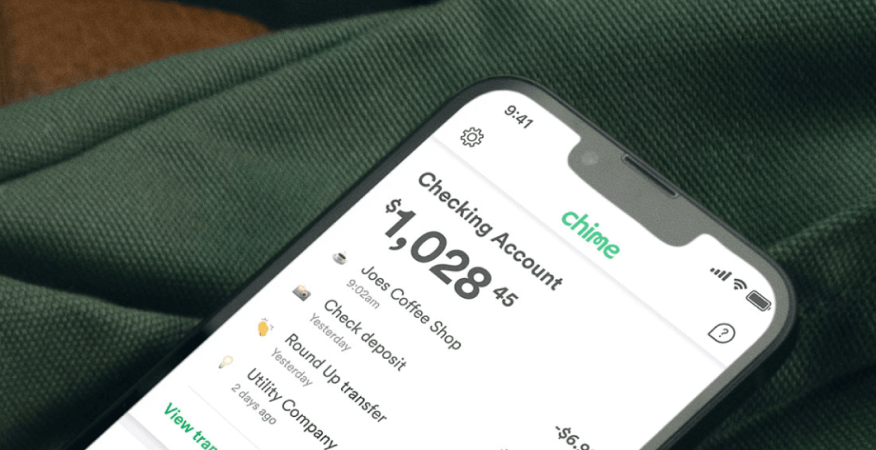 Chime is an online financial technology company that opened for business in 2014. With more than 5 million accounts opened, it's already breaking records as a result of its innovative and customer-friendly approach to banking.
How does Chime stack up against other banks, and what are the pros and cons of opening a checking or savings account with Chime? Read on to see how Chime's checking and savings accounts compare to the offerings from other online banks and learn more about Chime's features and pros and cons.
Chime Money Account Pros & Cons
Chime Top Features and Benefits
Although it's often called a "neobank" or a "challenger bank," Chime is more a technology company than a financial institution. Here are headline features for Chime's checking and savings accounts, which are referred to as spending accounts by Chime.
Get paid early
Opt to have your salary deposited directly into your account and access your money up to two days early compared with most other banks.
Overdraft protection
There are no overdraft fees up to $100. Use your debit card to get up to $99.99 overdrawn and you won't be charged, providing you make at least $500 in monthly direct deposits
No hidden fees
No minimum deposit fees and no monthly fees.
ATM availability
Use more than 38,000+ fee-free MoneyPass® and Visa® Plus Alliance ATMs with no fees. Charges still apply for out-of-network ATMs.
State-of-the-art app for mobile banking
Chime's app does pretty much everything, including directing you to your nearest fee-free ATM
Debit card
With the Chime checking account, you can make a debit card purchase everywhere Visa is accepted.
Chime second chance banking
Open an account with no credit checks, including no ChexSystems.
Credit builder card
Chime offers a secured credit card, meaning you can only spend what you deposit. But Chime will report activity to the three big credit bureaus, allowing you to build your credit score.
Automatic savings option
Chime will round up each of your purchases to the nearest dollar and have the extra automatically credited to your optional savings account or credit a set sum to your savings account each payday.
Compare rates and features of some of the best savings accounts to see how Chime's savings stacks up:
Compare Chime to Other Online Banks
While Chime offers the same banking products as other banks, business is conducted entirely online. While some people find this convenient, others may not be comfortable with this arrangement. But how does Chime stack up against other banks?
BMO Harris
Like Chime, BMO Harris offers a variety of banking products geared to many different audiences, but it also offers over 500 brick-and-mortar branches in several states.
While Chime does not offer dedicated branch banking locations, customers can do their banking electronically or visit any Green Dot location for some in-person transactions.
Synchrony
Synchrony Bank offers online banking including checking and savings.
Chime doesn't have any banking branches, but Synchrony does have one located in New Jersey.
While Chime offers a robust banking app that really takes digital banking to the next level for some, Synchrony Bank's app isn't quite as robust. For people who don't rely heavily on apps, this isn't a big deal.
How to Compare Chime With Other Checking & Savings Accounts
Every bank offers their deposit products, such as checking and savings, a bit differently. This is why different banks appeal to different consumers.
When you are deciding on a bank account and are weighing these factors, be sure to consider the following information about Chime to make sure you're well informed.
How Chime works
Technically, Chime isn't a bank. Chime is a financial technology company that offers money saving and spending services. There are several online personal finance management companies that offer similar services. Since Chime isn't a bank, it partners with established, mainstream banks to deliver many of the banking aspects of its offerings.
Chime's partners are The Bancorp Bank and Stride Bank, N.A. For example, your Chime debit card will be issued by Bankcorp Bank, while the Chime Visa® Credit Builder Card is issued by Stride Bank.
Interest rates
Chime offers an annual percentage yield (APY) well above the average national savings account rate, according to the Federal Deposit Insurance Corporation (FDIC).
Chime's APY is typically at least eight times higher than average. While it's a very competitive rate, you may be able to find a much better interest rate from other online banks.
Interest is accrued each day and is credited to your savings account on the first day of the month.
Fees
There are no monthly fees on Chime savings or checking accounts. Chime states that it doesn't believe in making a profit from its customers making mistakes.
There are no overdraft fees up to $100 for Chime checking. Use your debit card to get up to $200 overdrawn and you won't be charged, providing you make at least $500 in monthly direct deposits and qualify for Chime's "SpotMe" feature.
Chime does charge a withdrawal fee of $2.50 per withdrawal when customers use an ATM that is out of network.
In-network ATMs include any Allpoint, Visa, or Plus Alliance ATMs, or at MoneyPass® ATMs located in 7 Eleven, Inc. locations.
Account opening requirements
You must have a Chime "spending" (checking) bank account in order to open one of its savings accounts. There don't seem to be any rules about how much you use either account, so this may not be a big burden.
Build credit
Chime looks out for consumers who need help building or fixing their credit.
Chime's credit builder program enables checking account customers to get a secured credit card. Some of the money from a savings account with Chime can go towards securing a credit card that can be used just like a regular credit card. Chime reports the credit card activity to the credit bureaus, so your on-time payments and responsible use of the card can help build or rebuild your credit.
Tools to save more money
If you so choose, you can painlessly top up your savings account by setting up automatic transfers from your Chime spending account. Automatically round up your debit card purchases to the nearest dollar or transfer funds when your salary arrives (or both).
Frequently Asked Questions
Because Chime isn't quite a bank in the traditional sense, you've probably got some pressing questions about the company. Here are some answers to some commonly asked questions about Chime.
What was the Chime outage?
One area of vulnerability for all banks, especially tech-heavy ones, is outages. Some part of an IT infrastructure, perhaps critical servers or the network, crashes and the whole service goes offline.
That happened to Chime at least once, in October 2019, and resulted in some negative publicity. "Fortune" magazine ran the headline in December that year, "What Went Wrong at Chime? How Rapid Growth Became Its Own Challenge At One 'Challenger' Bank."
What had gone wrong was a complete outage that left customers unable to make purchases, withdraw cash or use their Chime banking apps. At least one review on Trustpilot implies there has been another, more recent incident. But we're unable to verify that.
Of course, pretty much all banks have occasional outages, but customers who rely on branchless banks may feel more isolated when they happen.
Is Chime legitimate?
We can see zero reasons to question Chime's legitimacy or bona fides. And there are many grounds for believing it's a sound and good company, including its:
A+ BBB rating
Partnership with established banks
The small number of CFPB complaints
Lack of lending products – It's unaffected by rising bankruptcies and increasing financial distress within the population
Five-million-strong customer base – With new customers signing up at a rate of hundreds of thousands a month, according to the company
Bottom Line: Is a Chime Account Right for You?
So what have we concluded? Well, the more we've uncovered about Chime, the more we've grown to like it.
Yes, your grandparents would have laughed at the idea that an interest rate below 2% was described as a "high yield savings account." But in the 2020s, it really is.
And they'd love Chime fees, which are as rare as old gas-guzzling Hummers at a green convention. Too many other banks seem to nickel-and-dime customers.
Better yet, that feels part of something bigger: a real desire to have its customers' backs. Giving them access to their paychecks before most other banks, spotting them for small overdrafts, and providing painless ways for them to save more all seem like things designed to benefit ordinary people.