The Best Savings Accounts in Kansas for 2023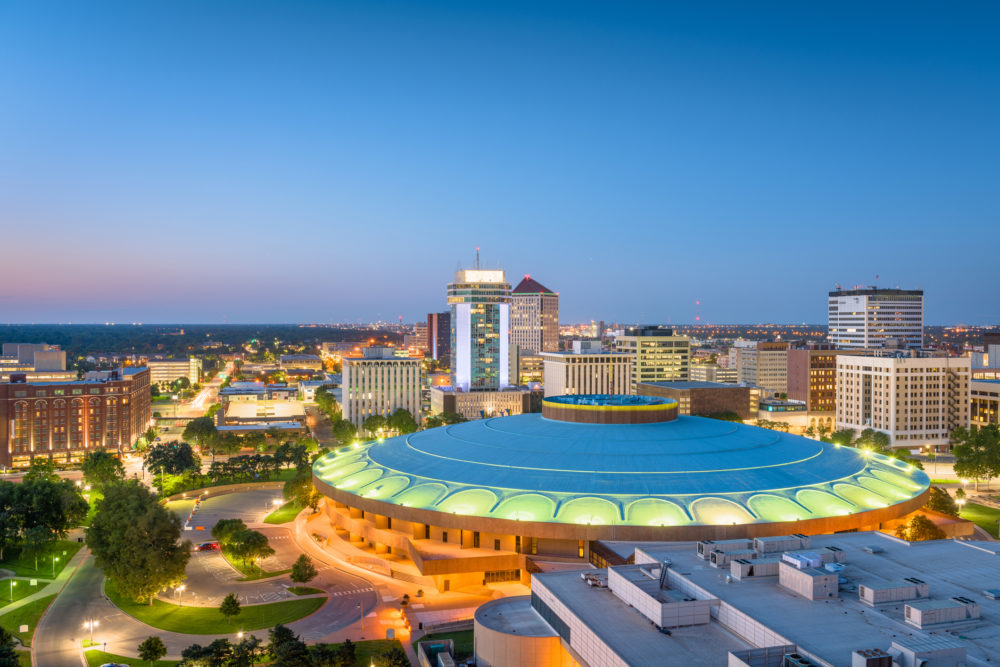 Currently, there are 50 banks headquartered in Kansas. This figure doesn't include the online banks and credit unions serving residents across the Sunflower State.
If you're a Kansas saver trying to figure out where to park your money, you've come to the right place. Here's our roundup of the best savings accounts in Kansas.
The Best Savings Accounts in Kansas
Barclays
Quontic Bank
CIT Bank
Bread Savings™
Marcus by Goldman Sachs
Truity Credit Union
Sunflower Community Credit Union
Compare savings accounts and see what rates are being offered today.
Online Savings Accounts at Kansas Banks
While traditional banks make sense for folks who need in-person contact, a digital banking experience is ideal for many savers.
Compared to brick-and-mortar banks, online banks tend to offer higher rates that can help grow your savings. If you're in search of an online bank, you can find some of the best savings accounts at these online financial institutions.
Barclays
Barclays has a global presence and offers a high-yield savings account to Kansas residents.
Key features:
The interest rate is several times higher than the national average.
There's no minimum opening deposit required or monthly maintenance fees.
Barclays also offers other financial tools, including a savings assistant to help you meet your short and long-term savings goals.
Barclays Savings Pros & Cons
Learn more by reading our Barclays Savings Review
Quontic Bank
Headquartered in New York, Quontic Bank is a digital institution that serves consumers all over the U.S., including Kansas savers.
Key features:
The high-yield savings account offers an impressive interest rate.
Minimum opening balance of only $100 and no monthly fees.
Mobile app and ATM access at one of the largest surcharge-free networks.
Quontic Bank is insured by the FDIC.
Quontic Savings Pros & Cons
Read the MoneyRates Quontic Bank Review
CIT Bank
As a division of First Citizens Bank, FDIC-insured CIT Bank offers a variety of services to Kansas residents, including a high-interest savings account.
Key features:
The Savings Builder account requires a deposit of at least $100 per month or a $25,000 minimum daily balance to earn the best interest rate.
No fees.
Customers can take advantage of an intuitive online banking platform and app.
Read the MoneyRates CIT Bank Review
Bread Savings™
Formerly known as Comenity Direct, Bread Financial offers checking and savings products, as well as CDs to Kansas residents.
Key features:
Bread Savings is a high-yield savings account and only requires $100 to open.
Accounts are protected by the FDIC.
Interest is compounded on a daily basis, and there are minimal fees.
Bread™ Savings Pros & Cons
Read the MoneyRates Bread™ Review
Marcus by Goldman Sachs
Marcus by Goldman Sachs offers a savings account to Kansas savers with an interest rate that's several times higher than the national average.
Key features:
There's no minimum deposit to open the account and monthly fees don't exist.
Marcus also offers same-day transfers to an external account, making it easy to access your money quickly.
Marcus by Goldman Sachs Savings Pros & Cons
Learn more by reading our Marcus by Goldman Sachs Savings Review
A Look at Local Kansas Banks
While online banks are a great option, you may prefer a bank with a physical branch and more personal service.
Learn more about local Kansas banks with impressive savings accounts below.
Truity Credit Union
Established in 1939, Truity Credit Union serves supporters of the Truity Education Foundation who live in the Lawrence area as well as parts of Oklahoma and Arkansas. It offers a few savings options, like the Name It Save It Savings and Premier Savings.
Key features:
With the Name It Save It Savings, there are no minimum balance requirements, minimum monthly deposits, or monthly service fees.
The credit union also provides digital banking, bill pay, and credit score monitoring.
Truity Credit Union Pros & Cons
Sunflower Community Credit Union
Sunflower Community Credit Union is headquartered in Marysville and is considered the 38th largest credit union in Kansas.
Key features:
Sunflower Community Credit Union offers a variety of deposit accounts, like regular savings, high-yield savings, and checking accounts.
As a member, you can enjoy exclusive tools like mobile banking, free financial counseling, and access to your Carfax vehicle history report.
Sunflower Community Credit Union Pros & Cons
How We Picked: Methodology
MoneyRates found the best savings accounts in Kansas by analyzing savings accounts at online banks, local credit unions, national banks, regional banks, and local banks in the state. We looked at the most recent interest rates being offered on savings accounts at over 25 banks along with accessibility, requirements for opening and maintaining an account, fees, ATM access, flexibility, availability, and ease of use of mobile banking.
The best savings accounts reflect market conditions and bank APYs at the time of our analysis. Banks can and do change their rates and terms on a regular basis, so you should check with banks directly to see what they currently offer.
How to Choose a Savings Account in Kansas
There is no shortage of options for savings accounts in Kansas, and the best account for you depends on the features that you believe are most important.
Below are a few things to consider when you're looking for a savings account.
Interest rate
This is one of the biggest features to consider when comparing banks, as you want your money to be making more money for you while it sits in the account.
Online banks usually offer higher interest rates because they have less overhead than traditional banks with brick-and-mortar locations.
Still, if you prefer an in-person experience, you may still find rates at local banks that are above the national average, which is less than .10%.
Beware of interest rates that seem too good to be true, and know that you might be getting an introductory interest rate — for instance, you might get a higher amount of interest on your first deposits up to a certain amount, and less interest after that.
Fees
Most savings accounts won't require a monthly fee to keep your account open, but some banks might charge a fee if you don't maintain a certain balance.
Look closely at the fees your bank might charge. Is there a penalty for making too many withdrawals in a month? Is there a fee for dropping below a certain minimum? Look at fees for "little things" that might seem as though they should be free, such as accessing an ATM or obtaining a paper statement.
Since fees can add up quickly, find a bank that offers minimal to no fees.
Opening deposit
Some savings accounts require a minimum opening deposit to open an account, while others don't. For those that do, $100 is typically required. This might not be a big deal if you were already planning to deposit at least that much.
Keep in mind that the opening deposit for your savings account might not be enough to meet the minimum balance that will allow you to earn the best interest and avoid fees. For instance, an account might have an opening deposit of $500. But the minimum required to avoid fees and accrue interest is $1,000. That means that for the first statement cycle, you will have a grace period where fees are waived, but by the second cycle, you must have $1,000 (at least) in the account to avoid fees and start getting that good interest rate.
Access
Being able to access your money when you want it matters greatly.
Look for a bank that offers online banking that allows you to move money from one account to another, branches that allow you to speak directly with someone, and ATM options that ensure you can withdraw money whenever you might need it.
If an online bank doesn't have any local branches, look for a robust customer service center. No matter what, look for a good mobile app and easy online access.
Other accounts available
Sometimes you might choose to move your money to another investment vehicle that will provide more interest or other benefits.
A good example of this is moving your money from a savings account to a CD.
The CD will likely offer a higher interest rate, but your money will be "locked" in the CD for a set period of time.
You might also choose that you want even more access to your money; in this case, you might want to open a checking account.
Customer service
How easy is it to get in touch with someone, and how much does that matter to you?
If you want a bank that offers the opportunity to talk to a real person face-to-face or simply call someone who knows your account well, going with a smaller bank or one with local branches is a good idea.
If you are very hands-off with your money and okay with getting an email response within a day or so, a nationwide online bank might be fine for you.
Where Can You Open a Savings Account in Kansas?
When it comes to opening a savings account in Kansas, the three options include banks, credit unions, and online banks.
Traditional Banks
Traditional banks are for-profit companies that can operate on a national, regional, or local basis. Most of them offer a variety of products and services.
These are the classic establishments that come to mind when you think of an imposing brick-and-mortar bank in the center of town.
They often have numerous branches, branded ATM machines, and a wealth of financial products available. In fact, many of them offer almost every financial or investment vehicle you can imagine, from loans to investments to mortgages.
Most of them have a significant online or mobile presence, allowing you to handle banking outside of normal business hours.
You can expect to build a trusting relationship with a banker who might be able to advise you on the best ways to grow your money. They are insured by the FDIC.
The caveat, however, is that their interest rates on savings accounts are usually on the low side. You might find higher rates at a local bank than you will at a large national bank.
Online banks
Thanks to technology, online banks are more popular today than ever before. Since they operate online and have lower overhead expenses, they often offer the highest rates on savings accounts, loans, and more.
As the name suggests, online banks are exactly that — online — which keeps your money right at your fingertips (literally).
But there are some downsides, such as the fact that there are usually few to no branches, and it can be tough to get a real person on the line if you need assistance.
Don't expect to build a good relationship with a banker, as much of the system is automated. Online banks usually have a strong focus, such as savings accounts, loans, or mutual funds. Many of them are FDIC insured, especially if they are an online bank launched by a traditional bank.
Credit unions
A credit union is a non-profit organization that's owned by its members.
Credit unions work much the same way banks do, but they are usually brick-and-mortar stores that might not have a robust online presence. They tend to service a much smaller local area, often over the span of a handful of counties in a particular state.
Compared to traditional and online banks, credit unions have physical branches and provide more personalized services. Many of them only serve customers within a certain geographic region and lag behind on digital banking innovations.
However, they are community-based, which means the decision-makers in the credit union have some discretion in proving flexible terms for loans and other financial instruments. The interest rates might be higher as well.
Keep in mind you might not have the same access to your money as you'd get at a traditional bank, thanks to a smaller footprint of branches. Credit unions are insured by the NCUA.
Kansas Savings Accounts vs. CDs
Though a savings account is always a good idea, you might wonder if your money is better in a different form of investment, such as a money market fund or a CD.
The certificate of deposit is frequently offered by banks and credit unions that also have savings accounts. A CD allows you to earn a higher rate of interest than a savings account, but the catch is that you commit to leaving your money in the CD for a set period of time.
Your unique goals will determine whether you'd be better off with a savings account or CD. Here are the differences between them.
Interest rates
CDs have fixed interest rates for the life of the CD, meaning they're locked in and don't change. Savings account interest rates may go up or down at any time.
In most cases, CDs offer a higher interest rate than what you can get with a savings account. However, the economy is rather unstable right now, and that means that if you lock in a particular interest rate with a CD, six months from now the interest rate in that savings account might actually be higher.
The best you can do is compare savings interest rates over time, look at what they are right now, and perhaps open several CDs of varying lengths with smaller amounts in each. That was, at least one of them is likely to give you the interest you want.
Uses
Saving accounts are a good place to park your emergency money or save for a short-term goal like furniture or a vacation.
CDs, on the other hand, are ideal for short or long-term goals, like a new vehicle, down payment for a house, or college.
If having access to your cash matters to you, going with a savings account is a better idea. But if you are okay with leaving your money in an account and not touching it for the term of the CD, you can enjoy higher interest rates.
Minimum deposit requirements
Many financial institutions let you open a savings account for $0 or $1.
CDs are more expensive to start and typically require at least $100.
Withdrawal restrictions
Most savings accounts only allow for six free withdrawals per month.
If you go with a CD, you'll need to wait until it matures to take money out, unless you don't mind paying a penalty.
Frequently Asked Questions (FAQs)
What's the difference between a mutual fund and a CD?
A. A CD is for those who want to keep their money in a safer investment vehicle that will have a fixed interest rate for a set period of time. A mutual fund is for those who are okay with leaving their money in a more volatile fund for a longer period of time in the hopes of garnering even more interest.
Is an interest-bearing checking account as good as a savings account?
Though these accounts do exist, they aren't nearly as common or as advantageous as interest-bearing savings accounts. That's because checking accounts are often used for paying bills and the like, while your money is more likely to sit in a savings account for long enough to get the best interest.
Are credit unions really better than banks?
That depends on your financial goals. Credit unions might feel better to you if you prefer more in-person interaction. But if you're an all-digital, all-the-time kind of person, a bank with a strong mobile presence could feel like a better fit for you. Neither one of them is actually "better" than the other — they're just different.
What are the largest banks in Kansas?
The banks with the most branches in the Sunflower State include Capitol Federal Savings Bank, Commerce Bank, and Equity Bank. While a large bank offers many benefits, it's not necessarily right for everyone.
Which bank has the best savings account in Kansas?
There's not one bank that has the best savings account in Kansas. That's why it's important to shop around, compare your options, and find the ideal one for your unique needs.
How much do I need to deposit into a savings account in Kansas?
Many banks and credit unions allow you to start a savings account with no minimum opening deposit. But may require as much as $100 to open one.