The Best Savings Accounts in Mississippi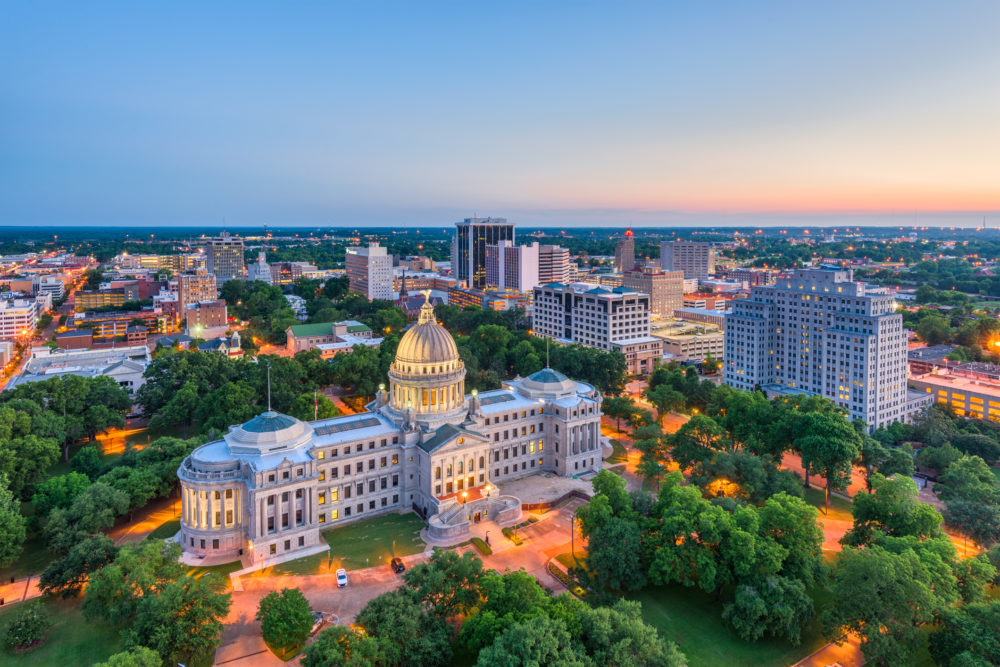 Choosing the best savings account in Mississippi is easy thanks to such a wide variety of options. According to the Mississippi Department of Banking and Consumer Finance, the state ranks 13th in the nation for the total amount of assets under supervision in the state — a whopping $143 billion.
It's safe to say that banks in Mississippi are a good place to grow your money. Compare the best savings accounts and narrow down the options to find the best savings account for you in The Magnolia State.
The Best Savings Accounts in Mississippi
Synchrony Bank
American Express National Bank, Member FDIC
SFGI Direct Savings
SkyOne Federal Credit Union
Ally Bank
Concordia Bank and Trust Company
Southern Coastal Federal Credit Union
Compare savings accounts and find the best rates being offered today.
Online Savings Accounts Available in Mississippi
When you're looking for the best online savings accounts in Mississippi, take a look at our top picks.
Synchrony Bank
Synchrony Bank's savings account comes with no minimum deposit requirements, no minimum balance requirements, and no maintenance fees.
However, keep in mind that only the highest deposits earn the maximum interest.
To determine what's best for your money, Synchrony Bank offers an online calculator and other tools to help you figure out how much to save.
The free ATMs – any that include the Accel or Plus logo – are a huge bonus, especially for those who travel often. If you're a member of Synchrony Bank's Perks Program, you might be able to get refunded fees from other ATMs as well.
Synchrony Bank Savings Pros & Cons
American Express National Bank
The high-yield savings account from credit-card giant American Express requires no fees and no minimum balance. Opening an account online is easy and fast with customer service available around the clock via phone and chat to help meet your needs. Deposit money into the account from your current bank and be earning interest within two days. The downside? There is no ATM card available with this account, so you can't access your cash on short notice.
American Express National Bank Pros & Cons
SFGI Direct Savings
Opening an SFGI Direct Savings account only takes one dollar, and customers don't pay a monthly maintenance fee. However, a grace period of one statement allows the time to build up to a minimum balance of $500. Expect good customer service but only during typical banking hours. The total initial deposit is limited to $25,000, and there are several potential fees that come with this account, including a fee to receive a paper statement and a dormant account fee.
SFGI Direct Savings Pros & Cons
SkyOne Federal Credit Union
The Sky-High savings account from SkyOne Federal Credit Union includes no fees for withdrawing cash, no monthly service fee, and an online savings calculator that helps you understand exactly what your money is doing for you in the high-yield savings account. Surcharge-free ATMs dot the country, and you can use the robust mobile app while on the go. Early payments from your established direct deposit as well as promotional opportunities can help you better balance your financial wants and needs.
SkyOne Federal Credit Union Pros & Cons
Ally Bank
Ally Bank is home to a high-yield savings account with no minimum balance requirements or maintenance fees. Customer service available 24/7 in addition to the robust online and mobile presence makes it easy to manage your money. Goal trackers, "boosters" that can add to your money, and other unique tools set this online bank apart. However, only those accounts with over $25,000 balances get the highest interest rates.
Ally Bank Savings Pros & Cons
A Look at Local Mississippi Banks
Though some might choose to go with a national or online bank, there are others who value that personal touch of a local bank or credit union. Here are some of the best local options for a good savings account in Mississippi.
Concordia Bank and Trust Company
With five locations in Louisiana and four locations in Mississippi, Concordia Bank and Trust Company provides the hometown feel alongside a wealth of financial products. Among those is the Blue Chip Savings account. A minimum of $100 is required to open the account and a $300 daily balance is required to avoid the quarterly service charge. (However, no charge is assessed on an account holder who is under the age of 18, over the age of 62, or a full-time student up to the age of 25.) The bank can require a seven-day written notice before large withdrawals.
Concordia Bank & Trust Company
Southern Coastal Federal Credit Union
The Southern Coastal Federal Credit Union offers a wide variety of services, including a strong savings account option. This credit union uses the popular MoneyPass ATM option, which makes finding surcharge-free ATMs easy. Digital banking options include mobile check deposits, e-Statements, and much more. Savings accounts offer tiered interest, with amounts over $5,000 making the most.
Southern Coastal Federal Credit Union Pros & Cons
How We Picked: Methodology
MoneyRates found the best savings accounts in Mississippi by analyzing savings accounts at online banks, local credit unions, national banks, regional banks, and local banks in the state. We looked at the most recent interest rates being offered on savings accounts at over 25 banks along with accessibility, requirements for opening and maintaining an account, fees, ATM access, flexibility, availability, and ease of use of mobile banking.
The best savings accounts in Mississippi reflect market conditions and bank APYs at the time of our analysis. Banks can and do change their rates and terms on a regular basis, so you should check directly with them to see what they currently offer.
How to Choose a Savings Account in Mississippi
Banks will compete hard for your business, so they will offer a variety of options — so many, in fact, it can be tough to know which one is best for you. Let's look at how to best compare them all to find the right one.
Interest rates
Compound interest is a great way to build your wealth, but the stated interest rate for a particular bank or credit union might have some fine print attached. Specifically: tiered daily balances. Many financial institutions offer a high interest rate but only on those who deposit the higher dollar amounts, such as anything over $25,000 or so. Compare interest rates with this "fine print" to make sure of what you're getting.
Fees
Many banks will waive their fees if you have a direct deposit or carry a minimum balance. Some might rack up fees in other ways, such as through ATM use or when you request a wire transfer or paper statement. Others are entirely without fees and will make that abundantly clear on their website.
Opening deposit
Some banks require a very low opening deposit, such as $1, while others require no deposit at all at first. However, remember that the monthly minimum balance to avoid fees is often higher than the initial opening deposit. For instance, if your bank requires $50 to open the account but requires a $250 daily balance to avoid fees, you have one statement grace period to deposit the additional $200 to meet the minimum threshold.
Access
How easy is it to get to your money? Many banks offer ATM cards, but others don't. If you are banking online, you can likely move your money around as you please. But if you are going with a local bank or credit union, you might be beholden to bankers' hours.
Customer service
The level of customer service that is best for you depends on your needs. Some will prefer a bank that is entirely hands-off, where they can handle their money online and never speak to a real person. Others want that close community touch of a teller who knows their name when they come to deposit money into their account.
Where Can You Open a Savings Account in Mississippi?
Every state offers three general options for opening a savings account: online banks, traditional banks, and credit unions. How do you know which one is right for you? Let's look at the options.
Online banks
Online banks are just what they sound like — banks that are entirely online. They might be full service, with everything from savings accounts to loans and mortgages, or they might focus on just a few financial products, such as checking or CDs. Everything concerning your money can be handled through the website or a strong mobile app. However, you're trading personal service for that convenience, as getting a live representative can be tough. Online banks are insured by the FDIC.
Traditional banks
These are the banks you're most familiar with, the imposing brick-and-mortar institutions that hold a prime spot in town. Most of these are full service, with every financial option imaginable. They often have a strong local presence, including several branches throughout the city, state, or even the nation. Expect a strong online and mobile presence. These banks are insured by the FDIC.
Credit unions
These institutions are usually smaller than traditional banks and offer a stronger community presence than online banks. Because you can deal face-to-face, customer service is almost always top-notch. While there might be a number of financial options available, there are usually fewer branded ATMs, and perhaps not as much access to your money outside of typical banking hours – however, interest rates could be much higher. Credit unions are insured by the NCUA.
Mississippi Savings Accounts vs. CDs
When you're opening a high-yield savings account for the first time, your research might lead you to other interest-bearing options, such as mutual funds or CDs. Certificates of deposit are financial instruments that can give you much higher interest on your money as long as you agree to keep that money in the CD for a set period of time. The longer the period of time you choose, the more interest you can earn.
Locked-in interest can be a blessing or a curse. If interest rates fall, your higher rate is still guaranteed as long as you don't pull the money from the CD. But if interest rates go up, you're stuck with the lower rate. It might seem as though you could simply pull your money out in that case but remember that there is a penalty for early withdrawal – and that might be high enough to negate your interest altogether. Keep these other points in mind:
Access to your money
If you want to be able to access your cash immediately, don't go with a CD. Once you choose a CD, your money is locked in, and you can't get it out early without paying a sometimes hefty penalty.
Compare interest rates
Though the interest rate for a CD is generally higher than that for a savings account, a volatile market might make interest rates fluctuate so that you actually make most interest with a savings account. But a longer rate on a CD – such as two or three years – could negate the fluctuations and you'd still come out with more interest than other options offer.
Fees and penalties
Though there are no fees associated with a CD, the penalty for early withdrawal could be enough to wipe out any interest earnings. With a savings account, you might encounter fees but they can be managed by meeting certain criteria, such as carrying a minimum daily balance.
Frequently Asked Questions (FAQs)
What if a checking account has the same high-yield interest rate? Is savings still better?
A savings account is usually meant for exactly that – savings. That's why most savings accounts limit you to six transactions per month. Checking accounts, on the other hand, are designed specifically to let money flow in and out as you pay bills and write checks for whatever you might need. Therefore, the money in your savings is more likely to sit there and gain interest, while the money in your checking account might be too fluid to realize much interest.
Should I go with a mutual fund instead?
When you put money into your savings account, you aren't at risk of losing it. With a mutual fund, you might see your balance dip with fluctuation in the stock market – or you might see it go up dramatically. Consider what kind of risk you're willing to take with your money and speak to a banker about which one might be better for your personal situation.
Does it really matter if a bank has numerous financial options?
Though a savings account might be all you feel you need, as your money grows and your life changes, you might choose to branch out. If a bank or credit union has a variety of options for that, you don't have to worry about moving your money somewhere else. Transfers and opening new accounts can be much easier if you already have an established presence.