The Best Savings Accounts in North Dakota for 2023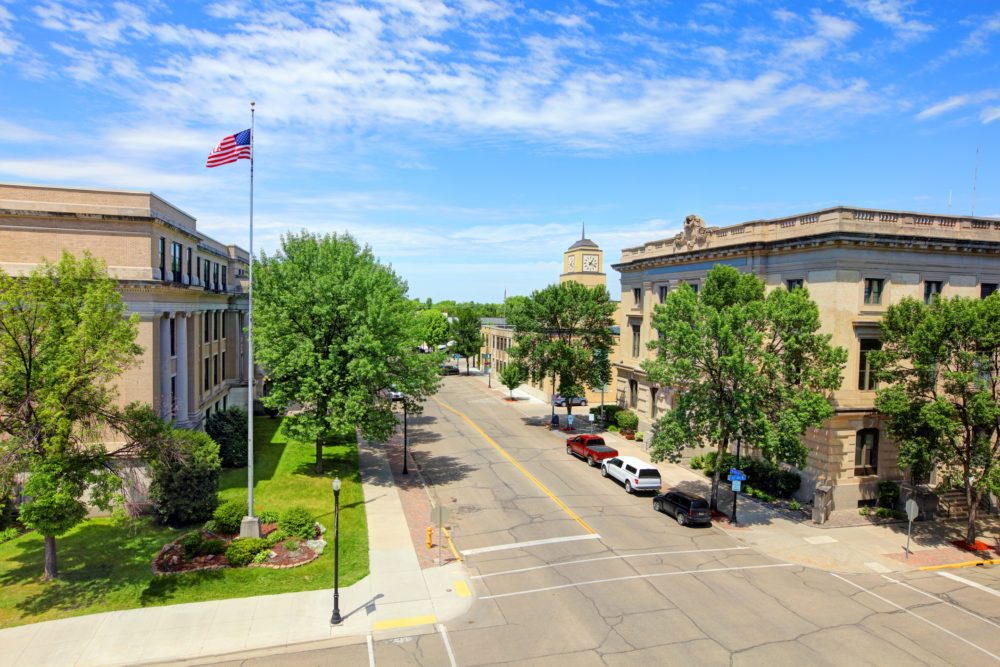 North Dakota is home to over 500 banks and more than 30 credit unions.
In fact, it has more banks and credit unions per capita than any other state. If you live in the Peace Garden state and are unsure of where to store your money, rest assured there are many options available to you.
Check out our list of the best savings accounts in North Dakota to help you decide.
The Best Savings Accounts in North Dakota
American Express National Bank, Member FDIC
Bread™ Savings
Barclays Online Savings
Ally Savings
Marcus by Goldman Sachs
Aspire Credit Union
Rolette State Bank
Compare savings accounts and find the best rates currently offered by top lenders.
Online Savings Accounts at North Dakota Banks
In recent years, more consumers have chosen to keep their money at online banks. This is mainly because they typically offer higher interest rates and lower fees than traditional, brick-and-mortar banks.
If you're interested in an online bank, you might want to consider these financial institutions as they serve North Dakotans from just about anywhere with an internet connection.
American Express National Bank
When most people think of American Express, credit cards come to mind. However, the bank also offers online savings accounts to North Dakota residents.
With an American Express savings account, you can enjoy a great rate and won't have to worry about any monthly maintenance fees or minimum balance requirements.
Plus, you'll be able to link up to three accounts for external transfers and access customer service 24/7.
CDs and individual retirement accounts (IRAs) are also available to assist with your savings goals.
American Express Pros & Cons
Read our full review on American Express National Bank
Bread™ Savings
Bread Financial, formerly Comenity Direct, offers a lineup of checking and savings products to North Dakota savers, like high-yield savings accounts and CDs.
You can open a Bread Savings™ high-yield savings account for as little as $100 and receive customer support on weekdays, weekends, and even holidays.
If you go the CD route, you'll need at least $1,500 and can select from a variety of terms.
Bread™ Savings Pros & Cons
Read our full Bread Savings™ review
Barclays Online Savings
Headquartered in London, Barclays Bank is known for a variety of products, like credit cards, savings accounts, and CDs.
If you're a North Dakota resident, you can open a savings account in minutes.
There are no minimum deposit requirements or monthly maintenance fees.
Barclays also offers a saving assistant tool to help you meet your savings goals. The tool includes a calculator that will tell you how long it will take to reach each goal.
Read our full Barclays Online Savings Account review
Ally Savings
Headquartered in Utah and founded in 2004, Ally is an online-only, FDIC-insured bank. It serves North Dakota residents with a number of products such as money market accounts, CDs, and high-yield online savings accounts.
There is no minimum balance requirement to open an Ally Savings account and you won't have to pay any monthly maintenance fees.
If you download the handy mobile app, you can divide your money into up to ten savings buckets so you can meet different savings goals.
Read our full Ally savings review
Marcus by Goldman Sachs
Marcus by Goldman Sachs is a brand of Goldman Sachs Bank USA. In addition to personal loans, it offers savings products like high-yield savings accounts and CDs.
You don't have to pay any initial fees to open a high-yield savings account with Marcus.
The lender also prides itself on no ongoing account maintenance fees, service fees, or transfer fees.
Unlike many other banks, Marcus won't charge you for ongoing wire transfers.
There's also a convenient mobile app you can use to transfer money, deposit checks, and more.
Marcus by Goldman Sachs Pros & Cons
A Look at Local North Dakota Banks
While an online bank is a smart choice for many North Dakota savers, you might prefer a brick-and-mortar bank with in-person service.
Here are a few local financial institutions to consider.
Aspire Credit Union
Headquartered in Minot, Aspire Credit Union is the 9th largest credit union in North Dakota. It's available to anyone who lives, works, worships, or attends school in Bottineau, McHenry, McLean, Mountrail, Renville, and Ward counties.
Aspire Credit Union's wide range of savings products, like regular shares, bonus shares, secondary shares, pet savings, and vacation club.
As a member, you can enroll in online banking and receive information about your accounts via text. You may also send and receive money through Zelle.
Aspire Credit Union Pros & Cons
Rolette State Bank
Rolette State Bank is headquartered in Rolette and is the 61st largest bank in North Dakota.
Its product line includes FDIC-insured savings accounts, passbook savings, CDs with terms ranging from seven days to five years, and IRAs with terms between 12 months to five years.
Checking accounts, commercial loans, and safe deposit boxes are available as well.
While there's only one branch in Rolette, the bank offers online banking services.
Rolette State Bank Pros & Cons
How We Picked: Methodology
The best savings accounts in North Dakota were selected based on a comprehensive analysis of savings accounts offered by online, national, regional, and local banks serving major cities including Fargo, Bismarck, and Grand Forks.
We narrowed down our search to savings accounts with low monthly maintenance fees, opportunities to waive these fees, ATM network availability, excess withdrawal fees, ease of online and in-app banking, interest rates, and more.
The best savings accounts reflect market conditions and bank APYs at the time of our analysis.
Banks can and do change their rates and terms on a regular basis, so you should check with North Dakota banks directly to see what savings accounts they currently offer.
How to Choose a Savings Account in North Dakota
There are many different savings accounts in North Dakota. To find the ideal one, consider your unique priorities as well as the features that are most important to you.
Here are some factors to consider as you do your research and hone in on the right place to store your money.
Interest rate
Online banks have less overhead than traditional banks with brick-and-mortar locations.
This allows them to offer higher interest rates on their savings accounts.
However, if you value in-person service, you may still find competitive rates at local banks.
Fees
Some savings accounts come with hefty fees that can get in the way of your savings goals.
The good news is you may be able to reduce or avoid these fees if you choose a savings account at an online bank.
Online savings accounts typically charge minimal to no fees.
Opening deposit
Depending on the financial institution you choose, you may need a minimum deposit to open a savings account.
While this amount varies, it's usually around $100.
If you're fairly new to saving, you might want to explore savings accounts that don't impose a minimum opening deposit.
Access
When you shop around for savings accounts, it's important to understand how you'll make deposits and withdrawals.
If you go with an online bank, ATM access may not be an option, meaning you'll have to deposit or withdraw funds via ATM transfer from bank accounts you've linked.
Where Can You Open a Savings Account in North Dakota?
If you're a North Dakota resident who would like to start a savings account, you may do so at a bank, credit union, or online bank.
Banks
Traditional banks are for-profit organizations with physical branches throughout North Dakota. They provide a face-to-face customer service experience but usually offer lower rates and higher fees than online banks.
Online banks
Many online banks serve North Dakota savers. Since they operate online with minimal to no brick-and-mortar locations, their overhead costs are low.
This allows them to pass the savings onto you with high rates and low fees on savings accounts and other products.
Credit unions
A credit union is a non-profit that requires membership.
Compared to traditional and online banks, credit unions take the time to get to know their members and often offer educational resources. But it can be difficult to meet a credit union's membership requirements and you may find better rates elsewhere.
North Dakota Savings Accounts vs. CDs
Savings accounts and CDs should be on your radar if you'd like to save for a house, car, home improvement, or anything else.
Before you decide which one is right for you, keep these differences in mind.
Interest rates
In most cases, savings accounts have fixed interest rates that are set in stone once you open them. CDs, on the other hand usually come with variable interest rates, which can go up or down based on market conditions.
Uses
If you'd like to build an emergency fund or save for a short-term goal, a savings account is a good option. But if you have a short or long-term goal, a CD is worth considering, especially if you know you won't need the money sooner than the maturity date.
Minimum deposit requirements
There are a number of financial institutions that let you open a savings account for as little as $1. If you go the CD route, however, you might need to save up at least $100 or more.
Withdrawal restrictions
Savings accounts typically allow for six free withdrawals per month. CDs are less liquid because you'll have to wait until they mature to take out the money unless you don't mind paying a penalty.
How Interest on Savings Accounts Is Earned in South Dakota
Unlike the interest on a loan or other types of credit, banks and financial institutions pay their customers interest, usually expressed as APY, to keep their money with that bank.
As you can continue to add money to your savings account, interest will accrue on that amount as well, making your interest earnings even larger. One of the most common arrangements is when interest is compounded daily but applied to your account monthly.
Determining How Much Money You Make on Your Savings Interest
Your financial institution will determine your APY, but APYs change depending on the prevailing interest rate as established by the Federal Reserve Board.
You can use a compound interest calculator to figure out how much interest you'll earn based on a variety of scenarios that include interest rate, amount of initial deposit, and more.
Furthermore, annually you will receive a form 1099-INT. If you have more than one banking account that earns interest or any other interest-bearing account, you will receive a form 1099-INT from each bank.
On the form, it will show how much you earned in interest for the previous year. You will add that amount on the part of your tax return that asks how much interest you earned. In states where there are no income taxes, this form will only reflect your federal income tax.
How Much Tax Do You Pay in South Dakota for Interest You Earn?
Because the interest accumulated by savings accounts is considered income, states that do not have income taxes do not tax the interest that you earn from savings accounts, including South Dakota.
However, federal income tax is still applied to all sources of income, including interest accrued via a savings account.
Frequently Asked Questions (FAQs)
Get answers to some of the most common questions about banking and savings accounts in North Dakota.
What are the largest banks in North Dakota?
The largest banks in North Dakota are Gate City Bank, U.S. Bravera Bank, Wells Fargo, Choice Bank, and Bremer Bank. If personal service is a priority for you, you may be better off with a smaller bank in the state.
How much do I need to deposit into a savings account in North Dakota?
Many financial institutions in North Dakota will let you start a savings account with any amount of money. Some require as much as $100 to get started.
Which bank has the best savings account in North Dakota?
There's not one bank that has the best savings account in North Dakota. It all depends on what you're looking for in terms of interest rates, fees, opening deposits, and access. This list of the best savings accounts can help you determine the best account for your particular situation.