Best Travel Credit Cards for September 2023
MoneyRates has partnered with CardRatings for our coverage of credit card products. MoneyRates and CardRatings may receive a commission from card issuers. Opinions, reviews, analyses & recommendations are the author's alone, and have not been reviewed, endorsed or approved by any of these entities.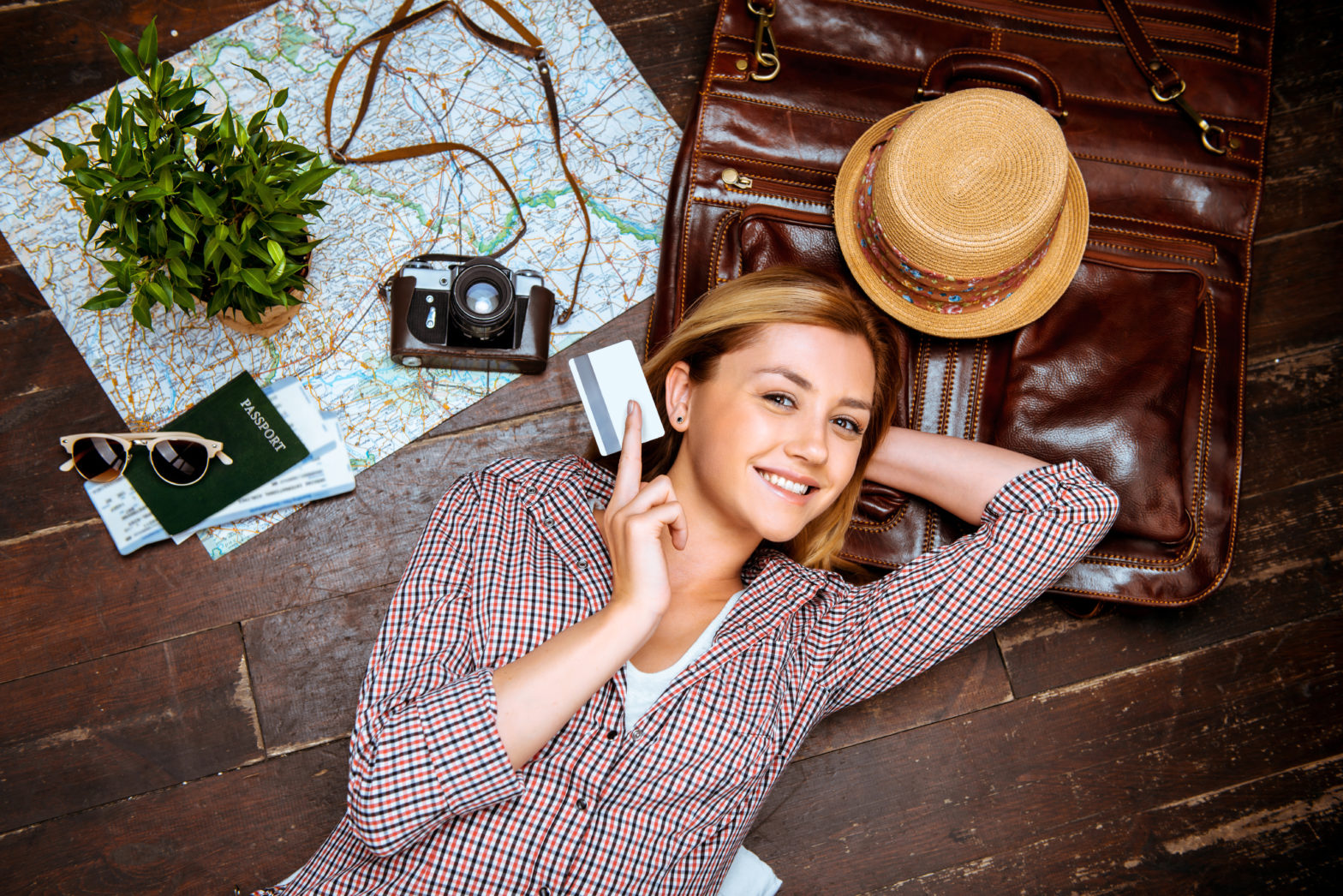 Whether you prefer to travel by car or by plane, if you travel regularly, a travel rewards credit card can save you money.
Travel credit cards are best known for providing points or miles that can be redeemed for free flights, hotel stays and more – but they also come with a host of added benefits such as baggage-delay insurance, global-assistance hotlines, and statement credits for travel services.
Having a travel credit card can make sense for people from all walks of life. Regardless of whether you go on vacation sporadically or plan to travel full time in retirement, you'll likely find a card that helps you cut costs with the rewards you earn.
This guide not only highlights the best travel credit cards for categories such as airlines, hotels and international travel, it also provides tips on how to get the most from a card once you're approved.
Best Overall Travel Rewards Credit Card –
CardName
To find the best overall travel rewards credit card, we looked for options that provide both flexibility and value. We found some of the best credit cards for travel points that would work for everyone from Gen Z travelers to retirees.
The following cards all have:
multiple travel partners.
valuable welcome offers.
unlimited earning potential.
either no fee or a low annual fee.
While all are great choices, the CardName rose to the top of the list.
Not only can you redeem miles without blackout dates or brand-loyalty with this card, but you can also get up to a $100 statement credit for Global Entry or TSA PreCheck (a perk typically only found on more expensive cards) registration fees.
Here's a closer look at the best overall travel rewards credit card as well as the two runners-up in the category.
The Basics: The CardName is a versatile card that comes with a bevy of benefits at a relatively low annual fee.
Miles won't expire for as long as you have your account, and there's no limit as to how many miles you can earn. Your miles can be redeemed for flights, hotel stays, and car rentals – or you can transfer your miles to several different loyalty programs.
Capital One allows cardholders to use their miles for gift cards too. So you can shop at Amazon, Sephora, and plenty of other places. You can even redeem miles for premium experiences such as VIP tickets to shows.
In addition to its numerous travel benefits, the Venture Rewards Credit Card comes with extended warranty protection, online shopping tools to save money, and no foreign transaction fees. Together, all these rewards and benefits make the CardName one of the most comprehensive, low-cost travel cards available.
The Basics: The CardName is a close second to the CardName. Once again, it charges an annual fee, but the cost is relatively low for the benefits you'll reap.
Cardholders enjoy a long list of travel perks that can help smooth any bumps in the road you may encounter while traveling. Plus, the card has a generous welcome offer that is currently valued at $750 in travel when redeemed through Chase Ultimate Rewards (earn 60,000 points after spending $4,000 in the first three months).
You won't have to worry about paying foreign transaction fees with this card either.
Points can be redeemed directly through Chase or transferred to loyalty programs offered by more than a dozen partners including Marriott, Hyatt, British Airways, and United Airlines.
The Basics: For those who can't stomach the thought of paying an annual fee, the CardName is a top choice for travel rewards.
It provides similar perks and redemption options as the CardName and doesn't charge foreign transaction fees either. Although its welcome bonus and earning potential are lower, that seems to be a fair trade-off for the fact that there is no annual fee.
Pro Tip: While you can redeem points and miles directly through a credit card issuer's portal, you might get more value by transferring them to a partnering loyalty program instead. Compare redemption rates before booking travel.
Best Airline Travel Rewards Credit Card –
CardName
Not only can airfare be expensive, but travelers may encounter fees for everything from checking a bag to selecting their seat in advance. However, a good co-branded airline credit card can help eliminate or minimize those costs.
A co-branded credit card has valuable benefits for a specific airline. Plus, they earn miles for that brand's loyalty program, and these can be redeemed for free flights.
If you always fly on a certain carrier, you'll want to see if there is a co-branded card available for that airline. If not, look for a good all-purpose card to use for air travel – or consider whether it might be time to branch out and try a new airline.
The CardName is a great example of the type of perks and value we expect from the best airline travel rewards credit cards. However, if you don't fly Southwest Airlines, we have two other suggestions for you as well.
The Basics: Southwest offers several co-branded credit cards through Chase, and it is well worth the extra fee to select the premier card if you're a regular on the airline.
The welcome bonus gives you the opportunity to earn 50,000 bonus points when you spend $1,000 in the first three months.
The CardName also features a variety of redemption options, including travel and gift cards, as well as non-travel benefits such as purchase protection. What's more, there are no foreign transaction fees with this card.
The Basics: Frequent fliers on Delta Airlines should consider picking up the CardName. It provides priority boarding, a free checked bag and savings on in-flight purchases, among other benefits.
Plus, the card has a generous welcome bonus offer that comes with a reasonable spending requirement. You won't pay any foreign transaction fees with this card either.
Best Hotel Travel Rewards Credit Card –
CardName
As with airline rewards credit cards, co-branded hotel cards are usually best for those who frequent a specific brand of properties.
The best hotel travel rewards credit cards are those that offer automatic elite status and brand-specific perks as well as more general travel benefits.
All of the following credit cards are good options to earn points for free hotel stays. However, the current welcome offer for the CardName is quite impressive.
The Basics: Offering a solid 140,000 welcome bonus points after spending $3,000 in the first three months (plus, earn up to $100 in IHG statement credits on purchases at IHG hotels and resorts for the first 12 months), the CardName gets our nod for the best card in this category.
The company owns hotel chains that range from the upscale Regent Hotels and Resorts to the family-friendly Holiday Inn. Plus, it doesn't charge foreign transaction fees, comes with complimentary elite status and offers purchase protection in addition to a number of travel perks.
CardName
discontinued
(All information about the Hilton Honors American Express Surpass® Card has been collected independently by MoneyRates)
The Basics: Hilton Honors has several co-branded credit cards with American Express, but this one is our favorite.
In exchange for a reasonable annual fee, you get access to a lucrative welcome offer, strong earning potential in popular spending categories such as gas and groceries and automatic elite status.
The CardName doesn't charge foreign transaction fees.
CardName
The Basics: For fans of Marriott properties, this card offers plenty of valuable perks.
You'll receive automatic elite status; free elite nights; and, as a welcome offer, for a limited time new cardholders can earn 100,000 points after spending $3,000 on purchases in the first three months. This card doesn't charge foreign transaction fees and its non-travel perks include purchase protection and extended warranty protection.
Information related to the Marriott Bonvoy Boundless® Credit Card has been collected independently by CardRatings and was neither reviewed nor provided by the card issuer
Best Rewards Credit Card for International Travel –
CardName
Whether you're a regular international traveler already or getting ready to retire and want to see the world, you should carefully consider which card to take with you.
At the very least, you'll want one that is widely accepted worldwide and that doesn't charge foreign transaction fees. It's even better if your card provides money-saving perks like statement credits and convenience benefits such as airport lounge access. A good rewards credit card for international travel will also extend its bonus categories to worldwide purchases instead of limiting additional rewards to U.S. spending.
All the cards below meet that criteria although you should be prepared for some above-average annual fees.
Don't let the cost discourage you, though. If you maximize your card benefits, you should easily offset the price. In fact, when comparing cost to value, we think your best option is also one of the priciest cards on the market – the CardName.
The Basics: The annual fee on the CardName may have you doing a double-take; but if you use this card to its fullest potential, you should have no trouble recouping the cost. The benefits in the first year of membership are worth more than $1,400.
The CardName also provides members with airport lounge access which can make travel more comfortable and charges no foreign transaction fees. Plus, it provides complimentary elite status to not one, but two, hotel loyalty programs. Enrollment required for select benefits.
The Basics: You'll need excellent credit to be approved for CardName, and it doesn't come cheap. However, the bonus points from the welcome offer gives approximately $900 in travel value right off the bat and covers the first year's cost. Earn 60,000 bonus points after spending $4,000 in the first three months; those points are worth 50% more when redeemed for travel through the Chase portal, so the bonus is worth $900 when redeemed that way.
With an annual travel credit, access to the versatile Chase Ultimate Rewards program, no foreign transaction fees and complimentary lounge access, we think the CardName provides enough savings and convenience to be a top choice for international travelers.
How to Choose a Travel Rewards Card
To choose the best travel rewards credit card and get the most out of it, you need to understand the benefits each type of card offers.
General purpose travel rewards credit cards
A general rewards card offers flexible redemption options that don't lock you into a specific brand and can be used for all types of travel. You can use your rewards like cash to pay for hotels, plane tickets, rental cars, and more.
You may be able to get more mileage from your rewards by using companies that have partnered with your credit card issuer, but general purpose cards are good for people who aren't loyal to one hotel or airline and would rather have the option to use their travel rewards in more places. If you want even more freedom on how to spend credit card rewards, you may want to consider a cash-back rewards card.
Hotel and airline travel rewards credit cards
Hotel- and airline-branded rewards travel cards offer elevated perks and rewards for cardholders who are loyal to a specific hotel or air carrier brand. They are best for people who know they'll be flying a specific airline or staying with a particular hotel brand.
You may get rewards based on your travel in general, but when you use those specific brands for travel, you can look forward to complimentary upgrades to first class, elite status, free checked bags with each flight, and more. If you're a member of a loyalty program and use your branded card to pay at that hotel, you could earn points very fast.
International travel rewards credit cards
The best credit cards for international travel are often luxury cards that may have higher annual fees but also provide more valuable rewards that can be used worldwide.
If most of your travel is done out of the country, look for cards that offer perks for international travel such as no foreign transaction fees, credit for your TSA PreCheck® fees, good travel insurance benefits, and the ability to get rewards for using hotels and airlines that don't operate in the U.S.
Ideally, you might want to have travel credit cards from multiple categories. For instance, you could have one card for your favorite hotel brand and one for your preferred airline along with a general purpose card. However, annual fees can make that cost-prohibitive. In that case, you should select a card that best meets your specific needs. Here are some different scenarios to consider:
Generation Z and millennial travelers
Rather than being brand loyal, younger travelers may be looking for the best deal to stretch their travel dollars. In that case, a good all-purpose card such as the CardName or CardName is a great way to earn rewards regardless of where and how you travel. If you don't want to pay an annual fee to earn travel rewards, try the CardName.
Business travelers
Professionals who travel for business may get the most value out of co-branded hotel or airline credit cards for the brands they use most often. These cards often come with complimentary elite status which may offer benefits such as room upgrades and early check-in or late check-out. Even if an employer makes travel reservations on your behalf, you may be able to add your loyalty number to the reservation upon check-in to receive these perks.
Retired travelers
Travel is a popular pursuit for retirees, and the credit cards they use will depend on their plans. Those who enjoy cruises or want to take their RV across the country may find the most value in a general purpose card. However, someone with disposable income and a desire to see the world should consider a card like the CardName which can make travel more comfortable thanks to lounge access and credits at luxury hotels worldwide.
Smart Strategies: The Fastest Route to Travel Credit Card Rewards
Once you understand your particular travel style, it's time to select the best credit card for travel miles or points and learn how to maximize it.
1. Be realistic, not aspirational, when selecting cards
Most travel rewards credit cards come with an annual fee, so be sure you are selecting cards that match your travel preferences.
Yes, the CardName has a quality welcome bonus offer right now; but if you always stay at Hilton properties, you're better off getting the CardName. Otherwise, you could end up with a lot of bonus points you may never use.
2. Meet the spending requirement without going into debt
New customer sign-on bonuses are the fastest way to earn travel rewards points and miles.
You earn bonus points after you spend a certain amount of money within a specific period of time, and balance transfers won't apply to this amount. Before applying, be sure you can comfortably spend that amount and pay it off. Carrying a balance could incur interest charges that will quickly outweigh any benefit you receive from the rewards.
3. Pace your applications
To ensure you are able to comfortably meet spending requirements, be strategic about your applications.
Don't apply for multiple cards at once if they all have high spending limits. For luxury cards such as the CardName and CardName, wait until you have a major bill looming before submitting your application.
4. Have a plan for each card
It's a mistake to apply for multiple travel rewards credit cards and then use them randomly. Instead, have clearly defined rules for when each card will be used. For instance, you may decide to use the CardName only for airfare, the CardName for hotels, and your CardName for all other purchases.
Alternatively, you could forego the co-branded cards and decide to focus all spending on one all-purpose card such as the CardName. Then, you can transfer points or book travel through multiple companies. The strategy that makes sense for you will depend largely on your travel habits.
5. Understand your card benefits
There is tremendous value to be found in the various perks offered by travel rewards cards. Get to know what they are so you aren't wasting money on duplicate services.
For example, if your cell phone is protected via your credit card benefits, there may be no need to buy insurance coverage through your wireless carrier. Likewise, don't buy supplemental coverage through a rental car company if your travel credit card already has you insured.
6. Be smart about redemptions
When it comes time to redeem points, compare all your options. Using points or miles for gift cards or online shopping is often not the best use of rewards. Also, see if your points or miles might go further if transferred to a partnering loyalty program rather than redeemed through a credit card company's travel portal.
Frequently Asked Questions
How do travel cards work?
Each time you make a qualifying purchase on your travel credit card, you will earn points or miles for those purchases. Qualifying purchases aren't just for travel, however. You can find cards that will give you points for every dollar you spend. You can redeem those points towards travel purchases and upgrades, either through the credit card company or by cashing in your points towards credits you can use to purchase whatever travel you want. For cards that are affiliated with a specific airline or hotel, you will earn extra points for using those properties or carriers.
What credit score do you need for a travel card?
You'll need good credit for most travel rewards credit cards, and some issuers only approve applicants with very good to excellent scores. According to credit reporting company Experian, good credit scores are those greater than 700, while excellent credit scores will be higher than 800.
If you think a travel credit card is the best for you but are worried your credit score might not be high enough, there are ways to boost your credit score, including applying for a secured credit card and paying it off every month.
Which credit card gives the best travel rewards?
It depends on what you're looking for and how you travel. If you know you'll only be flying one airline or using one hotel chain, go with the one that will give you more perks for using those brands. However, if you like looking for cheap travel deals and making your own arrangements, you might want a card with more flexibility. The best cards tend to be the ones affiliated with a particular brand because you can stack rewards with the perks you get for sticking to that brand.
Is getting a travel card worth it?
If you travel regularly, tend to pay the entire balance due every month, and are always on time with your payments, a travel card is worth it. If you carry a balance and pay interest on it or tend to forget to make your payments on time, any late fees or interest you pay could end up costing you more than any travel rewards you receive. Some rewards and travel cards come with a yearly fee, so if you don't travel much, it might not be worth it to pay that fee. You can also do further research to find the best travel credit card with no annual fee.
Where would I get the best exchange rate for the euro? Should I just bring a debit card or a pre-paid travel card?
As a rule of thumb, you can expect to pay for convenience. The most convenient exchange locations, such as those in airports, would generally offer the worst exchange rates.
The same might be true of credit, debit, or pre-paid cards. These often have implicit exchange fees when used outside the U.S. In other words, when translating a charge that you made in euros back to dollars for the purpose of billing you or debiting your account, the bank might tack on an additional percentage of the charge as an exchange fee. Check into your credit or debit card company's exchange fee policies, and if you have enough time before your trip, shop around to see if you can find a card with a more generous policy.
You'll need to find a reasonable credit card to use, but of course, you'll want to have some cash on hand as well. Think about exchanging cash at a bank before you leave, because this allows you to take some time to do it right. Several popular finance websites post current exchange rates, which will give you a benchmark to use when talking to banks.
Methodology
To find the top travel credit cards, MoneyRates reviewed more than 30 credit cards for this guide and selected our top choices based on the following factors:
Annual fee.
Value of benefits compared to a fee.
Current welcome offer.
Earning options.
Card perks and benefits.
In addition to scoring cards for these factors, we looked for those that could be used by a broad segment of the population. For instance, we ruled out some co-branded cards for foreign airlines because of their limited geographic service area. Other cards didn't make the cut because they were only available to business owners.
No travel credit card will be perfect for all people, and this is certainly not an exhaustive list. However, we feel confident that these cards provide good value and are deserving of your consideration.
To see the rates and fees for the American Express cards in this post, please visit the following links: CardName (See Rates and Fees); CardName (See Rates and Fees); CardName (See Rates and Fees)