What Is a Crypto Credit Card?
MoneyRates has partnered with CardRatings for our coverage of credit card products. MoneyRates and CardRatings may receive a commission from card issuers. Opinions, reviews, analyses & recommendations are the author's alone, and have not been reviewed, endorsed or approved by any of these entities.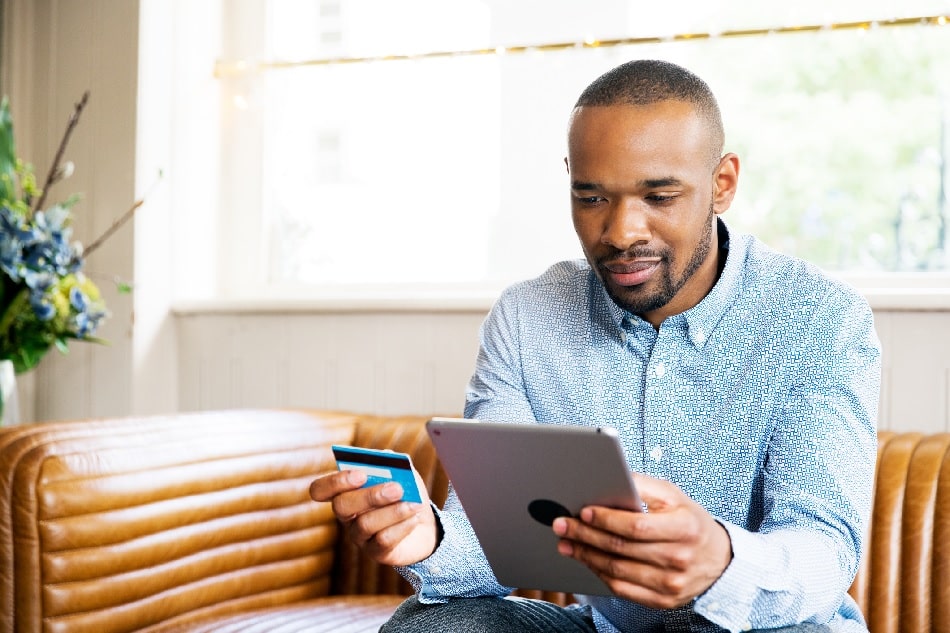 Cryptocurrency in all its variations is moving into the mainstream alongside stocks and bonds as an investment option. In fact, 41% of adults say they're interested in crypto, according to Gemini's 2022 State of U.S. Crypto report.
Credit card companies are capitalizing on that interest by offering credit cards that rewards you with Bitcoin and other cryptocurrencies. If you're used to earning cash back, points or miles, earning crypto offers a new take on traditional credit cards.
But is a crypto credit card right for you? And how do they work?
Here's a closer look at this up-and-coming credit card trend.
What Is a Crypto Rewards Card?
A crypto rewards card is simply a credit card that rewards you with cryptocurrency when you make qualifying purchases. These cards work much the same as any other rewards credit card; the difference is that you're earning crypto versus cash back, points or miles.
So why would you want a crypto credit card?
Earning cryptocurrency rewards with a credit card could appeal to you if you're interested in investing in Bitcoin or other digital currencies but you don't want to invest cash directly. Instead, you could earn back some of what you're already spending in crypto, with no other investment required.
How Do Crypto Rewards Cards Work?
When you open a rewards credit card, you make purchases. Your credit card company then pays back some of those purchases to you in rewards.
For example, you might have a card that pays you 3% cash back at grocery stores. You spend $100 on groceries and get $3 of that purchase back in the form of cash rewards. It's sort of like getting a discount on what you spend.
Or you might have a card that pays you double miles on travel expenses. So you book a $1,000 vacation package and earn 2,000 miles on the purchase.
A cryptocurrency rewards card works much the same way. Again, the biggest difference is what form your rewards take.
The rewards structure and the kind of cryptocurrency you'll earn can vary from card to card. Some cards can offer a higher rewards rate than others, for example. And some may reward you with points that you can convert to crypto. But the idea is still the same: getting crypto rewards for purchases.
Are Crypto Rewards Cards Safe?
As crypto is still relatively new, it's natural to have concerns about its safety, especially if you're earning crypto rewards with a credit card. So here are answers to commonly asked questions about crypto cards.
Do crypto credit cards have built-in safeguards?
Crypto rewards cards can offer the same protections and security measures as traditional rewards cards. That includes things like data encryption, secured logins and on/off switches. So if your card is lost or stolen, you have protections in place to prevent fraud.
How do I get crypto rewards and where are they stored?
The answer to this depends on the card you're using. But typically, crypto credit cards allow you to earn points that you can then convert to cryptocurrency. Your crypto is then stored in a separate account at a cryptocurrency exchange.
That means the credit card company is not responsible for your crypto rewards. Instead, the exchange implements its own security measures to keep your crypto assets safe and protect them from hackers.
Is crypto a good investment?
It can be for investors who have a higher risk tolerance. Cryptocurrency is not regulated and it's very volatile; prices can change minute to minute, with investors seeing wild gains or losses in the span of a day. So if you lean toward more conservative investments or prefer to go the traditional route with stocks and bonds, a cryptocurrency rewards card may not be right for you.
Who Offers Crypto Rewards Cards?
Since crypto credit cards are fairly new, there are only a handful of options to choose from. If you're interested in getting a cryptocurrency rewards card, here are a few to consider.
SoFi Credit Card
The SoFi Credit Card offers unlimited 2% cash back on purchases when you redeem rewards for crypto in a SoFi active invest account. There's no annual fee and if you make 12 on-time monthly payments of at least the minimum due, SoFi will reduce your APR by 1%.
Gemini Credit Card
The Gemini Credit Card is accepting sign-ups for its waitlist and is expected to launch later in 2021. This card will allow users to earn up to 3% back on qualifying purchases in bitcoin or 30+ other cryptocurrencies offered on the Gemini exchange. There's no annual fee and the card is set to pay out rewards in real-time.
BlockFi Bitcoin Credit Card
If you're specifically interested in earning Bitcoin then you might consider BlockFi's cryptocurrency rewards card. This card offers unlimited 1.5% back in Bitcoin on all purchases, with no annual fee and no foreign transaction fees. There's currently a waitlist to apply for this card.
Upgrade Bitcoin Rewards Card
Upgrade offers personal loans and rewards checking accounts and they're now venturing into the crypto rewards card market. The Upgrade Bitcoin Rewards Card offers unlimited 1.5% back in Bitcoin on purchases with credit lines from $500 to $25,000. This card also touts a lower APR compared to traditional rewards cards.
Unifimoney Visa
The Unifimoney Visa Card offers Visa Signature benefits with cryptocurrency rewards. This card gives you the option of redeeming rewards for Bitcoin, gold or equity investments so you can build a diversified portfolio as you spend. The card is expected to launch sometime later in 2021.
Tips for Getting the Most Out of Your Crypto Cards
If you're interested in getting a cryptocurrency rewards card, it helps to know how to use it to your advantage. These tips can help you make the most of your card:
Get familiar with crypto options. If you've never invested in crypto, you may not know much about the different options, beyond Bitcoin. So it can be helpful to have a basic understanding of what type of crypto you could earn with a rewards credit card.
Review the rewards structure. Before you apply for a crypto credit card be sure you understand the rewards rate and those rewards can be redeemed for or converted to cryptocurrency. Also, check for any limitations on the amount of rewards you can redeem for cryptocurrency.
Know where your crypto is stored. As mentioned, credit card companies that offer crypto rewards usually work with a third-party cryptocurrency exchange to store them. So it helps to know where your crypto is and how you can sell it or trade if you decide to do so.
Check the fees. Crypto rewards cards may have no annual fees or foreign transaction fees. But you may pay fees to the cryptocurrency exchange. Also, be aware that while your exchange might allow you to use your credit card to buy more crypto a transaction fee can apply. So give the fee schedule a look beforehand.
Pros and Cons of Crypto Cards
Cryptocurrency rewards cards can offer both advantages and disadvantages. If you're on the fence about whether to apply for one, here are a few final thoughts to keep in mind.
Pros:
Convenience. Getting started with crypto can seem a little overwhelming if you've never done it before. A crypto rewards card could be a good introduction to help you decide if crypto trading is something you'd like to explore.
Invest passively. Crypto credit cards make it easy to invest in cryptocurrency without having to do any actual trading. All you need to do is spend with your card, earn rewards, then redeem them for cryptocurrency.
Value. When you earn points, miles or cash back, the credit card company assigns them a set redemption value. So you always know more or less what they're worth. Cryptocurrency, on the other hand, can increase in value over time depending on how the market moves.
Cons:
Limited options. Cryptocurrency credit cards are new so there aren't a lot of them to choose from. This could change over time but for now, you have more variety if you're looking at cash back, miles or points rewards cards instead.
Redemption. If you want to redeem miles, cash back or points you can usually do that with minimal hassles through your card's redemption portal. If you want to redeem cryptocurrency for cash, on the other hand, you'll need to do that through a crypto exchange which can involve paying high fees.
Volatility. While your crypto assets have the potential to increase in value, they can also lose value as well because the market is volatile. So if you're worried about your rewards losing value, you might balance out a crypto rewards card with a traditional rewards credit card.