KeyBank Personal Loan Review 2023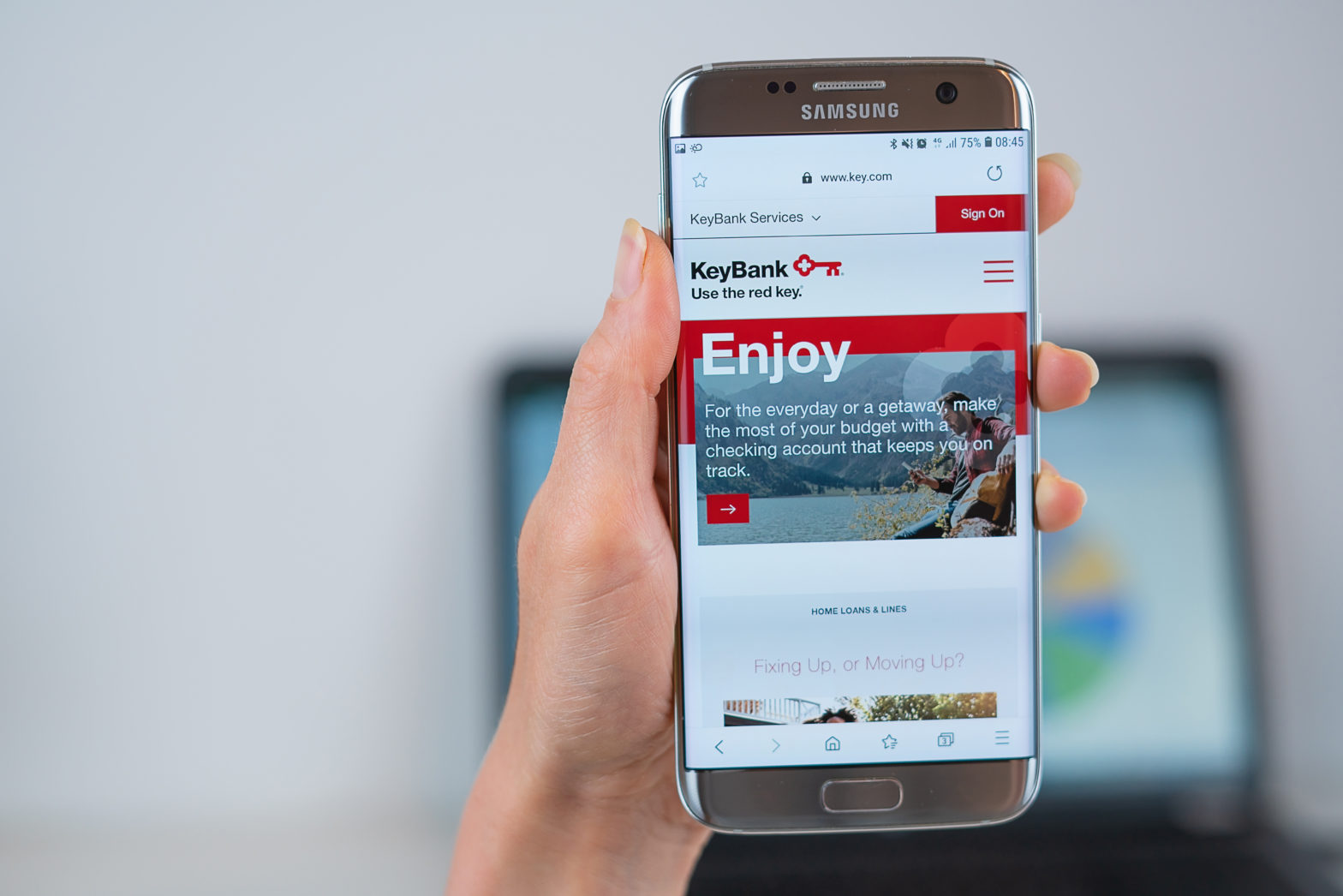 If you want a personal loan from a large bank, KeyBank may be right for you. This KeyBank personal loan review contains the fast facts, pros and cons, and in-depth evaluation so you can confidently choose the best personal loan for your needs.
Why Should You Apply With KeyBank?
Is KeyBank a good fit for your needs? Here are some pros and cons to help you decide quickly whether you should consider it further:
Available in only 15 states* though these are spread across the country – About 1,000 branches
Annual percentage rates (APRs) that start at 7.49% and go at least as high as 17.44% as of this writing – rates vary by state and include a discount for using autopay from a KeyBank account
No origination fee
Repayment terms as long as seven years
No formal cap on loan amounts – Borrow what you need, providing you're creditworthy enough
Quick access to funds – Sometimes on the same business day, though only for existing customers
*Alaska, Colorado, Connecticut, Idaho, Indiana, Maine, Massachusetts, Michigan, New York, Ohio, Oregon, Pennsylvania, Utah, Vermont and Washington
Some third-party sources say KeyBank has a prepayment fee if you wish to pay down a loan during its first 18 months. But that wasn't the case in the states we sampled.
Which Lenders Have the Lowest Personal Loan Rates?
Finding the lender with the best personal loan to meet your needs is as simple as using our search tool. Compare KeyBank with other personal loans and find the best personal loan rates being offered today.
How Does KeyBank Work?
KeyCorp, which owns KeyBank, has roots going back 180 years. Today, it's headquartered in Cleveland, OH, and has 17,000 employees in total.
So it's a traditional bank rather than one of the many peer-to-peer (P2P) lenders that also offer personal loans. Those mostly introduce individual, personal borrowers to individual, personal investors who wish to lend to them. KeyBank lends you its own money.
This allows KeyBank to charge you no origination fee and sometimes to turn around your application more quickly than a P2P competitor. But you should still compare personal loans from P2P lenders with offers from this bank. Because Key's interest rates and late fees may be higher.
What Kind of Loans Does KeyBank Offer?
Here are the headline FAQs you need answering:
Minimum and maximum loan amounts unspecified — That's very unusual for any lender and may suggest it's more flexible than others
Minimum APR of 7.49%, rising to a maximum of 17.44% as of this writing — Different interest rates may apply in different states
Loan terms of 12, 24, 36, 48, 60, 72 or 84 months
Minimum credit score not published – But the bank says it has higher standards if you're borrowing for more than five years
Maximum DTI** – Not published
No prepayment fee in the states we sampled – but some third-party sources suggest there may be, presumably in certain other states
Acceptance of co-signers – no
No prequalification – you have to make a full application. And that's likely to give your credit score a small hit
Fixed rates only
No origination charges – but higher-than-average late fees, according to a compilation of third-party sources and reviews
**DTI stands for debt-to-income ratio. It's the percentage of your monthly gross (before tax) income you spend for housing (rent or mortgage) and accounts like credit card minimums and auto loans. Regular living expenses like food and utilities don't count.
How Do I Apply With KeyBank?
Now we get on to how to apply with KeyBank. You can do so online or in a branch. However, if you want more than $50,000, only branch applications are allowed. There's a phone number if you need help with the online process.
Assuming you live in one of the 15 states KeyBank serves (and you can apply only if you do), there's a pretty good chance you're going to be able to get to one of its 1,000 branches. There's a button on the bank's website that allows you to schedule online a branch appointment.
You need your social security number and government-issued ID to begin your application. The bank says it takes less than 10 minutes to complete it online. However, when we began to apply online and clicked on the "new customer" button, we were greeted with this message: "We regret that we are unable to take an online application from you at this time. Please visit your local KeyBank branch to apply in person."
It may be much easier to apply if you're an existing customer. The bank seems generally to favor those.
How Soon Can I Get My Money With KeyBank?
How long does it take to get your money? Again, it helps if you're an existing KeyBank customer.
If you are, it's possible to get the funds in your KeyBank account on the same business day you apply. But that depends on your having such an account. And on these other factors:
You've met the bank's credit criteria
All verifications (including of your income) have been completed
It's before 2 p.m. (EST) when your loan is approved
Presumably, KeyBank is like the rest of the financial services industry in that it experiences seasonal demand. So, if you can, you might benefit from scheduling your application outside peak periods, most importantly the run-up to the holidays.
Expect to be quizzed about any recent blips on your credit report or bank statements. So, if you've bounced a check or let an account slip into delinquency, get your story straight in your head before you're asked about it.
KeyBank BBB Rating
KeyBank has been an accredited business with the Better Business Bureau since 1933. At the time of writing, it had an A+ rating, which is the best the BBB can give.
However, its customer reviews on the BBB website (for all services, not just personal loans) were less kind. Of the 98 reviews posted when we checked, the average star rating was one star out of a possible five – the lowest available. To be fair, this tends to be a forum that attracts many disgruntled customers and few satisfied ones.
Consumer Financial Protection Bureau and KeyBank
We searched the customer complaints database of federal regulator the Consumer Financial Protection Bureau for the calendar year 2019. Under the KeyCorp name, which is KeyBank's parent, there were only 13 complaints in the installment loan (aka personal loan) category.
That's good for what's a fairly large bank and way below the number for most competitors. The most common complaint (though only four were registered) was "Charged fees or interest you didn't expect."
Related: What Is an Annual Percentage Rate (APR) for a Personal Loan?
MoneyRates Editorial KeyBank Rating
Star rating — 3 stars
It's hard to see why many would go to this bank for one of these loans if they weren't existing customers. And you get the impression KeyBank likes it that way. That's not an uncommon feature among larger banks in this series of personal loan reviews.
But, even if you are an existing customer, it's a good idea to compare personal loans from other lenders before you apply to KeyBank. The good news is that most P2P lenders let you prequalify, so you can get multiple quotes without affecting your credit score.
Maybe KeyBank's will be the best offer you get, especially when you take into account its lack of an origination fee. But at least you're going to know you're not being ripped off. And, looking at this bank's APRs, there's a good chance you could get a better overall deal from a different lender.
Compare personal loan programs
What Are the Alternatives to KeyBank?
But to which other lenders should you apply? The short answer is those that you think will be comfortable working with a borrower like you. Here are some ideas:
LendingClub
LendingClub lets you apply even if your credit score's as low as 600. Still too high? You can get a co-signer on board to boost your application's appeal. LendingClub's starting APR is lower than KeyBank's. But you won't qualify for the lowest interest rates anywhere unless you're highly creditworthy.
Payoff
Payoff specializes in consolidating credit card balances. And it has online resources to help you achieve your debt reduction goals. Its rates are often competitive compared to similar lenders and it doesn't charge late fees.
Best Egg
If you need your money quickly, Best Egg might be a good bet. It has a reputation for turning around applications fast – sometimes in as little as one day. And you don't need to be an existing customer, as KeyBank requires for such rapid service.
Upgrade
You're likely to need fair credit to get far with Upgrade. But, if that's an issue, it welcomes co-signers. It gives those consolidating debts the option of it settling with creditors directly. And it has a hardship program in case you get into financial difficulties during your loan's term.
Prosper
Prosper, too, lets you bring a co-signer to the table. And it's one of the biggest P2P lenders. So it must be doing plenty right.
SoFi
SoFi specializes in highly creditworthy borrowers with sound finances. And it rewards them with exceptional deals: ultra-low APRs, zero fees and big loans: up to $100,000.
How to Find Your Best Personal Loan
You've seen from that list that lenders tend to specialize in borrowers with similar financial profiles. And it's best to get quotes from those lenders who are comfortable dealing with borrowers like you. So there's little point, for example, in applying to LightStream if your credit's only fair. But, on the other hand, you probably won't get as good a deal from LendingClub if your score is very high.
Of course, you needn't be content to borrow based on your current financial profile. If you've time, put some effort into improving it. Many lenders work on credit-score ranges rather than raw numbers. So just boosting your score by a point or two could move you up into a higher range and earn you a better deal.
Finally, try to match your loan term (how long it lasts) to the time your borrowing will bring you pleasure or satisfaction. So long term personal loans are best for things that are enduring, such as home improvements, buying a valuable that you're going to treasure for life or freeing yourself from debt. And short terms are better for celebrations, vacations, goods with limited life spans and the like. But your biggest priority when choosing a loan's term is that you can comfortably afford the monthly payments.