The Best Savings Accounts in Tennessee for 2023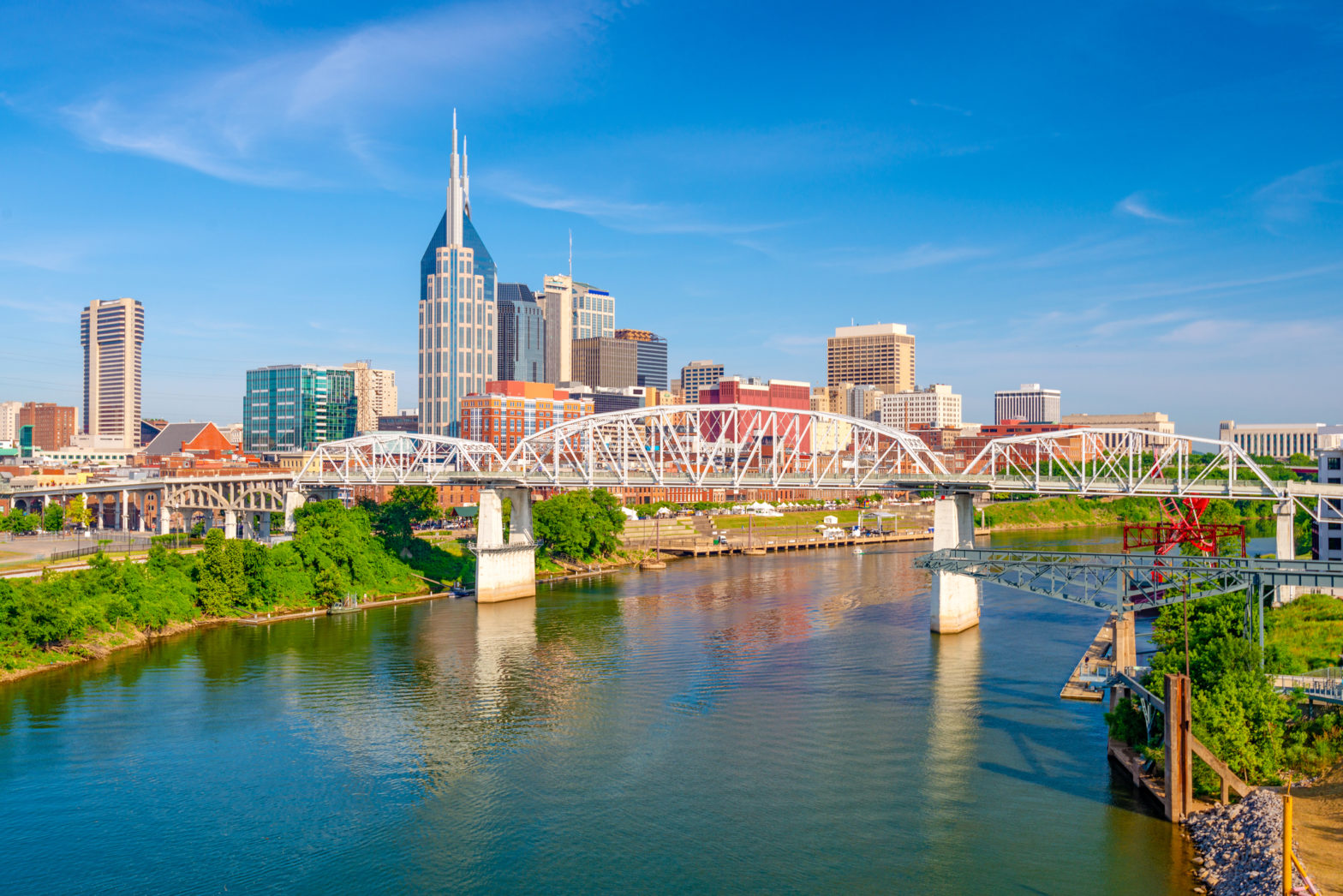 Banking is big business in Tennessee, with 158 commercial banks in the state in 2016 holding deposits of over $131 billion, according to Ballotpedia.
That's not including credit unions or online banks, both of which have a healthy presence in the Volunteer State.
Given the number of solid institutions in the state, narrowing down the options for the best savings accounts in Tennessee can be tough.
That's where we come in. We took a look at the banks in Tennessee that offered the best options for savings accounts. Let's dive in.
The Best Savings Accounts in Tennessee
Ally Bank
Synchrony Bank
Citi®Accelerate Savings
American Express® National Bank, Member FDIC
US Community Credit Union
FSNB
Find Banks With the Best Savings Account Rates Fast
Compare savings accounts and find the best rates currently being offered by top lenders.
Online Savings Accounts Available in Tennessee
An online savings account in Tennessee can offer a high-yield interest rate and other perks.
Here are a few to consider.
Ally Bank
With no minimum balance and no maintenance fees charged, Ally Bank Savings sets itself apart with unique options that help you learn to save and budget.
Online calculators and organizational "buckets" make it clear where your money is going.
The high-yield savings account has no minimum balance, no maintenance fees, and tiered interest that brings higher rates to those with $25,000 or more in the account.
Regular promotions help with saving even more, while a robust mobile and online presence ensures you can move money as you please.
Pros
Regular promotions to get more cash
Unique online savings tools
Customer service is available 24/7
Cons
Tiered interest rates
No branch banking
Synchrony Bank
Synchrony Bank offers a high-yield savings account with no fees, no minimum daily balance, and no minimum starting balance, making it a truly free option.
Look for Plus or Accel-branded ATMs to access your cash with no fee if you stay under the federally mandated limit of six transactions per month.
You can expect up to $5 refunded in ATM fees each month if you use non-branded ATMs.
Tiered interest gives the highest returns to the highest deposits.
Pros
Easy-to-use online and mobile banking
No minimums and no fees
Cons
A checking account is not offered
Tiered interest rates
Citi Savings
Long known as a solid credit card company, Citi also offers a variety of consumer banking products, including the Citi Accelerate savings account. While there is a monthly fee attached to the account, you can waive the monthly service fee with an average monthly balance of $500 or by linking a checking account to the savings account.
The mobile and online presence is very strong and great for those who want to move their money around on their own.
Pros
Easy to find no-surcharge ATMs
Potential to waive the monthly fee
Auto Save feature can be used to set up automatic transfers from checking.
Cons
A high balance is required to waive fees
Account must be opened as part of a package.
American Express®National Bank, Member FDIC
American Express®, member FDIC, offers a high-yield savings account with no fees and no minimum balance.
Customer service is excellent, with agents available around the clock, though most everything can be handled on your own online or via the mobile app.
You must link to an existing account to open the savings account, and you can move money from one account to another, but there is no option for an ATM card to access your cash.
Pros
Competitive interest rates for savings accounts
No fees or minimums
Strong mobile app
Cons
Checking accounts not offered
No ATM or debit cards are available
A Look at Local Tennessee Banks
Local banks in the Volunteer State can give you that sense of community as well as the robust banking you expect from a solid institution.
Here are some of the best local Tennessee options.
U.S. Community Credit Union
With numerous saving options and other financial products, US Community Credit Union serves the state of Tennessee through five local branches, over 5,000 nationwide co-op branches, and 30,000 ATM machines. The high-yield savings account requires a $1,000 minimum to open and offers tiered interest, so those with higher balances make the most. There is no monthly fee, and dividends are credited every quarter.
US Community Credit Union Savings Pros & Cons
FSNB
Formerly Fort Sill National Bank, FSNB has dozens of locations across Tennessee and branches in Mississippi, Arkansas, Louisiana, Georgia, and North Carolina. Open a savings account with only five dollars, but you must have $25 in the account to start earning tiered interest rates. The daily balance must be $100 or higher to avoid the $6.50 monthly service charge. One unique feature is the "round up" service – when you make a debit from your checking account, it is rounded up, and that excess money is sent to your savings.
How We Picked: Methodology
The best savings accounts in Tennessee were selected based on a comprehensive analysis of savings accounts offered by online, national, regional, and local banks serving major cities, including Nashville, Memphis, and Knoxville.
We narrowed down our search to savings accounts with low monthly maintenance fees, opportunities to waive these fees, ATM network availability, excess withdrawal fees, ease of online and in-app banking, interest rates, and more.
The best savings accounts reflect market conditions and bank APYs at the time of our analysis.
Banks can and do change their rates and terms on a regular basis, so you should check with Tennessee banks directly to see what savings accounts they currently offer.
How to Choose a Savings Account in Tennessee
Choosing the best savings account in Tennessee goes beyond the interest rate (though that certainly does matter).
Here are some other points that can help you narrow down your options.
Account Options
You might decide that while a high-yield savings account is a great choice, there are other financial products you might like to use.
This can include anything from a standard checking account to CDs, money market accounts, and more.
Many banks offer a wide variety of products to choose from, so look for the one with financial options that match your overall savings goals.
Fees
With most banks, you can avoid a monthly service fee (assuming there is one at all) by enrolling in direct deposit or keeping a minimum daily balance in your account.
There could be other fees, however, such as those for paper statements, ATM cards, or wire transfers.
Opening Deposit
This can vary widely from one bank to another, with some requiring no deposit at all to some expecting $500 or more.
Keep in mind that the opening deposit might not be the same dollar amount as the required daily balance, so you might have to adjust your account accordingly by adding more deposits before the first statement period ends.
Access
How much access do you want to your money?
Some banks offer an ATM card and many surcharge-free ATMs to choose from, while others don't offer an ATM card at all for savings accounts.
Some banks have automated systems only, which makes it tough to get your money quickly; others have tellers at branches where you can withdraw your cash during business hours.
Account Management
A strong online presence and powerful mobile app set some banks apart.
If you like to handle your money your way, with little or no interference from the bank, online options allow you to do so.
But if you want good customer service, you might want to go with a credit union or a bank that has a call center where you can speak to a real person.
Where Can You Open a Savings Account in Tennessee?
When you look for a high-yield savings account, you'll probably find it in three places: online banks, traditional banks, and credit unions.
Let's take a look at what to expect from each option.
Traditional Banks
Traditional banks often take the form of actual brick-and-mortar buildings with a main bank, several branches, and ATMs scattered around the state.
Some of these banks are enormous, spanning several states across the nation.
They provide numerous financial products, including checking, savings, money market accounts, CDs, mortgages, personal loans, and more.
They usually have a strong online or mobile presence in addition to the branches, and customer service is excellent.
These banks are insured by the FDIC.
Credit Unions
Credit unions operate much the same way traditional banks do, with two big exceptions.
First, they are owned by the members rather than shareholders or a private company, which means there might be better interest rates and flexible terms.
Second, they are smaller than traditional banks, usually spanning only a few counties in a particular state.
Customer service is great, but they might not have a strong online and mobile presence. They are insured by the NCUA.
Online Banks
These banks are similar to traditional banks, but they are entirely online, with no branches, though they might have branded ATMs dotting the country.
They aren't confined to one state, so you can open an account from anywhere.
Online banks might have a wide variety of financial products or might focus on just one or two things, such as savings options.
If you like handling your own money and don't need customer service that often, this is the option for you.
Reputable online banks are insured by the FDIC.
Tennessee Savings Accounts vs. Money Market Accounts
During the search for a good high-yield savings account in Tennessee, you are likely to consider several other financial products, including money market accounts.
Otherwise known as MMAs, these can be easy to confuse with mutual funds.
You can tell the difference by remembering that a money market account is much more like a savings account.
Here's how they compare:
Getting Your Money
Some money market accounts offer not only an ATM card but the power of writing checks as well.
On the other hand, some don't offer checks and can have rules that make it tougher to get your money.
Both accounts, however, allow you to move money around online.
Interest Rates
MMAs are invested in a variety of financial vehicles, while savings accounts are not invested as aggressively (in most cases).
That means that money market accounts might offer more volatile interest rates, but they will often be higher than that of a typical high-yield savings account.
Opening and Maintaining the Account
A money market account will often have a higher requirement for opening the account and maintaining it, but the higher returns might make up for this.
A savings account, on the other hand, might not require anything to open and a low balance to maintain.
Paying Income Tax on Savings Account Interest Earned in Tennessee
In Tennessee, financial institutions incentivize customers to save their money with that bank by paying interest to savings account users.
Like savings accounts in other states, in Tennessee, interest is compounded either daily, monthly, or quarterly. Most commonly, interest is accrued daily and applied to your account monthly.
Savings account interest is accrued in two different ways: simple interest and compound interest. Look for savings accounts that compound interest.
Simple interest is compounded based only on the amount of money that you deposit into your savings account, not including any previously earned interest. Compound interest is compounded based on the amount of money that you have in the account plus any previously earned interest.
How Much Money Will You Make in Interest?
You can figure out how much money you have made in interest on your savings account by calculating the number yourself or via tax documents.
Here's a simple formula on how to calculate the future interest you'll earn.
A = P (1+r/n)nt
The values are:
A: Future value of account
P: Principal amount in the account
r: The rate of interest in decimal form
n: number of times interest is applied per time period
t: number of time periods elapsed
You can also use a compound interest calculator to see how much money you can earn on interest in the future based on your savings account balance.
To see how much you earned in the past year, look at your tax documents.
Your financial institution will give you a 1099-INT from the IRS. This form lays out all non-wage income, meaning all money that you make, not including any money you make from your job. This will show how much money your savings account has made annually in interest.
How Much Tax Do You Pay in Tennessee for Earned Interest?
Because your savings account interest is considered income, Tennessee residents with savings accounts do not have to pay state income tax on their savings account interest.
However, these earnings are subject to federal income tax. This makes having a savings account in Tennessee desirable as you pay less taxes on the interest accrued.
Frequently Asked Questions (FAQs)
What is a money market fund?
We've talked about money market accounts, which are often confused with money market funds.
There are vital differences, however.
A money market fund carries an element of risk because the FDIC or the NCUA does not insure it.
The returns you get are based on how the stock market is doing for that fund.
What is a certificate of deposit?
A CD is like a savings account with one big exception: when you choose a CD, you agree to leave your money in the account for a set period of time in order to receive the stated interest.
You lock in your rate by doing this. However, if you pull money out of the CD before the time period is up, you incur a penalty.
What do FDIC and NCUA mean?
These are agencies that insure the money consumers put into certain banking products.
The Federal Deposit Insurance Corporation, or FDIC, insures up to $250,000 per customer account at banks.
The National Credit Union Administration, or NCUA, does the same with credit unions.
If a bank or credit union becomes insolvent, your money is still protected up to that $250,000 threshold.