Stash Invest Review 2023: Robo-Advisor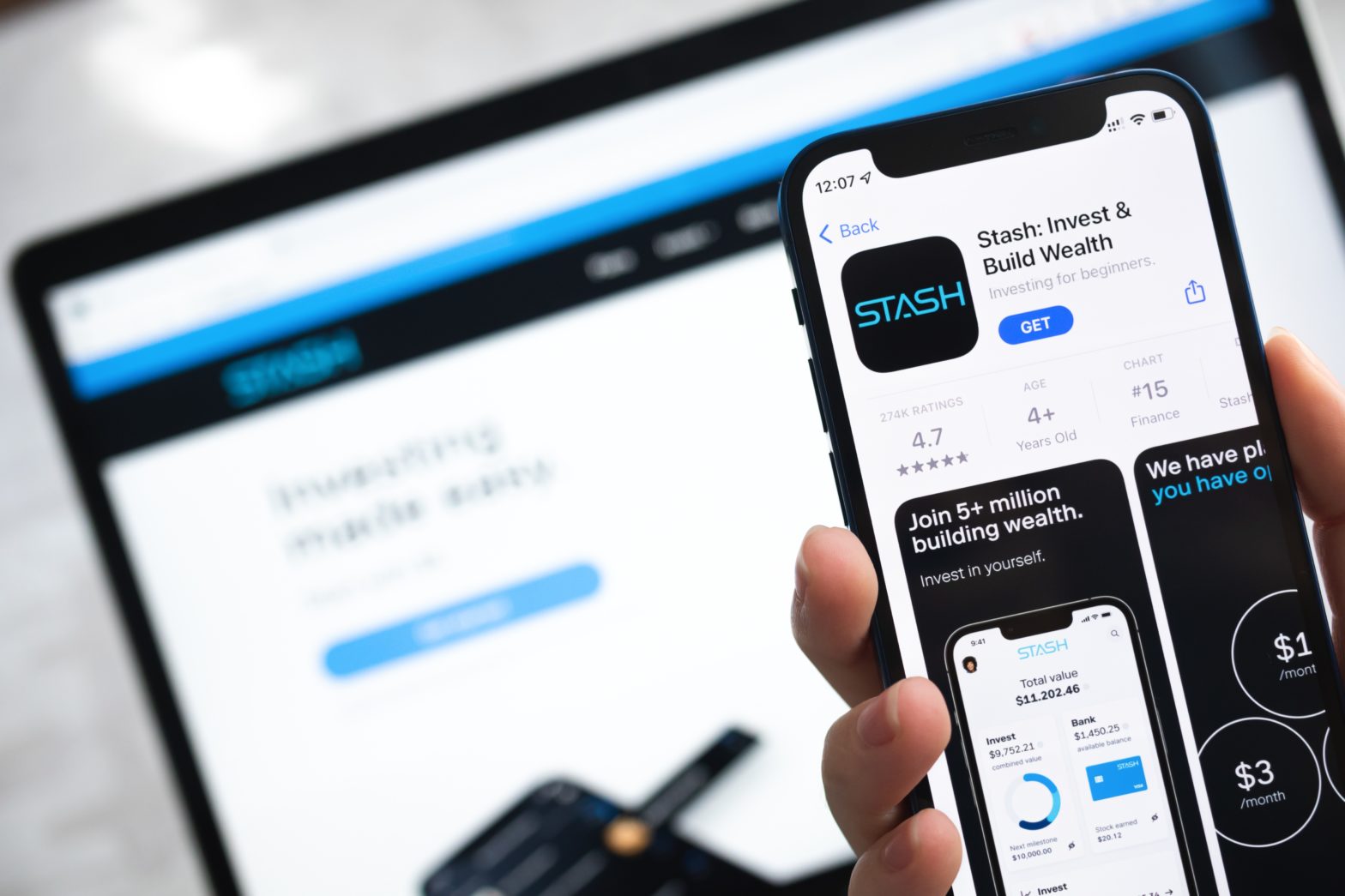 Robo-advisors can take the hassle out of building a portfolio by offering automated investing with minimal fees. Stash investing is one option you may consider if you're looking for a simplified way to start investing.
Whether you want to invest for retirement or simply learn how the market works, you can do that with Stash. But it may not be the best choice for every investor.
Dive into this Stash invest review to get answers to your top questions, including, "How does Stash work?" and "Is it worth it to sign up for Stash?"
Stash Invest May Be Right For:
Beginning investors who are just getting started with building a portfolio.
People who want to be able to invest small amounts of money.
Investors who want to open a taxable brokerage account or an individual retirement account.
People who are comfortable with automated investing and want a low-cost robo-advisor option.
Investors who also want to bank in the same place they invest.
Parents who want to help kids start investing.
Types of Accounts Stash Offers
Before committing to any robo-advisor platform, it's important to know what types of accounts you can open. If you're interested in Stash investing, your account options include:
Personal brokerage accounts.
Traditional IRAs.
Roth IRAs.
Custodial investment accounts for kids.
You can select one of these account types to open with Stash or a combination of a brokerage account, IRA, and a kids' investment account if you're a parent.
Stash packages investment accounts into different plans that also include a bank account complete with a debit card called the Stock-Back Card. The Stock-Back Card allows you to shop at partner brands and earn stocks on those purchases.
It's similar to using a cashback rewards card, only instead of cash you can build your investment portfolio as you spend.
While Stash doesn't specifically offer a savings account, you can allocate funds inside your Stash bank account for savings or spending, depending on your financial goals.
Stash Banking has no hidden fees, including no overdraft fees, no minimum balance fees, no monthly maintenance fees, and no set-up fees. That might be something you're interested in if you're tired of paying high bank fees. You can easily link your
Stash bank account to your Stash investing account for easy transfers when you're ready to make a new investment.
Stash Invest Compared to Other Robo-Advisors
Stash is geared to newer investors who have enough basic knowledge that they feel comfortable using an automated advisor. They want to be able to begin investing with small amounts of money.
Acorns
Like Stash, Acorns' robo-advisor appeals to people who are new to investing and want to start with small amounts of money. Because Acorns was created for the same kind of investor as Stash, it's important to compare both to see which one is a better fit if you're new to investing and want to start out small.
YieldStreet Financial Advisor
YieldStreet is for investors who have gotten their feet wet in investing and are looking for unconventional investment opportunities such as real estate trusts and short-term notes. It is not for people who are only looking to invest in mutual funds. If you're looking for something more long-term that you don't have to monitor, it may not be for you, but if you're looking to get into some new forms of investing, you'll want to explore YieldStreet.
Compare Online Robo-Advisors
At MoneyRates, we make it simple to compare robo-advisors and find the best robo-advisor to meet your needs. Use our search tool to compare rates, fees, and more.
Key Advantages of Stash Investing
When choosing a robo-advisor or online investment platform, it's important to know what makes it a standout. Here are some of the chief benefits of investing with Stash:
A simplified platform that makes it easy to start investing.
Choose between one of three investment plans, based on your needs and goals.
Unlimited trading, with no added commission fees.
Choose from thousands of individual stocks and exchange-traded funds.
Invest in stocks using fractional shares.
Build wealth with minimal fees.
Overall, Stash is very much geared toward investments for beginners. This robo-advisor aims to keep things simple by offering three investment plans, all with low fees. You don't need to be an investment expert to start choosing individual stocks and ETFs. And you can automate investments to grow wealth on autopilot.
The downside of Stash investing is that it may not be the best choice if you're a more advanced investor. If you're looking for high-level research and analysis tools, you won't find those here. And your investment options are limited to stocks, ETFs, and bonds, so you're out of luck if you're interested in alternatives like options, futures, or cryptocurrency.
How Stash Invest Works
Stash offers both personal brokerage accounts and IRAs, as well as investment accounts for kids. The accounts you have access to depend on which investment plan you choose.
Stash Beginner
Stash Beginner is the lowest tier plan. For $1 per month, you get a Stash investing account, a banking account with a Stock-Back debit card, $1,000 in life insurance offered by Avibra, and access to personalized investment advice.
Stash Growth
With Stash Growth, you get everything that's included in the Beginner plan. But you also get a traditional or Roth IRA, fully managed portfolios through Smart Portfolio, and tax benefits for retirement investing. You'll pay $3 per month for that tier plan.
Stash Family
For $9 per month, you can get Stash Family. This plan includes everything in Stash Growth, though the life insurance benefit increases to $10,000. You also get access to custodial kids' investment accounts, premium investment research and advice, and the chance to earn exclusive bonuses with your Stock-Back debit card.
Choosing your plan
When deciding which plan is right for you, it really depends on your needs. If you only want to invest in a taxable account, then Stash Beginner may be a good fit. But you might consider Stash Growth or Stash Family if you want to invest for retirement or take advantage of Smart Portfolio. This is Stash's fully managed portfolio option which allows you to invest automatically using Stash's proprietary algorithm.
When it comes to what you can invest in with Stash, you can add individual stocks, ETFs, and bonds to your portfolio. One thing that sets Stash apart from other robo-advisors is the option to invest using fractional shares. This is something only a handful of robo-advisors and online brokerages offer.
What to Look for When Shopping for a Robo-Advisor
Between robo-advisors, online brokerages, and mobile trading apps, there are plenty of ways to build a portfolio these days. But they aren't all alike. As you search for the ideal robo-advisor, here are some of the most important things to keep in mind.
Cost: Fees are always important to keep in mind, as they can drain away your investment returns. With Stash, the fees are straightforward and transparent, so you know what you'll pay per plan. It's always worth looking into how much other robo-advisors charge before opening an account.
Account types: Online brokerage accounts and IRAs can both be used to invest for the short- and long-term. Having access to investment accounts for kids, bank accounts, or a debit card may be something you're interested in as well. When looking at different robo-advisors, be sure to check out what kind of accounts you can open to see which ones offer the most variety.
Investment selection: What you'll find at one trading platform may not be identical to what's available with the next. Again, Stash investing is limited to stocks, ETFs, and bonds, but other platforms might offer more options.
Added features and benefits: Some online brokerages offer features that others don't which may make them more attractive. For example, one thing you get with Stash invest accounts that others don't always offer is fractional trading.
Customer service and support: If you have an issue or question about your brokerage account, it's important to be able to connect with customer support. You should consider how accessible a robo-advisor's support is and what kind of help they're able to provide.
Educational resources: Having research and analysis tools can be useful for learning more about the ins and outs of investing. Stash offers an online learning center for investors, but other robo-advisor platforms may offer fewer or more resources. You should compare the financial literacy offerings of any robo-advisor platform you're considering.
Online and mobile access: If you're investing online, you should be able to access your account when you need or want to. Stash offers a mobile app and online investing, so you can stay in tune with your portfolio on the go.
Finally, consider what other people are saying about a particular robo-advisor. Reading online reviews like this one can give you a sense of an online trading platform's overall brand reputation.
Read More Robo-Advisor Reviews
Want to learn more about investing apps and robo-advisors? Read more of our 2021 reviews.
Stash Invest Review Robo-Advisor Bottom Line
While Stash has been around for a while as an investment platform, the robo-advisor component (i.e., Smart Portfolio) is relatively new. It's worth looking into if you're interested in investing with managed portfolios while keeping fees to a minimum. Though other robo-advisors and online brokerage accounts may include managed portfolios, you may pay more in management fees to access them.
Overall, one of the main highlights of Stash's robo-advisor is that it's one of the better places to find investments for beginners if you don't want to overcomplicate things. All you have to do is compare this Stash invest review with other reviews and choose a plan for investing that fits your budget, needs, and goals.
How to Take the Next Steps
Getting started with Stash investing is simple. It starts with comparing the three plan options and then deciding which one is right for you. Once you've made your choice, you can head to Stash online to open an account. Click the link below to get started now.
When choosing where and how to invest money, it's important to do your homework. Stash may not work as well for you if you want to invest in more than stocks, ETFs, or bonds, for instance. Reading Stash invest reviews like this one can help you decide, but don't forget to compare other robo-advisor options as well.