The Best Savings Accounts in Idaho in 2023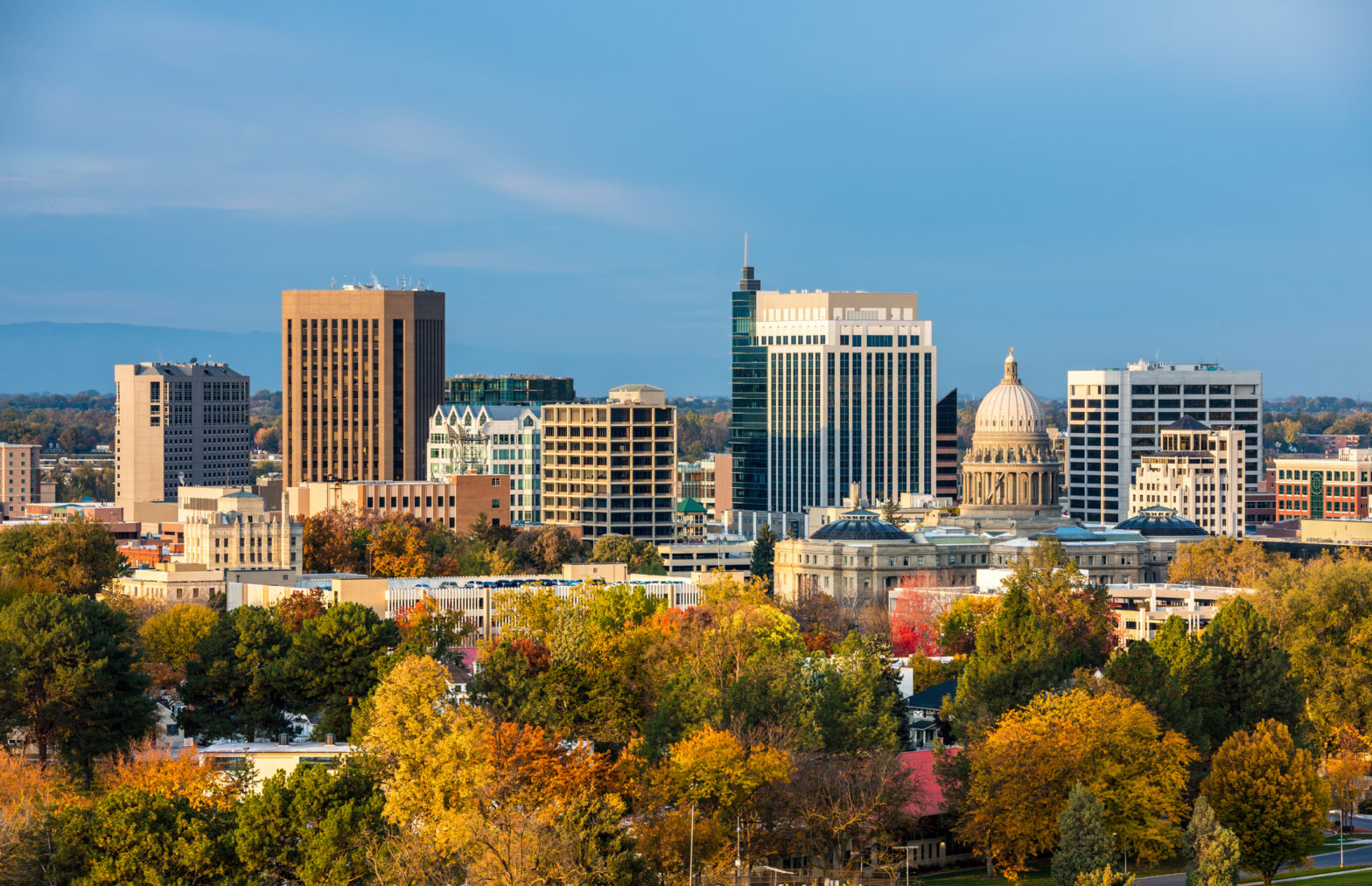 Idahoans don't have the same number of banking choices as residents of larger states such as California and Texas, but that doesn't mean they can't still get a great savings rate.
According to the FDIC, the state is home to 11 banks, and several national banks also have a presence in Idaho. However, residents' choices don't end there. There are also online banks and credit unions, some of which offer APYs that far exceed the national average.
Learn everything you need to know about the best savings accounts in Idaho.
The Best Savings Accounts in Idaho
CIT Bank
American Express® National Bank, Member FDIC
Bread Savings™
Barclays
Marcus by Goldman Sachs
STCU
Cottonwood Community Federal Credit Union
Compare savings accounts and see what rates are being offered today.
Online Savings Accounts Available in Idaho
If you're comfortable banking via the internet or a mobile app, an online bank may be the place to go for the best savings account in Idaho. Without costly physical branches to maintain, online institutions often have higher interest rates than those found elsewhere. Here are some notable examples.
CIT Bank
CIT Bank is an online division of First Citizens Bank, which is the largest family-controlled bank in the United States. It offers several savings accounts with various features and interest rates. The Savings Connect account is a particularly good choice, in our opinion, because it has an above-average APY.
CIT Savings Connect Pros & Cons
The MoneyRates CIT Savings Account Review 
American Express® National Bank, Member FDIC
Don't make the mistake of assuming American Express is only a credit card company. It also operates a bank that has a high-yield savings account that typically pays one of the highest APYs available. What's more, American Express makes it easy to open and maintain an account. There are no minimum balance requirements or monthly fees. Customers can manage their accounts online and set up automatic deposits if they'd like.
American Express National Bank Savings Pros & Cons
The American Express National Bank Savings Account Review
Bread Savings
Bread is a new name, but it's not a new bank. It was previously known as Comenity Direct, and it continues to have a reputation for offering one of the highest interest rates available today. If you are looking for the best savings account in Idaho, you should know that a Bread Savings account begins to earn interest immediately and has no hidden fees. There is also a one-year CD with an attractive APY that savers may want to consider as well.
Bread Savings Review Pros & Cons
Barclays Bank
Barclays Bank was founded in London more than 300 years ago, but it has recently been getting attention in the United States thanks to its high-yield savings products. In addition to an online savings account, Barclays has an online CD. Both pay higher APYs than what you might find at traditional banks. The bank also doesn't have minimum deposit requirements or monthly maintenance fees. The U.S. division of Barclays is a member of the FDIC, so up to $250,000 per depositor is insured as well.
Barclays Bank Savings Review Pros & Cons
The Barclays Savings Account Review
Marcus by Goldman Sachs
If you've always wanted to do business with the legendary Goldman Sachs, take a look at Marcus. It's the investment bank's online arm and offers a high-yield savings account that is accessible to everyone.
Marcus doesn't charge any fees and has no minimum deposit requirements. While it doesn't have any physical branches, its online and mobile banking tools make it easy to transfer funds and manage money.
The Marcus by Goldman Sachs Savings Review
A Look at Local Idaho Banks
Not everyone wants to bank online. If you are interested in the best savings accounts in Idaho that can be managed through a branch, these Idaho credit unions are among those offering the top APYs right now.
STCU
If you live in North Idaho or belong to a qualified association or organization, you can join STCU and access some of the best interest rates in the nation. The credit union's First5 Savings Account has one of the highest APYs we've ever seen on a savings account. The drawback is that its stellar rate only applies to the first $500 deposited. Still, with no monthly fees and no minimum deposit requirement, this is an account worth considering.
Cottonwood Community FCU
Founded in 1942, Cottonwood Community Federal Credit Union is a small institution that pays above-average interest on its savings accounts. Anyone living, working, worshiping, or going to school in Idaho and Lewis Counties can join the credit union, and there are no monthly fees for regular share accounts.
Cottonwood Community FCU Pros & Cons
How We Picked: Methodology
MoneyRates chose the best savings accounts in Idaho by analyzing savings accounts at online banks, big banks, credit unions, regional banks, and local banks in the state. We looked at the most recent APYs being offered on savings accounts at over 25 banks, along with accessibility, account requirements, fees, ATM access, flexibility, and ease of use of online and in-app banking.
The best savings accounts reflect market conditions and bank APYs at the time of our analysis. Banks can and do change their rates and terms on a regular basis, so you should check with banks directly to see what they currently offer.
How to Choose a Savings Account in Idaho
The best savings accounts in Idaho are those with low fees, high interest rates, and user-friendly features. Here are some factors to consider when choosing an account.
Interest rate
For years, interest rates were practically 0% at many institutions. However, recent hikes in the federal funds rate have meant banks and credit unions are increasing how much they pay savers. At some online banks, it is possible to earn an APY as high as 1% nowadays.
Fees
Fee-free savings accounts are most common at credit unions and online banks. However, even some community and national banks have savings accounts that don't charge monthly maintenance fees.
Opening deposit
Some savings accounts will let you open an account with any amount of money, while others have minimum deposit requirements. These may be as low as $50 or reach into the thousands of dollars. If you decide to save in a certificate of deposit — known as a CD — you're more likely to have a minimum deposit requirement.
Other accounts available
It can be more convenient to do all your banking in one place. As you weigh your savings account choices, consider whether an institution will be able to meet your other financial needs with checking, investing, and loan products.
Access
Small banks and credit unions may have few branches and no online or mobile banking access. Meanwhile, large online banks have robust digital tools, but you won't be able to receive in-person service at a branch. Think about how you prefer to manage your money and select an institution that fits your banking style.
Customer service
As you compare savings accounts, take a look at a bank or credit union's customer service options and hours. They may include the option to talk to a representative via phone or online chat. Other banks require you to submit a support ticket within your online account for assistance. And of course, you can always get personal assistance if there is a branch nearby.
Where Can You Open a Savings Account in Idaho?
Idahoans have three choices for savings accounts:
Online banks
Although relatively new in the grand scheme of things, online banking has become mainstream in recent years. Millions of people choose online banks for their high interest rates, low fees, and convenient access. These banks are, of course, best for those who are comfortable with digital tools and don't feel the need to visit a branch for assistance.
Credit unions
Credit unions are owned by their members, so they typically have lower fees and higher APYs than banks. The type of products and services offered by credit unions can vary significantly, with some small institutions having a single branch and limited products and large credit unions operating nationwide. To join a credit union, you need to meet membership criteria which could include living in a certain area or being affiliated with a particular employer or group.
Banks
Traditional banks maintain a network of branches, and most also have robust digital tools as well, such as mobile apps and online banking. Some people feel more secure keeping their money in large national banks, while others like the personal service of small community banks. Either way, these institutions generally offer a good range of products, although they may charge more fees and offer lower interest rates on savings.
Idaho Savings Accounts vs. CDs
As you look for the best savings accounts in Idaho, you might notice that CDs often have higher interest rates. These can also be a good choice for savers, but you need to know how the two products compare.
Minimum deposits
In very rare cases — such as at Barclays Bank — CDs won't have minimum deposit requirements. However, most of the time, you'll need to deposit several hundred or even several thousand dollars to open a certificate of deposit. You are much more likely to find a savings account without the required minimum deposits.
Withdrawal restrictions
With today's high-yield savings accounts, many banks and credit unions allow unlimited transactions. Still, there are a few that may limit withdrawals to six per month. On the other hand, money in a CD is locked up for a specific period of time and can't be withdrawn at all without incurring an early withdrawal fee or forfeiting interest.
Interest rates
Since CDs lock in money for a specific period of time, they often pay higher interest rates. Plus, they have fixed rates which means the APY won't change during the deposit term. However, high-yield savings accounts have variable interest rates and can change at any time.
Best uses
If you need to keep your money liquid, a savings account is best. Cash can be withdrawn at any time, making this a good place to keep the money you might need in an emergency. Since cash in a CD can't be touched for a certain period, they are better for future needs, such as funds being saved for a vehicle, vacation, or other expenses that you know you won't have until a later date.
Frequently Asked Questions (FAQs)
Where can I get the most interest on my savings?
An online bank is going to be your best bet for a high interest rate. Since these banks don't have to maintain branches, they can often pay a higher APY. However, if you are eligible to join STCU, consider putting your first $500 worth of savings there. The APY on its First5 Savings Account is currently the highest offered in Idaho.
What is an Idaho First-Time Homebuyers savings account?
Offered at a half dozen Idaho banks and credit unions, this account allows residents to save tax-exempt money for a home purchase. Individuals can save up to $15,000 per year, and couples are eligible to save up to $30,000 per year. Accounts are capped at $100,000, and deposits can be deducted from Idaho taxable income.
What is the most popular bank in Idaho?
If you're looking for the bank with the most branches, U.S. Bank is in the No. 1 spot. It has 74 offices in 51 Idaho cities, according to Bank Branch Locator. Wells Fargo and D.L. Evans Bank take the second and third spots, respectively.